Precious Sleep: Slumber Strategies for Your Little Ones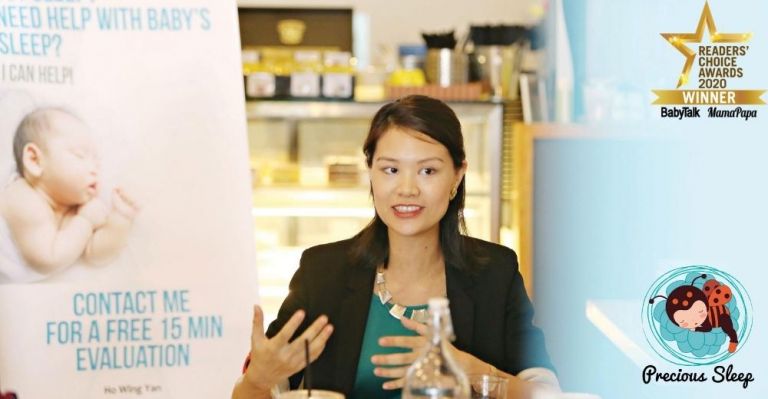 Every parent knows how important it is for kids to get adequate sleep. Children with healthy sleep habits feel more refreshed when they wake up and are in an energised and good mood for the rest of the day. Those with bad sleep habits are often cranky, hyperactive and have trouble concentrating at school. The lack of sleep has also been linked to obesity.
However, every parent also knows how challenging it can be to get your child to bed and fall asleep on time. Some have tried cajoling and even threatening to withhold privileges to get their little ones to sleep, but nothing seems to work! For parents who are at their wits' end, fret not for Precious Sleep is here to help.
Helping Your Kids Fall Asleep Independently
Founded by Ho Wing Yan, a Certified Infant & Child Sleep Consultant and mother-of-two, Precious Sleep offers infant and child sleep solutions, enabling kids to fall asleep independently without kicking up a fuss.
Wing Yan came across this much-needed Sleep Sense programme when she was researching ways to help her elder daughter, who can only sleep through nursing and have very short naps, sleep better. The programme worked like a charm, so she decided to be trained under the creator of Sleep Sense. Precious Sleep was established soon after, and Wing Yan has been helping numerous families since then.
A firm believer that a child should learn the independence of sleeping, Wing Yan assures parents that they can certainly help with the process. As such, Precious Sleep places high importance on accommodating different parenting styles. At the end of the day, you, as the parent, need to be comfortable with your new sleep plan for it to work for your child.
Her programmes range from Newborns (0 – 3 months), Infants (4 months – 18 months) to Toddlers (19 months – 4 years). An evaluation of your child's sleep habits will be performed before the one-to-one consultation, where you will be provided with a sleep plan and two to three weeks of comprehensive support over WhatsApp, email or phone calls.  She offers a complimentary, no-obligation 15-minute consultation where parents can ask any questions about the programme and decide whether she is someone they feel comfortable working with.
The Only Sleep Whisperer You Need
Wing Yan's passion for helping sleep-deprived families gain back their Precious Sleep has garnered many glowing testimonies from happy clients. One family even called her the 'Sleep Whisperer' for enabling their twin boys to sleep 10 to 12 hours straight every night, effectively making the dreaded night-time feedings a thing of the past.
Her methods are gentle, flexible and cater to the need of every family. Families can expect lots of one-to-one coaching with personalised support as she will be there with you to hand-hold you every step of the way.
Precious Sleep has recently been recognised as the Best Baby Sleep Consultant in the BabyTalk Reader's Choice Awards.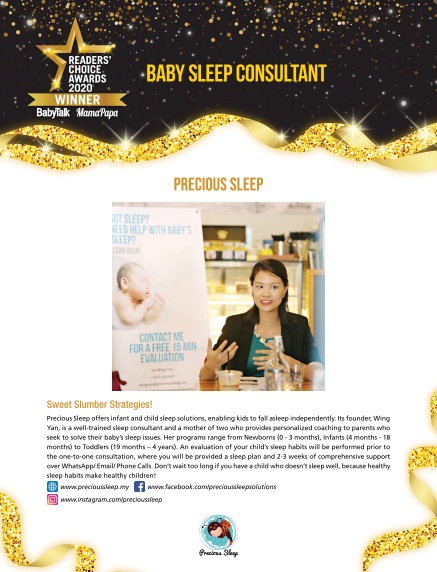 For more information, visit their website at www.precioussleep.my, www.facebook.com/precioussleepsolutions (Facebook) and www.instagram.com/precioussleep (Instagram).