Paving the Way for Your Child's Future Success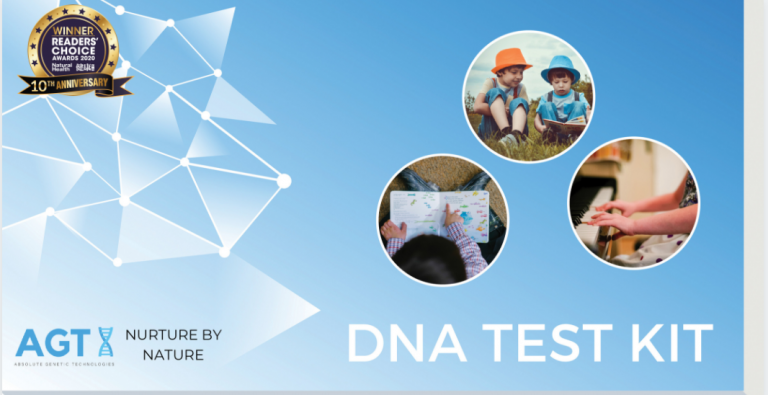 Every parent wants the best for their child and so do you. You want them to grow up to be confident, intelligent and talented.
But what if you don't know what they're best at? What if they're set on a path that may not lead them to happiness and ultimate fulfilment?
Absolute Genetic Technologies (AGT)'s Decode Talent DNA Test can help. It can analyse children's inborn talents, emotions, personality and temperaments, allowing parents to make the best choices in favour of their children's full potential.
Laying the Foundation as Early as Possible
As parents, we can't help but ask ourselves, "How can we make the right choices when we know so little about our children?" Thanks to AGT's Decode Talent DNA Test, the mysteries to unlocking your child's hidden potential can be unravelled with just a simple buccal (cheek) swab. The DNA sample will then be tested and in a matter of weeks, you'll receive a report detailing your child's inborn talents and natural inclinations.
The basic Decode Talent DNA Test analyses 17 traits while the comprehensive version of the test analyses 50 traits. You will discover how inclined your child is in academic learning, artistic potential, language, mathematics, music, leadership, sports and even entrepreneurship. Other aspects of the DNA testing include intelligent quotient (I.Q.), emotional quotient (E.Q.), personality as well as health and addiction tendencies.
Knowing this precious information will give you the insights you need to support your child fully as you teach, shape and guide them towards their natural talents. For example, if your child excels at verbal memory but struggles with visual memory, you can enhance their education by exposing them to audio books or podcasts. It will also make sense to you why they often groan when you ask them to read books that you used to enjoy when you were their age. If they have a strong aptitude for music, perhaps it's time to send them to piano, drum or guitar classes.
As you help them discover their full potential, the frustration of trying to fit a square peg into a round hole will fade away as they eagerly put their newfound talents to the test. The earlier you begin, the better and easier it would be as they do not have to unlearn habits or practices that do not serve them.
So if you are wondering why your child is not thriving in their current environment or if they seem to have a natural inclination towards an activity that you don't know how to support, wonder no more!
Why Choose AGT DNA Testing?
AGT has a team of expert scientists with a combined 55 years of research experience in Asian genetic studies. With over 100,000 human DNA samples exhaustively analysed in their research, they hope to use their knowledge of human genetics to improve the lives of consumers through individualised genetic testing. They collaborate with a number of top firms in the genetic sector to develop cutting-edge solutions to better the lives of consumers.
AGT's DNA tests, developed by prominent scientists and academicians, are ideally suited for the research and interpretation of the Asian population. AGT also works with a renowned research centre in Singapore where the DNA samples are sent for testing, and to undertake cutting-edge research projects. The breakthrough discoveries are then regularly incorporated into AGT's products.
Not all DNA tests are created equal. Choosing the right DNA test product can make all the difference in giving your children the edge they need to thrive in life.
AGT's Decode Talent DNA Test has recently won the Natural Health Reader's Choice Awards for Best DNA Test for Children.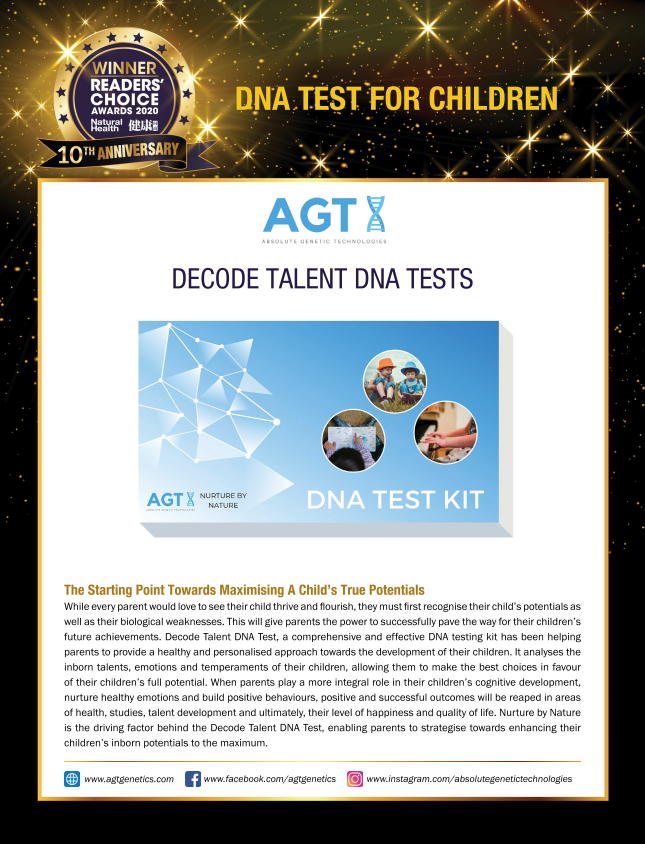 For more information, visit their website at www.agtgenetics.com, www.facebook.com/agtgenetics (Facebook) and www.instagram.com/absolutegenetictechnologies (Instagram).