Developing Future Leaders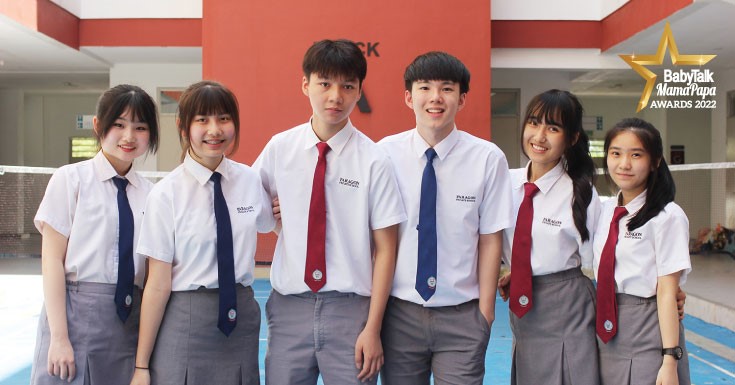 Paragon Private and International School was founded in 2014 with the mission to shape tomorrow's leaders by nurturing and developing every student in body, mind, and spirit with leadership skills needed for society's advancement.
Located in Plentong, Johor, Paragon is housed within a purpose-built campus that incorporates the latest technology into its infrastructure. Paragon Private School's curriculum is based on the latest Malaysian National Syllabus offered by the Ministry of Education (MOE). The school offers six years of primary education, from Primary 1 to Primary 6, and five years of secondary education, from Form 1 to Form 5.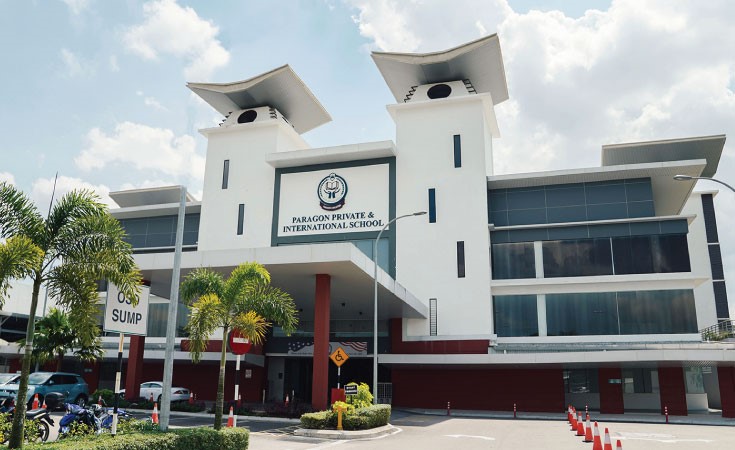 Making Learning Relevant
The curriculum at Paragon Private School is based on the national syllabus as well as incorporating some elements from the Singapore syllabus. Through the blended learning approach, students will be well prepared for the national examination while also gaining a deeper understanding of each subject area. Students will be eligible to take the iPSLE (Singapore) at the end of Primary 6 if that is their goal.
The main aim of the school's primary education is to give students a strong foundation in language, science, math, and other subjects that support the goals of the National Philosophy of Education, which is to help students reach their full intellectual, emotional, and spiritual potential. This is in line with the school's objective to make learning relevant to the real world and always ensure that their students are proficient in 21st century knowledge and abilities.
Secondary students will follow the KBSM Revised (Kurikulum Bersepadu Sekolah Menengah Semakan) curriculum for five years and sitting for SPM (Sijil Pelajaran Malaysia) examination. The school aims to provide learners with a solid foundation in language, science knowledge, mathematics skills, and other supporting subjects that align with the goals of the National Philosophy of Education, which seeks to maximise learners' intellectual, emotional, and spiritual potential.
While Malay is the primary language of instruction, the school is in the Dual Language Programme (DLP) endorsed by the Ministry of Education, in which Science and Mathematics are taught in English. Additionally, every student at the school is equipped with a strong learning foundation and instilled with great character attributes.
Where Future Leaders are Born
Paragon School inspires its students to stand out in a competitive education landscape by providing a holistic education in a supportive, student-centered atmosphere that includes complete immersion in several languages and cultures.
The school is well-equipped with modern facilities such as a swimming pool, multi-purpose hall, auditorium, rooftop garden, state-of-the-art library, and interactive resources, all of which are supported by a strong faculty of teaching professionals.
Paragon School recently emerged as the gold winner in the BabyTalk MamaPapa Awards 2022 for the Private School in Johor Bahru (National Curriculum) category.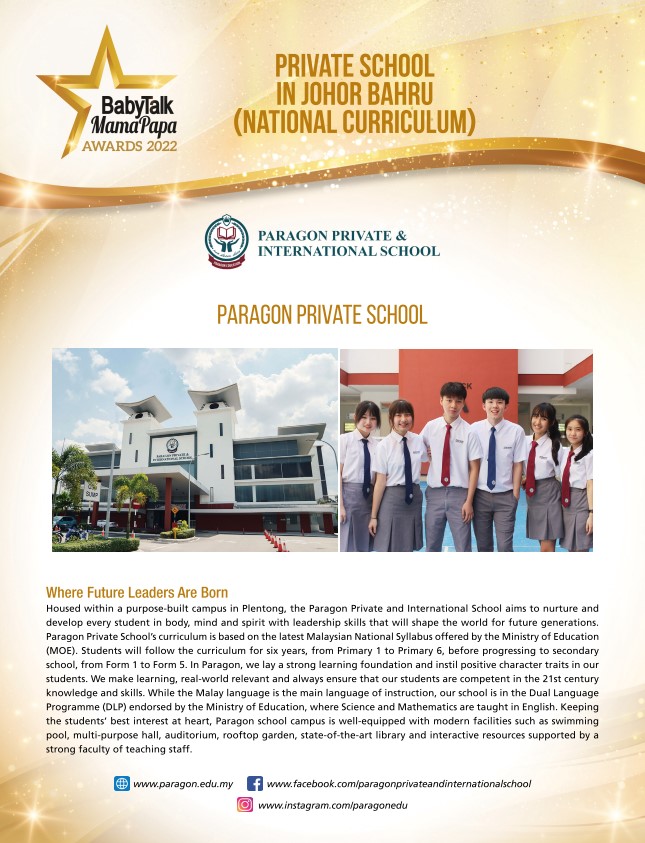 In the spirit of their motto "Non ducor, duco," which means "I am not led, I lead", Paragon School is the place where future leaders are born. For more information, visit their website, Facebook and Instagram pages.
Website: www.paragon.edu.my
Facebook: Paragon Private & International School
Instagram: paragonedu