OXO Tot Space Saving Drying Rack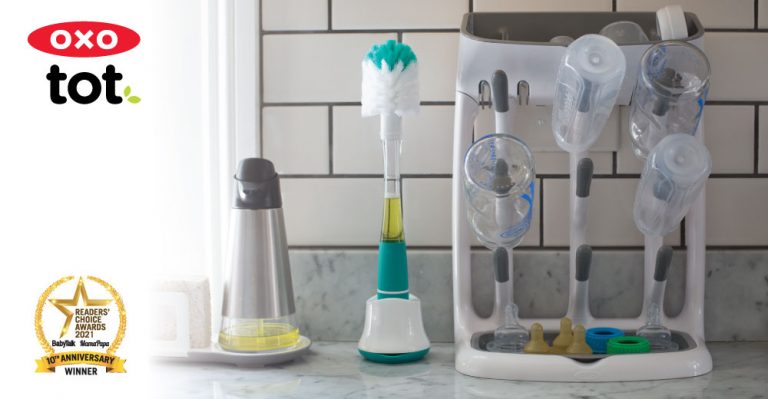 When you are a new parent, setting up your dream kitchen can be quite a challenge. For instance, you'll have to be mindful of your kitchen space – how large or small it is. There are many considerations that you might have to make. Such as, the number of cabinets that you'll need.  Or, how many cooking hobs can you install? How much cutlery and plates do you want to store?
All those aside, ask any new parent who has already been there and they'll probably tell you that the number one issue in any kitchen is … space! Space is almost always a luxury in modern kitchen countertops, and there always seems to be too little room! This is especially so with all the latest, coolest, must-have kitchen appliances your family may have. When there's an infant or toddler in the picture, things might tend to get more crowded with all the additional necessities, isn't that so?
Still on the issue of space, allocating suitable places for drying the little one's things such as bottles, cups, pacifiers, utensils, etc, can get a tad exasperating, especially when space is limited and you're always in a hurry to get tasks done, and get back to your crying baby!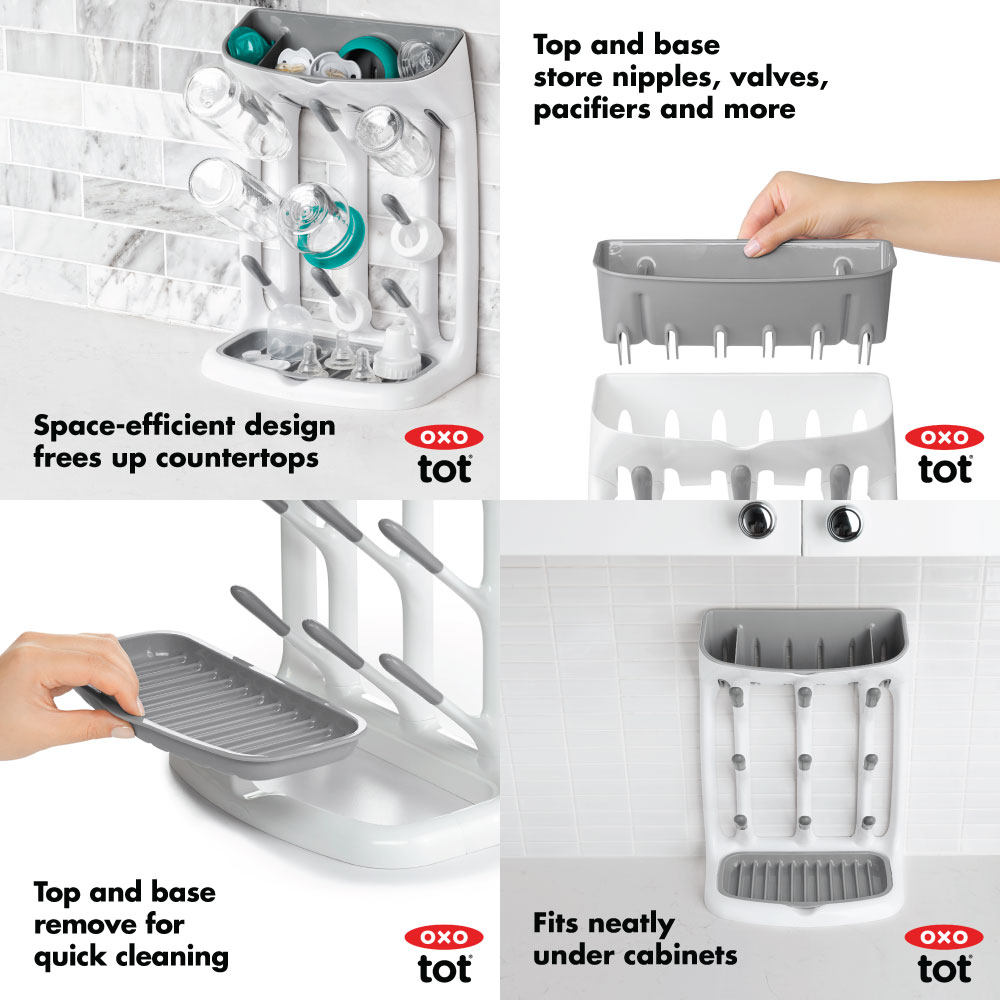 Aaah, fret no more, for here's where this award-winning item comes in:
 Space Saving Drying Rack from OXO Tot
The Space Saving Drying Rack has a small footprint but a great impact, holding cups, bottles, and all their components without taking up valuable counter space. Cups and bottles are held at the proper angle for complete drying by the angled pegs. Small pieces, such as valves or even pacifiers and bottle teats are perfectly dried when placed in specific spots at the top or bottom of this space-friendly rack. OXO Tot Space Saving Drying Rack may even be tucked nicely in place at any available space which is most convenient for you.
Now, keep in mind that when you are in a hurry, it's really easy to end up just placing your baby's things haphazardly at any available space, in a haste. This is how you misplace your baby's things after washing them, or end up even losing an item or two amidst all your other kitchen items. The OXO Tot Space Saving Drying Rack can stand by at any small space in your kitchen like a silent, reliable friend, ready to dry off all your baby's items from bottles to toys and pacifiers, etc, safely, neatly and best of all, quickly! You don't have to wonder anymore where to park these delicate items, for they have a specific place to be now, in this Space Saving Drying Rack!
Due to its clever design, your baby's things are also less prone to slipping out of their spaces and clattering to the floor. Note too, that the base tray has ridges to hold lids in place and is raised to allow for faster drying. Both trays may be removed for complete cleaning.
Now that you are well-informed about the features of the OXO Tot Space Saving Drying rack, surely you would agree that most generic ones that you can buy at the supermarket simply can't compete!
OXO Tot recently won the BabyTalk Readers' Choice Awards 2021 for the Best Drying Rack category.
For more information, visit their website and 
 Instagram page.