Oliferin® PurEssence Plus: Safeguards your baby's health from within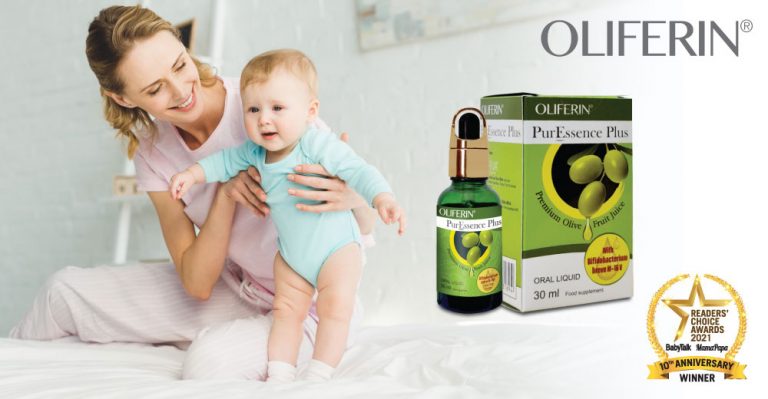 From the moment your baby is born into this world, his or her immune system will begin to strengthen and develop too. The stronger a baby's immune system, the better off that baby will be in terms of health and wellbeing. A baby's immune system develops in more ways than one.
One known way of developing a child's immune system is by allowing the little one to be infected by a certain disease. Take chickenpox, for example. Parents used to host chickenpox parties in order to allow their children to be infected by chickenpox in order to gain acquired immunity. Another way is to have your child vaccinated, medical conditions permitting.
For most parents, the best way to boost their children's immunity is through good quality supplements. Why is it important that children's immunity be strengthened? The obvious reasons are, of course, to help fight off diseases more efficiently, or, shorten the duration of infectious diseases. On another note, about 1 in 5 newborns in Malaysia, Singapore, and other South-East Asian nations are also expected to suffer atopic dermatitis, as well as other hereditary immunological diseases. Giving your child supplements to boost his or her immunity is vital if you wish for your child to enjoy a healthier life ahead.
With the award-winning Oliferin® PurEssence Plus, the task just got easier for parents. It is made out of premium olive extract, contains a high level of olive polyphenols, especially Hydroxytyrosol (HT) which is among the most potent antioxidant found in nature and contributes most of the olive oil's beneficial effects. It is 200 times more concentrated in hydroxytyrosol; each 0.1ml dose provides the same health benefits as 20g of extra virgin olive oil! So rest assured, you are making a healthy choice of supplement for your baby!
Oliferin® PurEssence Plus is a breakthrough in baby supplements. The premium olive extract, which is made stronger by the addition of Bifidobacterium breve M-16V is tailor-made to mitigate the effects of skin allergies and to strengthen the immune system, especially when it comes to babies, for their immune systems are still under development.
The easy-to-take liquid form of Oliferin® PurEssence Plus is also absorbed more efficiently by a baby's body. It is also alcohol-free, so that too, eliminates a level of worry for most parents. With its unsurpassed quality of antioxidant and anti-inflammatory properties, you can be sure that your baby is getting the best, plus, it contains no preservatives, artificial colouring or flavouring – naturally, the best you can get out there.
Your baby's immune system develops naturally, but in these troublesome times we live in where there are dangerous diseases lurking about (and not to mention, a worldwide pandemic!), parents would definitely want to find ways to help their little ones along. Oliferin® PurEssence Plus can be the answer to better immunity for your beloved children, and protect them throughout their growing journey.
Oliferin® PurEssence Plus recently bagged an award in the BabyTalk Readers' Choice Award 2021 for the category of Immune Supplements For Infants & Children.
For more information about Oliferin® PurEssence Plus, please search website or Facebook or Instagram.