Offering Ipoh's Children the Most Complete Preschool Education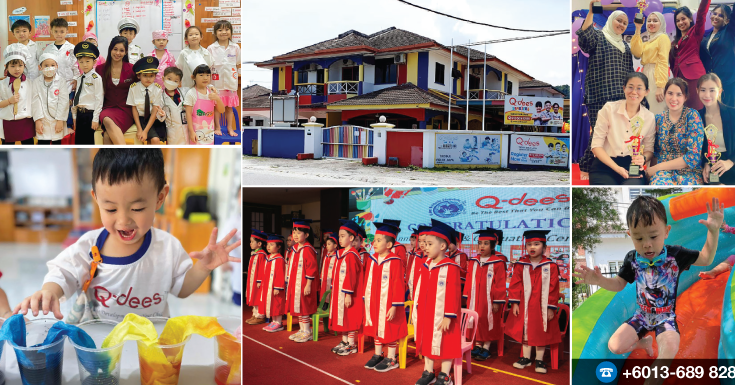 Students, including preschoolers today have more on their plate than children at any other time in history, wouldn't you say so? Due to having to catch up with the ever-evolving times and changes taking place around us, keeping up with the challenges of their education can be quite rough for children of today. Families in Ipoh, however, can heave a sigh of relief, thanks to Q-dees Bandar Seri Botani Kindergarten, a complete one-stop education centre trusted by families and loved by children.
From intensive language classes, after-school cram school to holiday camps, day care classes, and half-day classes – Q-dees Bandar Seri Botani Kindergarten has an array of extensively planned early childhood education programs for children aged 3 to 6 years old. The brand is known for its award-winning teaching plan, namely the Link & Think Methodology, besides the engaging classes, activities, and games offered. Q-dees Bandar Seri Botani Kindergarten reflects this interesting learning experience which cultivates wisdom, confidence and creativity in children.
As a branch of the famed preschool, Q-dees Bandar Seri Botani Kindergarten is as committed as ever to creating a comfortable, safe and healthy learning environment for the children of local families in Ipoh, Perak. Here, children will be guided in core subjects in preparation for primary schooling, and these include English, Bahasa Malaysia, Chinese, mathematics, and science. Children will also get acquainted with art, music, physical education, personality building, as well as the preschool's Link & Think programme.
In its mission to lay a solid foundation for children before entering elementary school, the curriculum syllabus adopted by Q-Dees is in line with the primary school KSSR education standard. As it is a trilingual teaching preschool, children will have no issues enrolling into Chinese school or International school for their primary schooling.
Parents will be pleased to know that every teacher in Q-Dees Bandar Seri Botani Kindergarten has been placed under professional early childhood education training, and are hence superb at interacting with children and conducting quality classes. Teachers also make an effort to address the different learning needs of children from different backgrounds, thus winning the trust of parents with their sincere attitudes and open communication.
Far from your ordinary traditional kindergarten, Q-Dees focuses on children's multi-faceted development by providing courses and activities that go beyond classroom learning, where children get to learn and explore, while being guided in their early education. Each year, the acclaimed preschool also holds annual sports meets, graduation trips, and various celebration activities.
While acquiring a quality preschool education, children are also exposed to better personality development, resulting in exceptional character and moral standing.