Odyssey The Global Preschool Integrated Education Centre: Your child is always the focus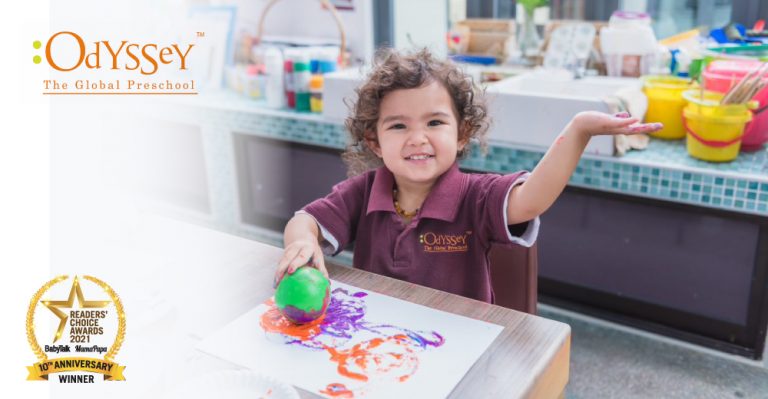 Odyssey The Global Preschool, which is based on the Reggio Emilia teaching method, ensures that children have the opportunity to explore the world in an emergent and interactive manner. The interests and responses of the children have a significant impact on the projects they create. Hands-on, minds-on, and hearts-on learning engages and immerses children in learning by allowing them to participate, experience, and manipulate with their hands while solving problems, analysing, and taking views naturally with their minds.
They invest their hearts when they become involved in the process and develop an interest in the outcome, whether it is success or failure. As a result, it is adequate for today's pre-schoolers.
Odyssey The Global Preschool is a place where learning knows no end, celebrating each child's originality and uniqueness. Odyssey The Global Preschool, which is located in Selangor's Setia Eco Park, provides an innovative pedagogy that prepares your child for life beyond the classroom and school. It connects teachers, students, and members of the community to the world of information. Odyssey The Global Preschool, recognises your child as a capable and inquisitive student and provides educational resources that promote the child's potential talents, natural capabilities, and abilities. "We don't do things here because I think we should or because the teachers think it's a good idea; instead, we determine the proper thing to do based on the values we share as a school." Most importantly, we base all of our judgments on the best interests of the children. "Our professionalism and innovative teaching style set us apart from other schools," says principal Petunia Lun. At Odyssey The Global Preschool, children acquire knowledge and skills that help them develop as creative thinkers, communicators and rational individuals who contribute to society as a whole.
Even in the twenty-first century, children are confined to predetermined curriculum and surroundings from an early age, and they are deprived of the opportunity to express themselves in their most natural state – 'creative, curious, and confident.' Parents concerned about the effects of high academic demands on their children too early are growing increasingly concerned about all work and no recreation. More parents are opting for alternative educational options that promote their child's holistic development. The Reggio Emilia approach, for example, is a popular early childhood education style among parents. But what is it all about?
Every Reggio Emilia philosophy revolves around a child's competence. This revolutionary learning technique believes that each kid develops a distinct personality during their early years of development and expresses their thoughts and interests in a variety of ways, which are referred to as the One Hundred Languages. The concept that children communicate their thoughts through creativity, show their curiosity in diverse ways, and interpret the world in different ways is known as the Hundred Languages theory. This means that your child expresses himself or herself through a variety of activities such as drawing, painting, sculpting, music, drama, pretend-play, dance, movement, and etc.
Reggio Emilia is not a specific teaching method. Reggio Emilia's curriculum is flexible and comes from a child's own thoughts and interests. The technique provides a caring and secure setting for a kid in which parents and teachers work together as co-learners, with the environment serving as the child's third teacher. It emphasises children's social development, in which they learn to form relationships with their peers, family, and teachers. Above all, it empowers a child's ideas, interests, and questions in order to create a lifetime love of learning.
Your child is competent, curious, creative, and capable, according to the Reggio Emilia philosophy. Children are not considered as blank slates to be filled with a plethora of data. Rather, they are driven to be active participants in the learning process, obtaining knowledge through their numerous investigations. They are equally involved in the learning process, participating in various projects and group activities that are primarily focused on their interests and curiosity. Children are exposed to the fundamentals of history, geography, culture, language, science, mathematics, and creativity through these projects, which can last anywhere from a few days to a few months. Children are encouraged to communicate, and their questions and ideas are not just acknowledged and valued, but also actively encouraged.
Teachers attentively monitor the ideas and questions and develop learning adventures and projects in response. Teachers at Reggio Emilia are facilitators and equal partners in your child's learning experience, rather than instructors in the traditional sense. They encourage children to interact with a variety of resources, as well as peers, parents, and the community, in order to make learning exciting and fascinating.
Odyssey The Global Preschool, believes in cutting-edge education that prepares students for the twenty-first century. This methodology attracts the brightest teachers with a variety of skill sets since it allows them to express themselves and reach their full potential. The decisions you make today for your child will affect their future success. We can't undo the past, but we can give them the best learning opportunities and environment today to help kids grow into competent, self-motivated, socially flexible, and responsible global citizens.
Offering a bilingual immersion programme, Odyssey The Global Preschool features an English-speaking teacher as well as a Mandarin-speaking one in every class. This means that the children are constantly exposed to two languages at this critical learning time when their brains are able to absorb and learn the quickest.
The focus is always on the child, creating a collaborative educational culture through active and competent learning while also acknowledging and utilising the environment's role as an active teacher. Odyssey The Global Preschool provides a really unique opportunity for curious learners to extend their knowledge while gaining important skills during their developmental years.
Odyssey The Global Preschool has emerged as the winner in three categories in the recent BabyTalk Readers' Choice Awards 2021, namely Integrated Education Centre, Early Years Curriculum & Outdoors Learning Experience.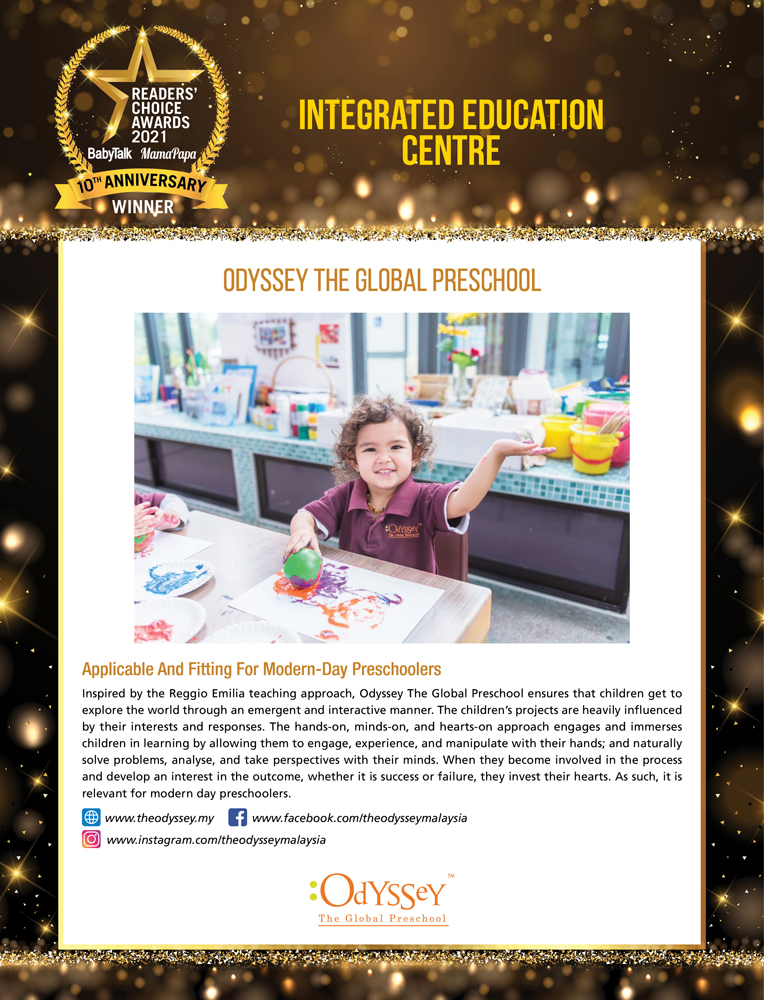 For more information, please visit their website,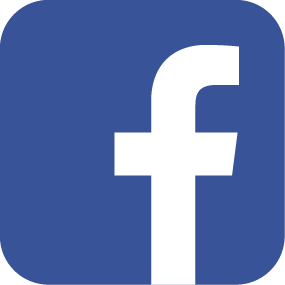 Facebook and
 Instagram page.