Nurturing Future Leaders at IGS English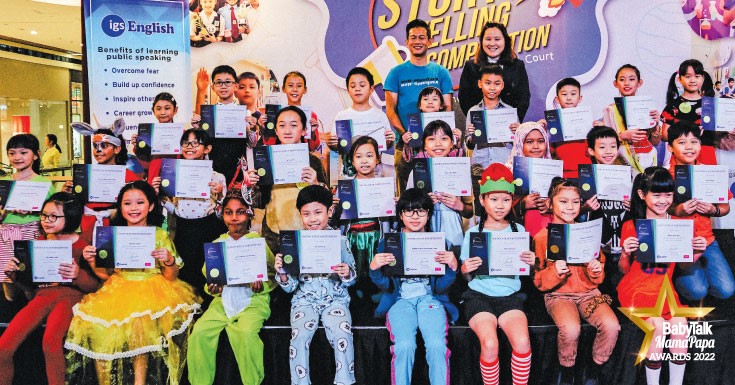 There is no doubt that English is the language of international communication and is a necessity in today's competitive work environment. When Ms. Florence Tee founded IGS English in 2012, her vision was to provide high-quality English education to students who were frustrated with their lack of progress in learning the language.
The Key to Success
She had seen many Malaysian students struggle with the English language despite being intelligent and having no major learning disabilities. They could not put their thoughts into words, and they lacked confidence when it came to writing or public speaking. Ms. Florence recognised that the root cause of their problems was not a lack of intelligence, but rather a lack of quality instruction in the English language. She knew that if she could design a programme to teach these skills as well as other cognitive development techniques such as critical thinking and problem-solving, her students would be empowered with new skills and confidence in their ability to learn and succeed. The establishment of IGS English paved the way towards changing the way children are taught English in Malaysia.
A Commitment to Excellence
From its humble beginnings in a modest venue with only a few students, the centre has grown into a renowned multi-award winning English learning space offering top-notch courses in reading, writing, communicating and public speaking to more than 200 children.
IGS English is located in a prominent shopping centre in Selangor and offers a variety of courses in a suitable and friendly setting. Their programmes include Starter's English, Reading Programme, Public Speaking, Creative Writing, Leadership English, IGCSE English, Cambridge English, and Singapore English and are intended specifically for students ages 4 to 12. Ms. Florence and her team of educators have dedicated themselves over the years to improving how English is taught, which has earned them a stellar reputation in Malaysia's education sector.
The centre employs professional and passionate English teachers who hold at least TESOL, TESL, TEFL, and CELTA certificates. To date, it has assisted many students in obtaining scholarships to study abroad. Academics aside, IGS English strives to nurture future young leaders who can think and communicate effectively in the English language. The centre believes that excellent English language skills are critical for students to thrive in their future careers and open doors to better opportunities in life.
IGS English is the gold winner in the recent BabyTalk MamaPapa Awards 2022 in the English Language School category.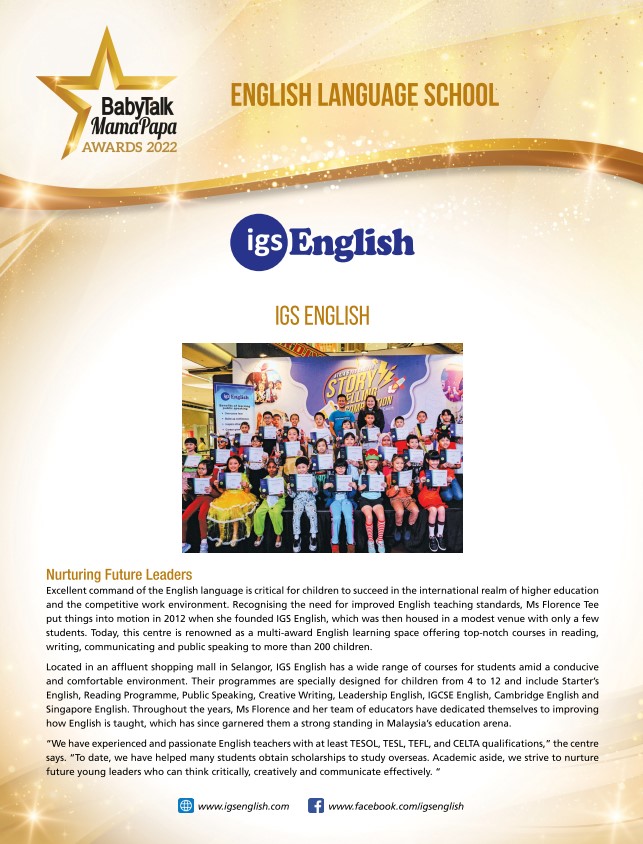 To this day, IGS continues to provide children with opportunities to improve their proficiency in the English language through high-quality instruction in reading, writing, communication, and public speaking. For more information about their programmes, please visit their website and Facebook page.