New OXY Anti-Blackhead Gel is Gentle on the Skin Yet Effective in Combatting Blackheads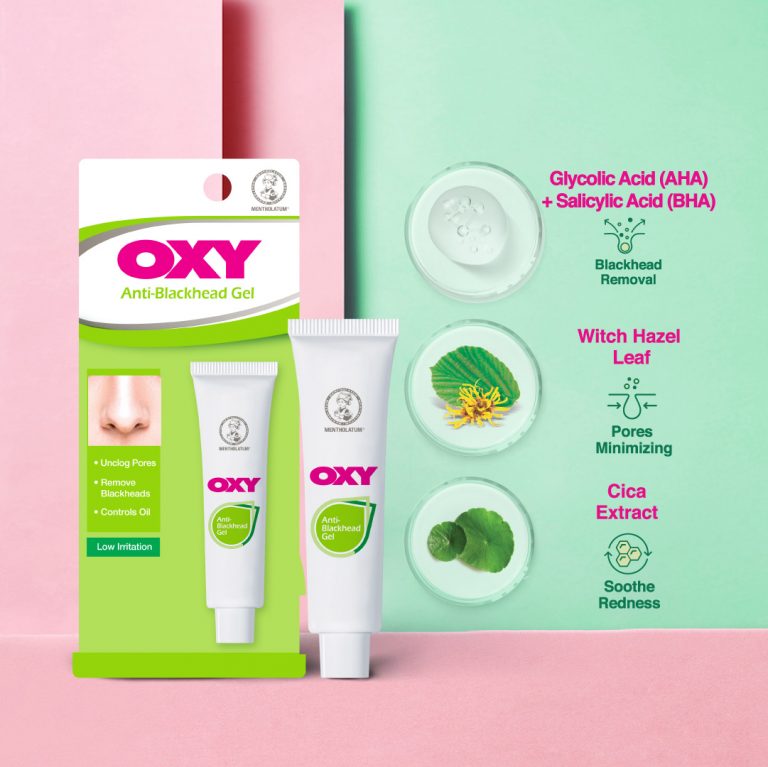 Blackheads and oily skin are amongst the top skin concerns faced by teenagers. When teens hit puberty, their oil glands become overactive thereby resulting in the production of excessive sebum. The excess sebum and built-up of dead skin cells in the hair follicles then forms blackheads.
The need to use a facemask during this time of the pandemic can worsen one's skin condition as it traps dirt and bacteria underneath it. Without proper care and treatment, blackheads will potentially lead to enlarged pores.
OXY the skincare brand for teens has introduced the new Anti-Blackhead Gel that is specially formulated to treat blackheads. It is gentle on the skin yet effective in diminishing blackheads which is usually found on the nose.
Effective ingredients found in its formulation include:
Glycolic Acid (AHA) and Salicylic Acid (BHA)
Glycolic Acid and Salicylic Acid are both active ingredients that targets different layers of the skin. While Glycolic Acid exfoliates and removes dead skin cells from the surface of the skin, Salicylic Acid is able to penetrate deep into the skin and clear out impurities such as dirt and sebum from the pores to ensure skin around the nose area is clear and smooth.
Salicylic Acid used in the new OXY Anti-Blackhead Gel is derived from Wintergreen Leaf Extract, which is 100% natural Salicylic Acid that comes with skincare benefits such as purifying the skin, removing excess sebum and ultimately helping to get rid of blackheads.
With the possibility of inflammation caused by exfoliation, the new OXY Anti-Blackhead Gel is packed with Witch Hazel Leaf Extract to soothe the skin and bring down inflammation. Other than its soothing properties, the Witch Hazel Leaf Extract also helps to tighten the pores to reduce the appearance of pores on the problemed area.
High Purify Centella Asiatica Extract
Centella Asiatica Extract promotes collagen reproduction in the skin, which is important, as collagen helps the skin cells to renew and repair themselves. This ingredient has also been found to calm inflammation, soothe redness, and repair damaged skin to achieve an overall even complexion.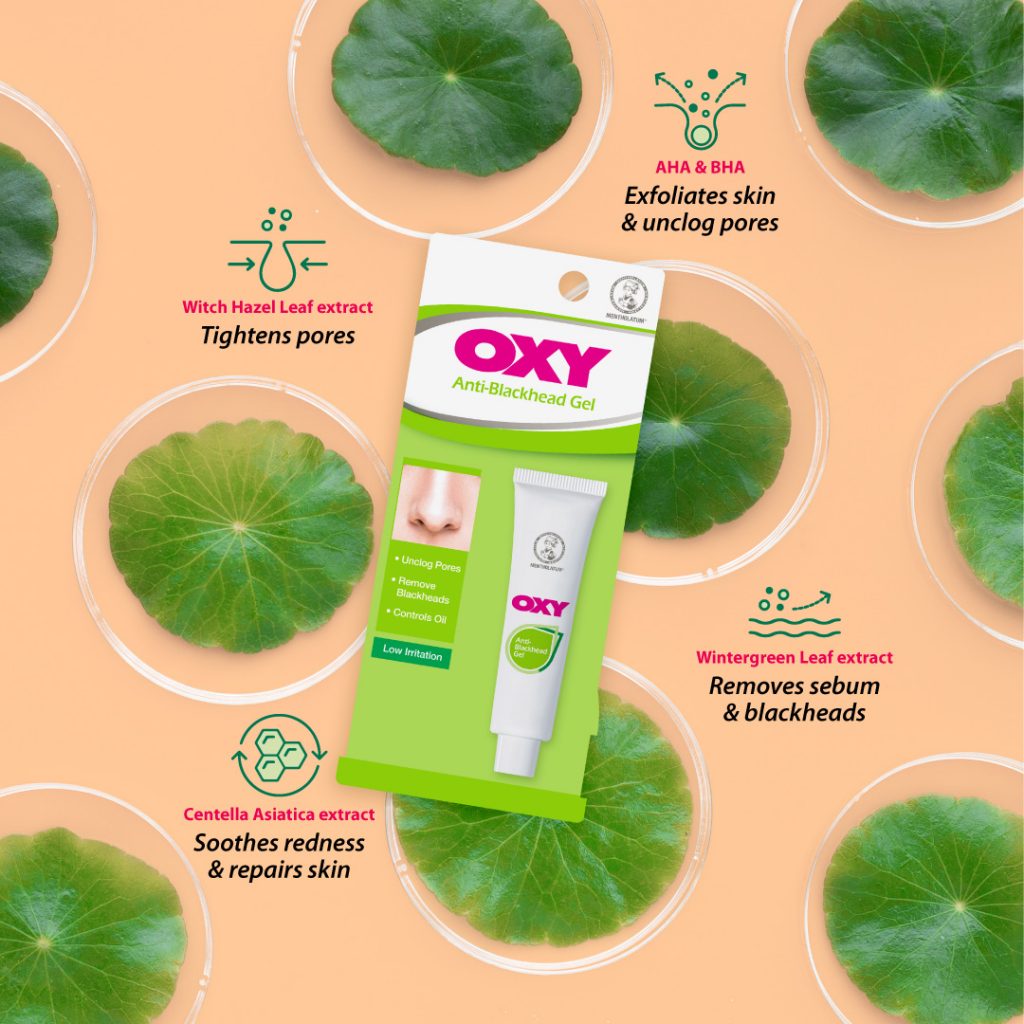 The OXY Anti-Blackhead Gel is to be applied after cleansing the skin. Pat dry, squeeze out an appropriate amount of the gel on the fingertip and apply a thin layer on the nose. Leave it to dry for about 3-5 minutes. Then, gently massage to exfoliate and remove blackheads. Lastly, wash thoroughly with water.
This product is recommended to be used 2-3 times a week. Traditional blackheads removal methods such as using tools or our fingers to squeeze them out may risk permanent scarring on the skin and cause damage to the epidermis layers of the skin; therefore, gentle chemical exfoliation is the way to go.
The new OXY Anti-Blackhead Gel retails at RM14.90 (18g) and is available at leading pharmacies and supermarkets nationwide.