New MamyPoko ANTIMOS Pants Protects Babies from Mosquito Bites, Gives Malaysian Parents Peace of Mind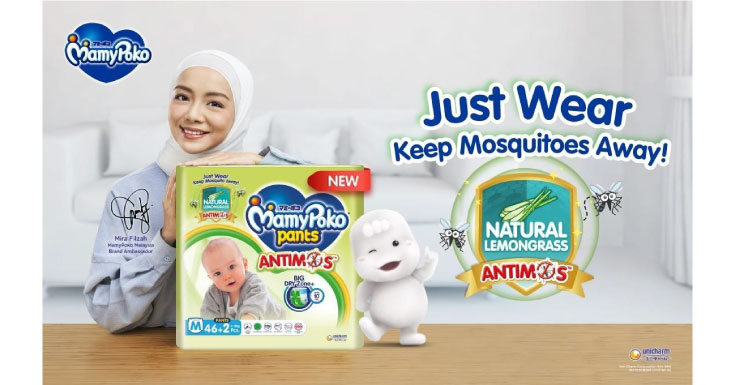 Local celebrity mom Mira Filzah puts her stamp of approval on convenience, comfort and efficacy of innovative solution to protect babies from mosquito bites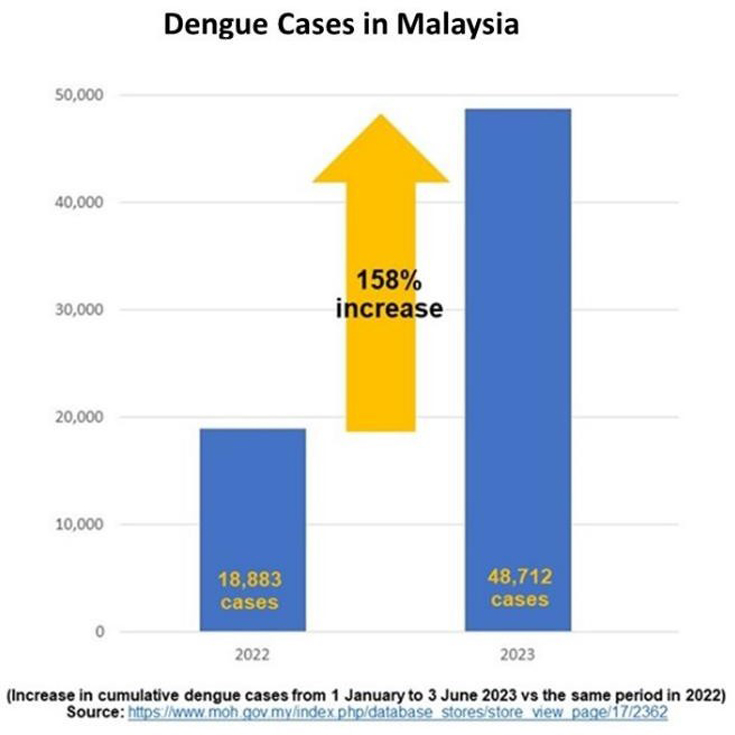 Moms always have their hands full and, when it comes to their babies, there is always something to worry about. Nowadays, with 48,712 dengue cases reported in the 22nd epidemiological week, amounting to a 158% increase from the same period last year1, preventing mosquito bites has become a priority. Recognizing this need, MamyPoko ANTIMOS Pants introduces a first-of-its-kind in the world solution, in conjunction with ASEAN Dengue Day, for moms who want added peace of mind that their little ones are protected from the pesky mosquitoes anytime, anywhere.
Using a Japan Patented Technology, this diaper pants effectively repels mosquitoes with natural lemongrass extract that lasts up to 8 hours, while its innovative Big DRY Zone+ technology takes care of absorbency and dryness for up to 10 hours. With these features and more, babies can enjoy optimum comfort and uninterrupted play and sleep, free of mosquito bites.
"Nothing matters more to me than my son's well-being, and let me tell you that when it comes to his diaper needs, the new MamyPoko ANTIMOS Pants have won a special spot in my heart. It's like having an
extra shield of protection against those pesky mosquito bites, especially when we are indoors and don't always use repellents. But that's not all—these diaper pants are also fantastic at keeping him dry and preventing any skin irritation. It's truly an all-in-one solution that brings both comfort to my little one," says renowned celebrity ambassador Mira Filzah.
Other mothers have also joined Mira Filzah in giving their vote of confidence. In a recent consumer trial, 90% of mothers who tried MamyPoko ANTIMOS Pants for their baby found it effective in repelling mosquitoes.
"My days are always jam-packed with cooking, cleaning, and taking care of the kids. It's so easy to get caught up in everything that sometimes I forget to light a mosquito coil or apply repellent, even though I'm well aware of the dengue issue. That's why I absolutely love having MamyPoko ANTIMOS Pants in my life. It's really good value-for-money. Not only does it effectively repel mosquitoes, my youngest is sleeping well these days because these diaper pants are incredibly absorbent, ensuring she stays dry and comfortable throughout the night," says Nur Shakila, 27, mother of three.
"I absolutely love taking my daughter out for adventures and exploring new places. It's our favourite thing to do together, but there was one thing that always got in the way – mosquitoes! No matter where we went, they seemed to find her. Thankfully, there's MamyPoko ANTIMOS Pants. I really like using them because they protect her from bites all over and not just around the bum area. The diaper pants are also incredibly stretchable, allowing her to play and move around comfortably. Now, our outdoor escapades are even more enjoyable," says Chia See Ming, 32, mother to a 2-year-old daughter and another big fan of the new diaper pants.
For Norfadilah Bintajol, 39, mother of three, the experience of having a child hospitalised for dengue has taught her to always be vigilant against mosquitoes. "Seeing my child suffer from the high fever and body aches was heart-wrenching. It took several weeks to fully recover, and it was a very challenging time for our family. I don't ever want my child to go through it again so I'm extra careful about protecting all my children. Thanks to MamyPoko ANTIMOS Pants, I am reassured they are safer from this disease now as I no longer see mosquito bites on their arms and legs."
In tandem with this new launch, MamyPoko also introduces www.mamypokoagainstdengue.com, a website dedicated to the fight against dengue. This platform empowers moms by providing them with essential information and resources on dengue prevention. It features the latest iDengue updates so parents can also check if their home is located within a dengue hotspot. Additionally, the website shares real-life dengue stories and details about the new MamyPoko ANTIMOS Pants.
Try new MamyPoko ANTIMOS Pants, now available at major hypermarkets, supermarkets, convenience stores and e-commerce platforms. For more information on dengue prevention or to find a store nearest to you, visit www.mamypokoagainstdengue.com.

1 Kenyataan Media Ketua Pengarah Kesihatan – Situasi Semasa Demam Denggi Di Malaysia Minggu Epidemiologi 22/23 (Jan – Jun 2023) href="https://www.moh.gov.my/index.php/database_stores/store_view_page/17/2362">