New Ensure Gold, A Complete And Balanced Nutrition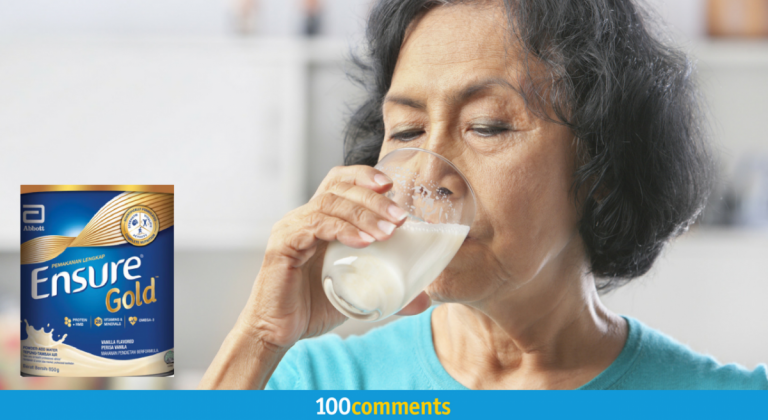 For the adults, maintaining muscle health and strength through good nutrition is key to a healthy, independent lifestyle. Hence, Abbott launched its new Ensure Gold formula the first in Malaysia with the nutritional ingredient HMB which helps the body regain strength.
Healthy muscles are essential to maintaining our strength and the ability to do the everyday activities that make life meaningful and fulfilling. Most people are not aware that starting in their 40s, healthy adults can naturally lose up to 8% of muscle every decade, and after 70, that rate almost doubles up to 15%.
"Adults in Malaysia, particularly those above 40, should start making muscle health a priority and take action to preserve their muscles. Stronger and healthier muscles will pave the way for a stronger and healthier tomorrow, especially in a fast ageing society like Malaysia," says Professor Tan Maw Pin, Council Member at the Malaysia Healthy Ageing SOciety (MHAS) and Professor of Geriatric Medicine at the University of Malaya.
Abbott's Low Yen Ling, Director of Research & Development at Abbott's Nutrition Asia Pacific Centre commented, "The good news is, while aging is a natural process, muscle loss can be slowed down or reversed. It is important that we nourish our muscles as we age, by getting the right amount of nutrients, especially protein and vitamin D. However, in reality, the majority of adults do not get the daily recommended nutrients required for a healthy and active life. This can have an impact on their strength and energy, or even how they recover if they've had an illness or injury."
"That is why Abbott has been focused on pioneering scientific research for over 15 years in the ingredient HMB. HMB is a metabolite of the essential amino acid leucine and has been shown to help the body regain strength. Ensure Gold is scientifically formulated with HMB in Asia as a complete, balanced nutrition supplement to improve strength as early as 8 weeks," added Dr Low.
Nourish your muscles with the new Ensure Gold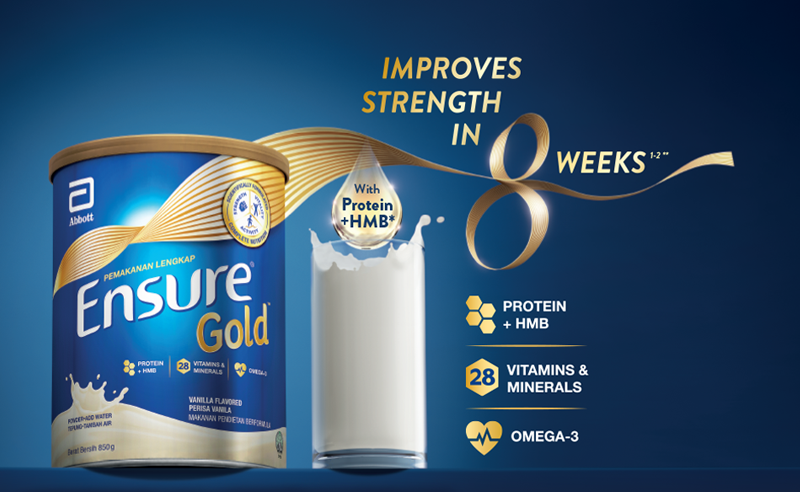 Abbott's new Ensure Gold is the latest nutrition innovation formulated in Asia with the ingredient HMB to help the body regain strength, giving adults in Malaysia a complete and balanced nutrition to help them stay strong and live an active life.
Key features
The new Ensure Gold is a complete and balanced nutrition supplement, scientifically formulated with HMB, high quality protein, calcium, vitamin D and a total of 28 vitamins and minerals to help improve strength in as early as 8 weeks.
Scientifically formulated with nutritional ingredient HMB and high quality protein to provide complete, balanced nutrition for muscle health and strength.
HMB is a metabolite of essential amino acid leucine. HMB is naturally found in small amounts in some foods and in your body, and levels may decline with age4. HMB has been shown to help the body regain strength.
20% more high quality protein to help in muscle tissue building and growth.
Three times higher vitamin D helps to reduce the risk of falling associated with postural instability and muscle weakness.
Calcium, vitamin D and a total of 28 other vitamins and minerals.
Contains Omega-3, 6 & 9 with no trans-fat and low cholesterol.
Contains prebiotics to promote the growth of good bacteria and help maintain a healthy digestive system.