Naturally Comforting and Moisturising: BZU BZU Head-to-Toe Baby Wash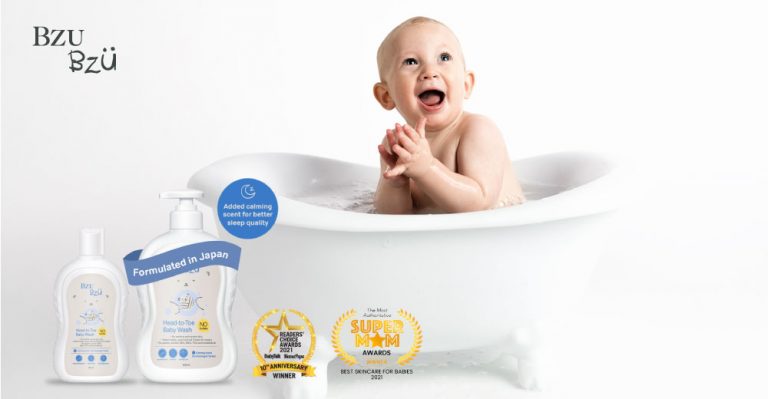 Giving their baby a bath must be the highlight of any new parent's day! Other than getting your baby all cleaned up and ready for the day (or ready for bed), your baby's bath time is also the perfect time for mommy and baby bonding, isn't it? Well, it should be, and it will, as long as you use the perfect baby wash for the job! Agreed? Great, read on…
Whether you are a new parent or you have done this before, we're sure that your baby's bath time fills you up with the most loving emotions of love and awe. This is also one of the best times to speak softly to your little bundle of joy and make eye-contact to form a tight, loving bond with your baby.
A precious moment, indeed, so please, dear parents, pay heed. If there is anything that can ruin this bonding time, it is the use of any unsuitable bath product which may cause discomfort to your baby's skin, and give way to dryness and even rashes. This includes products that contain harmful ingredients in their making. And yes, even now as you are reading in these modern times, when awareness has spread about the harmful effects of chemicals and other additives, there are still countless brands of baby toiletries that include them as part of their ingredients. And some of these are, mind you, quite well-known brands! That's just sad, isn't it?
Well, today we are not going to harp on that, but instead, we are about to take a closer look at one baby wash product that is truly worth the accolade it recently garnered, which is the BabyTalk Readers' Choice Award 2021 in the category of Natural Baby Wash (Sensitive Skin). That product is:
BZU BZU Head-To-Toe Baby Wash
Your baby's skin is sensitive and delicate and is still in its developing stage. BZU BZU is a family brand that fully understands and respects this fact, which is why you will not find chemicals such as sulphate in its Head-To-Toe Baby Wash. This is already one reason to heave a sigh of relief, as many other brands of baby washes still contain this skin-harming ingredient. The thing about sulphate is, the longer it is in contact with the skin, the dryer the skin gets, as well as more sensitive. BZU BZU Head-To-Toe Baby Wash is free from this! When your baby is happily soaking in the bathtub, wouldn't it be great to know that you are using a sulphate-free baby wash?
Other nasties that you will never find in any BZU BZU products including the Head-To-Toe Baby Wash are chemicals which you may not even realise are contained in so many other brands, and they include Paraben, Alcohol, DEA, MEA, TEA and Formaldehyde!
Gentle, mild and effective, BZU BZU Head-To-Toe Baby Wash has, instead, a selection of natural, skin-loving ingredients that help to care and protect your baby's skin during this delicate developing period. The brilliant combination of Qubaku, Peach Leaf and Artichoke Leaf extracts work together to sooth and calm your baby's skin, which is naturally vulnerable to irritation. BZU BZU Head-To-Toe Baby Wash also contains Inositol as well as Vitamin E and Vitamin B Complex to keep your baby's skin well-hydrated while preventing moisture loss.
Remember, parents, that the wellbeing of your baby's skin is in your hands. It is up to you to make the best choice of bath product for your precious little one so that he or she will be spared the discomforts of skin irritations and dryness. Pick a reputable product, please. And well, you can't go wrong with an award-winner, can you?
You can now purchase these BZU BZU award winning products at selected AEON, Lotus, Mothercare, Manjaku, Watsons, Big Pharmacy, Multicare Pharmacy, and their official online store at Shopee and Lazada.
BZU BZU has emerged as the winner in two categories in the recent BabyTalk Readers' Choice Awards 2021, namely Natural Baby Wash (Sensitive Skin), and Natural Baby Powder.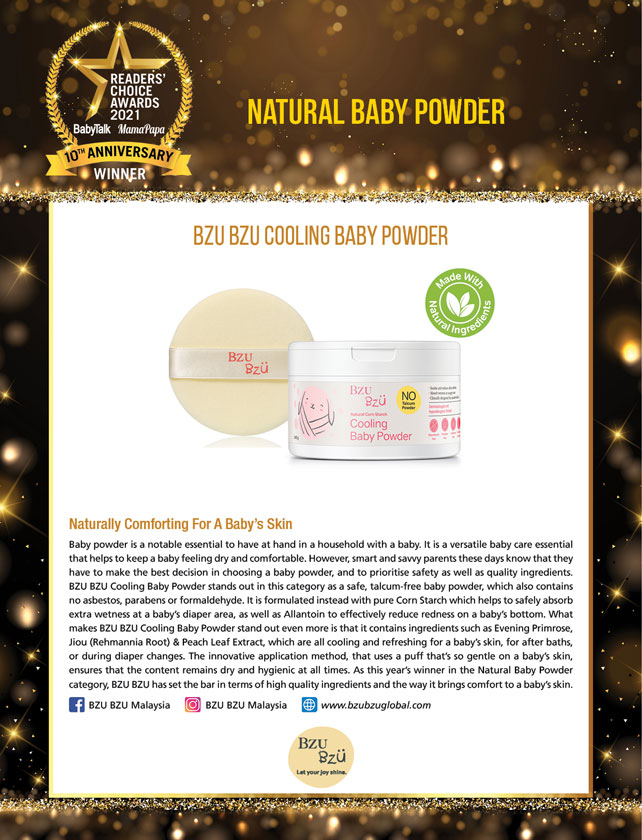 For more information, visit BZU BZU Malaysia Facebook and Instagram or website.