Natural Oils for Radiant Hair, Skin and Nails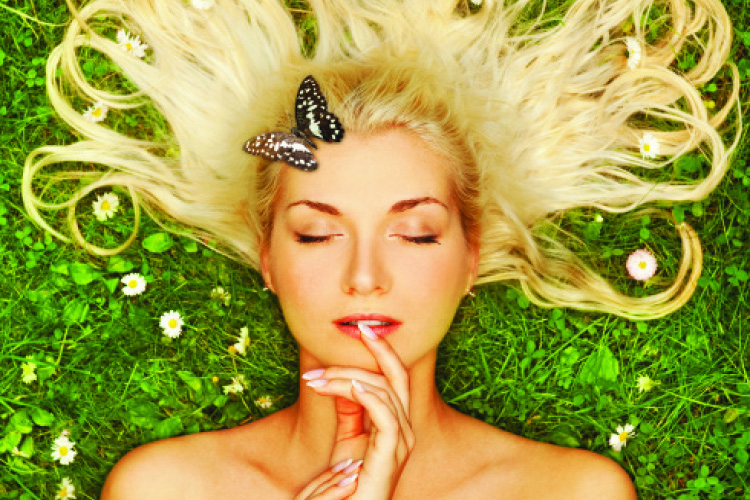 Natural oils have been glorified for centuries due to their effectiveness when it comes to enhancing one's hair, skin and nails. Natural oils, have been used to aid in scalp, hair and nail nourishment as well as soothe, smooth and enhance skin complexions.
They are quite multi-purpose, fixing issues ranging from dry and distressed skin, nourishing limp and frizzy split-ended locks and even repairing brittle nails and cracked cuticles immediately. Not only are the oils an excellent aid to your beauty woes, they are also inexpensive and chemical-free emollients for all types of skin, hair, scalp and nails. These oils are quite easy to get and they usually come packaged in a bottle or jar.
Originally derived from herbs, leaves, berries and nuts which have been painstakingly sourced from all over the world, the treatment oils are packed with essential nutrients to repair, nourish and protect. The oil is favoured for the care of your hair, skin and nails for its ability to saturate, replenish lost moisture and create a barrier that locks hydration in and dryness out.
For instance, the Argan Oil has been around for such a long time. However, it was only until recently that beauty experts have discovered the fact that the oil works wonders on people's skin and hair. Made from the kernels of argan trees which can only be found in Morocco, argan oil is rich in vitamin E and essential fatty acids, which hydrate and repair dry skin and hair.
Only one specific group of people is allowed to harvest the argan nuts and make the oil—the Berber women of Morocco. That's great news for the eco-conscious because not only are these women part of a fairtrade cooperative, the argan forests are protected by an ecosystem reforestation project. In fact, UNESCO has designated the growing region as a biosphere reserve.
Therapeutic Natural Oil
If your mane needs some nourishment or your nails look as though you suffer from malnutrition, you might want to consider using oils in your daily beauty regimen. The oils also function as conditioning makeup removers or if you like the fragrance or adore a touch of luxury, add a teaspoon of it to your favourite shampoos, conditioners and body creams for all-over hydration and indulgence.
The following oils are the favourites among fans of natural oils, so take a look through and see which one you might fancy:
Macadamia nut oil
Majestic macadamia trees originated in Australia but are now grown worldwide, giving its fan easier and more affordable access to the much sought-after oil. Macadamia nut oil is a light, non-greasy healing and regenerative, stable oil. It is rich in omega-7 and vitamins A and E, and is a protein-rich ultra-moisturizing elixir.
The oil easily absorbs into skin, scalp and hair due to its uncanny ability to mimic the body's own natural oils and its high palmitoleic acid (a fatty acid found in meat, milk, cheese and yogurt that helps to prevent diabetes type II and metabolic – related disorders. Other major benefits include UV protection from the sun, prevention of hair colour oxidation and minimizing of chemical damage.
Use macadamia nut oil generously as a body cream for all skin types; mature, ageing, dry complexions tend to benefit the most from the oil. Rejuvenate scalp and hair by massaging one tablespoon of oil into the hair and scalp, wrap with a warm towel or shower cap for 15 minutes. Follow up with a light shampoo before finally rinsing off the oil and shampoo with cool water.
Grapeseed oil
Grapeseed oil, derived from the seeds of a grape, is a very light non-greasy antioxidant that protects skin from free radicals and premature ageing. It is loaded with essential fatty acids (EFA), proanthocyanidins (a powerful antioxidant with known preventive actions on diabetes, cataract and large bowel cancer) and flavonoids (another antioxidant which also possesses mood and memory enhancing properties). All three substances are also known to play a role in the enhancement of collagen and the maintenance of elastin, the protein responsible for your skin's elasticity. Not just excellent for the skin, grapeseed oil is a great conditioner for the scalp, hair and nails too. Just like the other oils, use a few drops and massage into desired area for its moisture-retentive properties.
It is easy to add natural oils to your beauty routine. They're safe, relatively inexpensive and easily obtainable. Remember, too, if you wish to use them as carrier oils by adding essential oils for scent, it is generally recommended that you use three tablespoons of natural oil or carrier oil to one to three drops of essential oil. Some of the most fragrant essential oils are geranium, lemon, lavender, cinnamon, rosemary and juniper. Have fun experimenting with them!
Argan oil
Argan oil, indigenous to Morocco, is touted as a restorative anti-ageing serum and is often referred to as "liquid gold." This natural antioxidant is loaded with vitamins A and E, omega-6 and omega-9 essential fatty acids which can revitalise stressed skin, dry hair and brittle nails on contact. It also works well on split ends or to add instant shine to dull hair. Massage in one or two drops of oil into the scalp and hair daily as a skin moisturiser or a leave-in hydrating treatment.
Jojoba oil
Jojoba oil contains micro-elements such as zinc, copper, silicon, iodine, chromium and vitamins E and B. It closely resembles your own skin sebum and your skin's own lubricating medium, giving jojoba a natural affinity to the skin and scalp. The oil easily absorbs without making the skin feel greasy or tacky and it does not clog pores.
Obtain from the jojoba plant grown in Northwestern Mexico, California, and Arizona, jojoba oil has exceptional skin-softening properties as well as the ability to minimise fine lines and wrinkles, promoting suppleness and rejuvenation. Try adding a few drops of jojoba oil to your anti-ageing creams, body lotions and conditioners. The oil also stands well on its own for skin, hair and nail care.
Coconut oil
Coconut oil is often referred to as "the healthiest oil on earth." The oil's essential proteins and capric and lauric acids fight wrinkles, and tone and tighten skin while nourishing healthy hair. As nature's richest source of medium-chain fatty acids (MCFAs), coconut oil is easily absorbed by the body, strengthening your skin's connective tissues and thus also promoting a healthy scalp. Coconut oil also serves to reinforce lacklustre hair strands caused by sun, heat and chemical damage. For a special scalp and hair treatment, massage in one tablespoon and then wrap with a warm towel and shower cap for 15 minutes. Follow with light shampoo and a cool rinse.
Sweet almond oil
Sweet almond oil, containing vitamins A, B1, B2, B6 and E, is an all-natural beauty treatment for all skin, scalp and hair types. Its anti-ageing properties naturally and visibly plump, fill and moisturise your skin. While its B6 benefits are known to stimulate and rejuvenate the scalp by promoting healthy hair growth, its fatty acids, magnesium, iron and unsaturated triglycerides (the fat found in your blood) provides nourishment to the hair.
You're free to indulge in this oil if you don't have a nut allergy. Pamper yourself by slowly massaging small amounts over skin for a fresh dewy glow. Rub into the scalp and mush through the hair for 10 minutes, then rinse well and shampoo.
Emu oil
Omega-rich emu oil, called "the wonder from Down Under," naturally delivers Vitamin A (the skin and hair follicle repairer), Vitamin E (a major antioxidant), oleic acid (a skin-cell regenerator and anti-wrinkling agent) and sapogens (skin softeners). This deeply penetrating non-toxic, non-comedogenic, non-greasy and hypo-allergenic oil locks in moisture and helps form a protective barrier, improving the condition of stressed ageing skin and hair of all types. Just a few drops of emu oil applied to the entire body and hair to safeguard and maintain a radiant overall appearance.
Apart from the natural oils mentioned, there are others worth mentioning such as the sea buckthorn oil, rosemary oil and neem oil. The sea buckthorn berry fortifies itself against the elements by producing powerful nutrients. With more than 190 bioactive compounds, sea buckthorn is an unsurpassed source of omegas 3, 6, and 9 which improve the turnover of skin cells and protect new ones. It is also a rich source of the elusive omega-7, an essential fatty acid vital to collagen production and healthy skin, hair and nails.
Meanwhile, the French, Spanish, and Italians have treated their hair with rosemary for centuries. Used in shampoos and rinses, rosemary oil conditions and prevents frizz. Rubbed into the scalp, it stimulates circulation, treats dryness, itch and flakes and may even help to produce new hair.
On the other hand, neem, a tree native to India and Southeast Asia, is known as "the village pharmacy" for its ability to treat a variety of conditions. It is an important plant used in ayurveda, one of the world's oldest medical systems, and has been valued as a medicinal herb for nearly 5,000 years. Neem oil is rich in antioxidants and essential fatty acids and has anti-inflammatory, antifungal, antibacterial and antiviral properties. As such, it is widely used to heal and protect skin, scalp, hair and nails.