Must Have Wardrobe Items For Working Moms-to-Be
Maybe you can still able to wear your regular work wardrobe in your first trimester, even though you can't zip your jeans properly or leave the top button undone. Don't worry, you can still camouflage that by wearing big size tops and leave them untucked. Hey, here's a trick to solve the problem. Loop a rubber band through the buttonhole and then wrap it around the button. This can solve your problem of cannot button your pants properly yet still provide an extra inch or two of breathing room.
For the first trimester, maybe this trick works well, but then you'll enter the crucial zone. You have put on weight and require to wear one or two sizes bigger. Your belly starts to feel stuffy and you can't wear something tight and sit below your belly anymore. You need something comfortable and can give enough space for your belly to breath. Then you opt for stretchy yoga pants as it is comfortable and let you move freely. Work shirts? You barely dress well to work and sweaters, cardigans, loose shirts have become your staple outfits.
How can I dress nicely for work by wearing maternity clothes?
Even though sweatpants are allowed in your office and aren't in your company's dress code, but you still need to adhere to the professional look. Imagine meeting client with baggy sweatshirt and yoga pants, of course, they will not take you seriously. You can still rock that office wear with a couple of tips and tricks. If you are working mom-to-be, here are some fashion ideas that suit for your first trimester, second trimester and third semester. The key point here is to be comfortable in whatever you wear.
Flowy printed blouse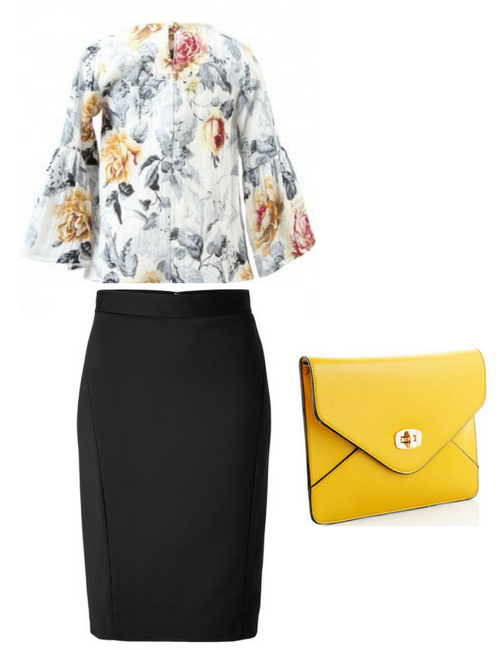 Pretty printed blouse in bright colour not only brighten your day but also your mood. The lightweight, silky top is both versatile and practical. You can wear it to go to work and have a romantic dinner with your husband at night later. Layer it with a formal blazer for officewear look and then take it off for a casual day. Choose something that you can wear throughout the pregnancy stage and it is a plus bonus if the blouse comes with a small hidden zipper that is breastfeeding-friendly. It allows you to easily pump or breastfeed without the need to taking it off or even lifting it up.
Bayla Maternity & Nursing wear from mumdream is a great deal as it comes with a hidden zipper that is breastfeeding-friendly. The usage of lycra gives an exclusive look beside making you comfortable to style this blouse. Super love the wide sleeve for a feminine look yet still stylish and suit for the office look. Shop this look at mumdream.
Comfy black pants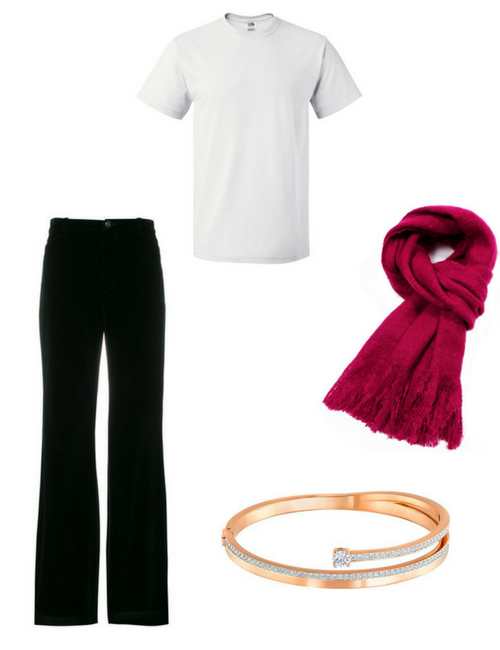 Wide black pants will make a versatile addition to your wardrobe. It is everything that you need and it is an essential piece for everyone who is going through pregnancy. You can pair it with a blouse, loose shirt, button-up shirt and almost everything! It is so sophisticated and a great style to attend a business meeting. A chic pair of black pants is a working pregnant woman's best friend. The length that is tailored right at the ankle allows you to show off your favourite shoes. Pair it with heels to make your legs look miles longer.
PADINI has a wide selection of maternity wear that is up-to-date and versatile. If you don't want to waste money on buying maternity clothes and end up not using it anymore, you can always shop normal attire but make sure you pick something that is stretchy and can adapt with your body changes. This PADINI Casual Long Pants will make a versatile addition to your wardrobe.
Structured blazer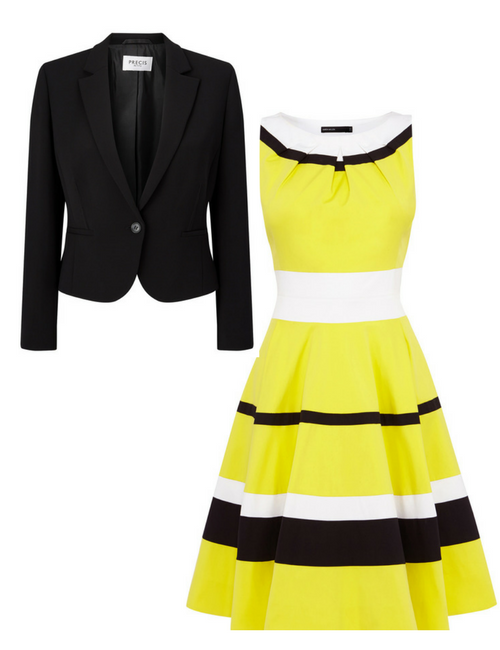 Just a simple and classic blazer will change to a formal and professional looking style. Styling a classic power blazer shows that you are the boss, hardworking professional woman and also showing off your baby bump. Contrast the black classic blazer with a shirt that comes in a bright and pop colour to instantly pull them together. It is, in fact, a great outerwear to keep your warm and cozy in an air-conditioned room while working.
Get this look by purchasing PADINI Work Jacket and pair with your favourite blouse and trousers. This jacket is great for adding a smart finish to your office looks. The slim-fit design features a two button fastening and mock lapel pockets for added appeal.
Work shirt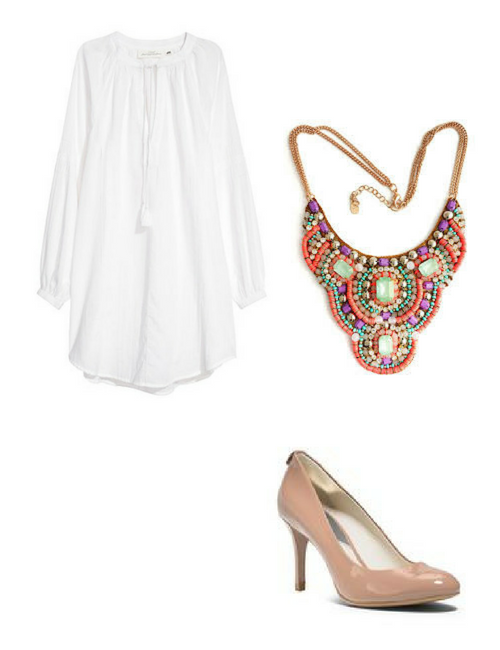 Work shirts, do we need to explain more about it? It suits in both – formal and casual setting. Opt for something formal yet comfortable and the best tip is choose button-down shirt so that once your belly starts to grow, you can unbutton the shirt and wear camisole inside for a different style. For office work, pair a plain white shirt with a black pencil skirt and layer it on with a blazer or you can wear black pants.
Go to H&M maternity wear department and look for H&M Poplin Shirt. This shirt is oversize design with shirt-style collar. It comes with a decorative drawstring and side slit hem. Pair it with a structured bag and black heels to complete the look. Watch out, the new boss is here!
Dark stretchy jeans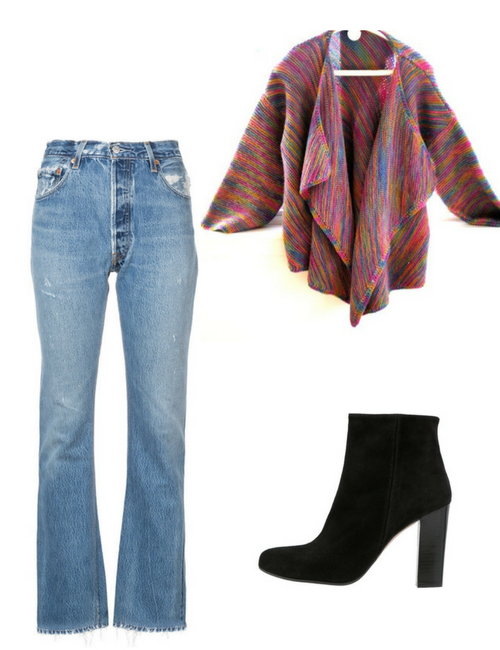 On Friday we wear casual outfit! Casual Friday just got a whole lot cooler thanks to this stylish dark-rinse maternity jeans. The boot-cut silhouette is totally flattering and works appropriate and the stretchy roll panel discreetly covers and smooths your belly. You can go straight to dinner out from the office.
To maintain the formality look, you can pair the dark coloured jeans with a formal blouse and layer it with a long cardigan or something. There are a wide selection of jeans from skinny jeans, straight cut jeans, low-rise jeans but the best choice is to opt for bootcut jeans as it adds more curve and character to your style. Dark blue jeans is a great choice by far. Envie De Fraise has a great pair of Maternity Garry Deluxe Jeans in dark blue colour. It comes with a high bump waistband detail and the elastic waistband with button and zip fastening making it comfortable and stretchy.
Little black dress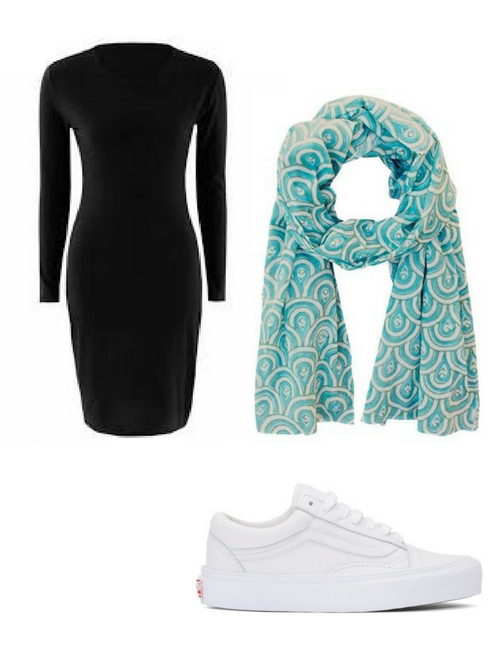 A little black dress is your life saviour. Who said you have to stop wearing a dress just because you've got a baby onboard? It is not wrong to wear a dress and the best choice is a stretchy black dress that is body hugging. Make sure you buy a dress that is not too short nor too long to make your legs slender and taller. Pair it with a sling bag and wrap a printed scarf around your neck and you are set to go!
Good thing we found this perfect maternity black dress for you. Whether you are having lunch with clients or presenting to the boss, this ultra comfy and chic Maternity Black Short Sleeve Bodycon Dress from Dorothy Perkins is guaranteed to become your go-to, so make sure you add to shopping cart.
Long cardigan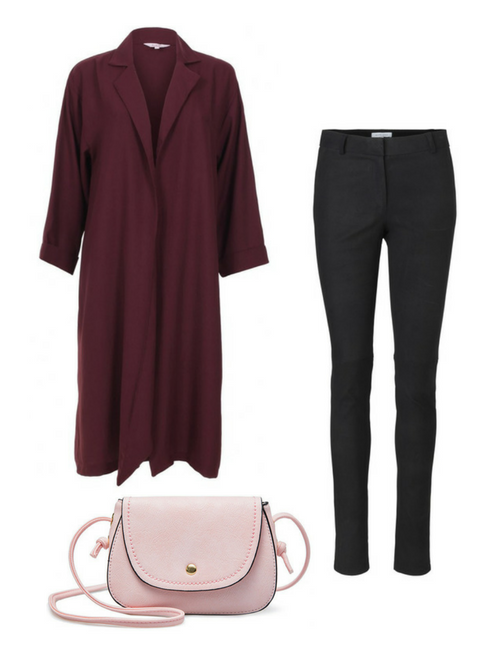 Don't forget this office essential! A long cardigan is a great addition to complete your maternity style. Observe how Hollywood celebrities such as Kim Kardashian loves to wear long jacket or cardigan during her pregnancy. A long jacket or cardigan can camouflage your belly and a plus point is can keep you warm at the office.
Uniqlo WOMEN HPJ Oversized Light Weight Jacket is tailored for moms-to-be. Its super chic and soft draped version looks high-end and versatile. It comes in various colour but why don't you throw some bright colour in your wardrobe with this Oversized Light Weight Jacket in soft peach colour. Uniqlo is known for its durable and comfortable material. So we must say it is a great investment and you can still wear it even after you have giving birth. It is definitely your must-have style!
Bold and colourful dress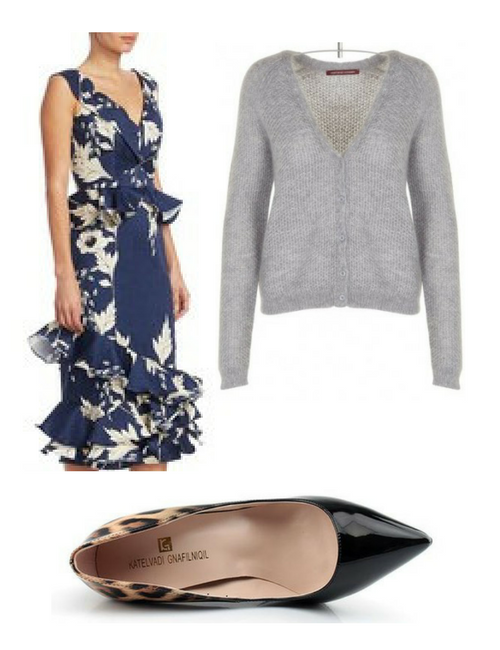 Add a splash of colour to your officewear! White, black and grey is so common so why don't you wear something bold and colourful? Make a statement with your choice of dress. In fact, bright colour helps to lift up your mood and thus making your day as great as ever.
This sweet floral print dress with button down style from MANGO is a great choice. If you feel the need to cover up your belly, then you can layer this dress with a long and soft cardigan for a more soft look. MANGO Floral print linen-blend dress is pretty and really showing off the stylish side of you.