Mumu Wooden Toys: Ignite their imagination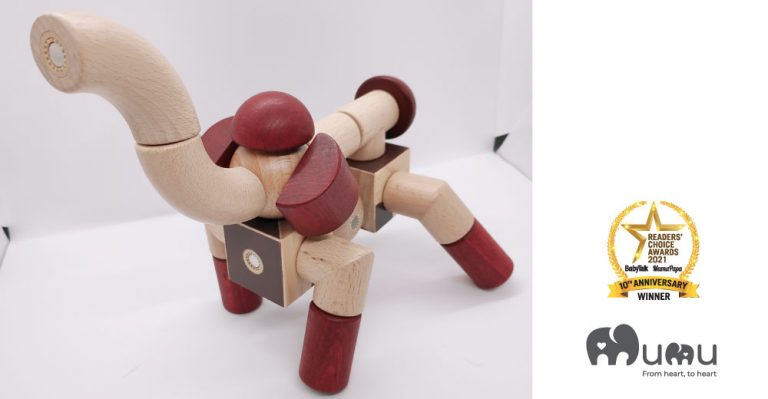 Wooden toys are such classic items that will always remain relevant during the precious childhood years. Mumu's collection of wooden toys are exceptional in quality and in function, and are made to encourage creativity while fostering parent-child bonding. Each Mumu wooden toy is carefully crafted, and they have their own unique experience to offer in terms of activities, challenges, and igniting the imagination.
Among them is the Mumu Alnico (magnetic wooden blocks), available in Alnico 24 and Alnico 42. The name Alnico is derived from the special, stronger magnet it uses, namely made up of a combination of aluminium (Al), nickel (Ni) and cobalt (Co). The toys are made from quality beech wood, and are designed to be smooth around the edges and safe for little ones to play with. These award-winning Alnico from Mumu help to enhance children's hand-eye coordination and improve visual-spatial recognition. Alnico is unisex in designs and colour, making it suitable for little boys as well as girls.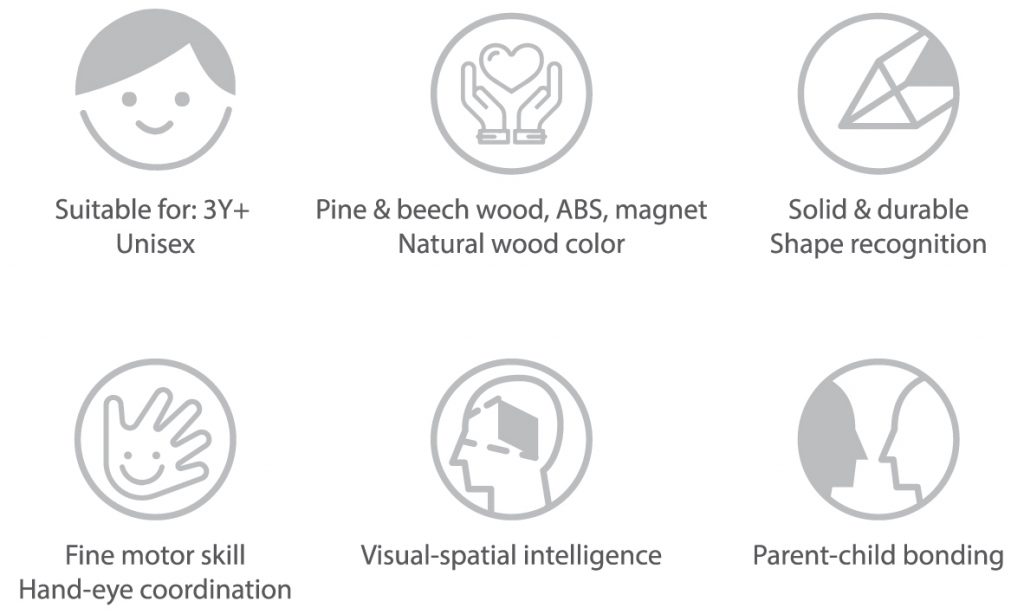 Also available in this wooden toy range is Mumu Dorada (a wooden magnetic fishing set); Mumu Unite (a wooden puzzle); Mumu Canary (a wooden percussion instrument); and Mumu Baobao (a wooden wheeled toy). It is completely understandable why parents can hardly stop at just Alnico – a whole collection is so much more fun!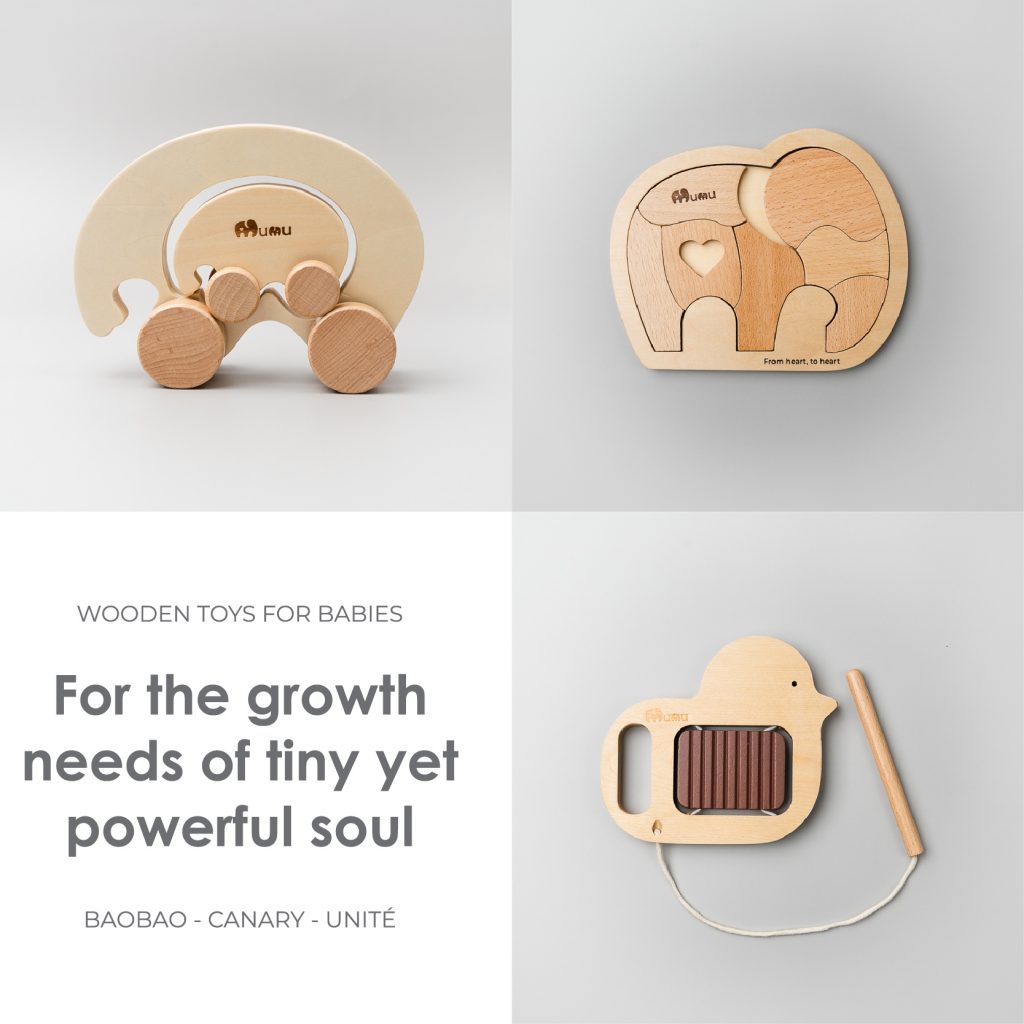 Mumu Baobao
Ignite & inspire curiosity towards the whole new world. Best for tummy time, and when your little one is trying his/her very best to crawl or walk towards your warm embrace.
Mumu Canary
It is never too early to introduce tunes and rhymes to your little one. Your gentle humming is the most pleasing sound to him/her. Great for family bonding, tummy time, sing-along session, family music, and so much more.
Mumu Unite
As your tiny baby develops and grows over time, you would one day realize it is no longer an issue for him/her to start practicing pincer grasps and gradually picking up small particles around the house. Puzzle is a great assistant in forging visual-spatial intelligence, and, the sense of achievement, believe us, is too cute for you to handle!
Mumu Dorado
Someday, you will proudly be introducing your little one to shape recognition and visual spatial cognition. Someday, your little one will probably be bringing home freshly caught fish from the stream. But for now, let's start introducing him/her with the basics.
How to care for & clean wooden toys?
Do not get them wet!
Wooden toys are prone to black mold when damp, so we recommend daddies and mummies to put the blocks in a dry and well ventilated place.
No washing
Never soak or immerse wooden toys in water. Wood is porous, so wooden toys will swell and deform when exposed to water.
Avoid heat and changes in temperature
No doubt, drying in the sun is great as it speeds up the drying process, and the sun is a natural way to kill more germs. However strong sunlight or prolonged exposure can lead to color fade, swells and cracks, and lead to breakage.
Wipe gently
With a clean rag or handkerchief, gently wipe the surface of the wooden toys. Occasional polishing can be beneficial to condition your wooden toy and keep it looking great. Olive oil works well, or another non-toxic option is beeswax polish. Don't forget to place the toys in a ventilated place to air-dry.
With proper care and maintenance, you will find your wooden toy is able to provide many years of play and enjoyment.
HELLO10
exclusively for registered members
applicable for our award winning wooden toys, too
store-wide 10% off with no minimum spend
3-months installment plan with ZERO interest
15% Reward Points redeemable for your next purchase
Mumu has emerged as the winner in three categories in the recent BabyTalk Readers' Choice Awards 2021, namely Baby Wooden Toy, Toddler Training Potty and Compartments Lunch Box for Child.
For more details, visit their website,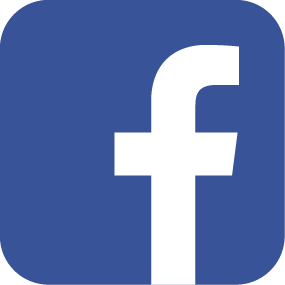 Facebook and 
 Instagram today!