Moves Like a Parent does: 4moms® mamaRoo® 4.0 Infant Seat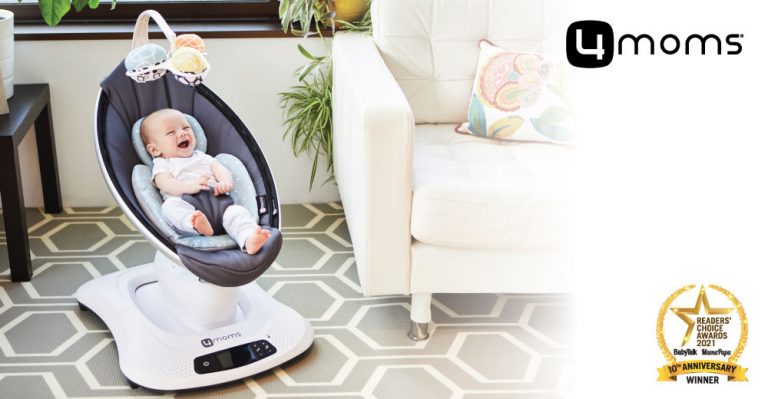 When you are trying to calm your baby down, have you noticed the movements you make as you carry your baby and move around? Somehow, as an instinct, you know exactly how to move in order to comfort your baby, and also soothe him. These movements are so complex that they can hardly be duplicated, wouldn't you say that?
Swaying, rocking, doing a light 'jiggle' and so on are all the ways we know that will help soothe a fussy baby, or just comfort one that is trying to go to sleep. These require a lot of time and patience, for there may be times when a baby is harder to soothe than usual, such as when the little one is unwell, or just had a vaccination, etc. For a busy mommy who has to run around trying to complete her household chores, at most times, time just isn't on her side. There is cooking to do, cleaning to take care of, laundry, paying bills online, and perhaps even some sort of work-from-home programme to participate in. After all, these are quite difficult times and most households could use some extra income, right? So, what can such moms do?
Turn to 4moms®, we say! Yes, 4moms® mamaRoo® 4.0 Infant Seat is what you want right now, and here's why:
Moves like you do with 5 built-in realistic movements
Has 5 speed choices to suit different situations and a baby's mood
Has four built-in sounds (parents can connect it to any MP3 player to play other sounds/music.)
The excellent safety feature of 3-point harness to ensure babies stay put in their seat and will not slip out
Comes with removable covers and all the little extras such as a baby rattle and mobile toys

The creators of this award-winning infant seat were convinced, rightfully, that the product would serve its purpose better if it replicated the movements parents made when they were comforting their babies. They actually put sensor vests on parents to understand those motions and then replicated the bouncing and swaying in the mamaRoo 4.0 to soothe a baby like no other infant seat can do! Parents can choose from the five built in movements offered: Car Ride; Kangaroo; Tree Swing, Rock-a-Bye; and Wave!
The 4moms® mamaRoo® 4.0 boasts 5 speed choices that can be adjusted to suit your baby's needs and moods as well as the different situations a baby's day could bring. Together with the choices of motions, parents have 25 different combinations to pick from. Again, isn't that just what a parent would do – move more quickly or slowly and in different ways to accommodate the needs of their baby?
Sounds play an important role in soothing a baby and also in entertaining him. In this area, the 4moms® mamaRoo® 4.0 is equipped with 4 built-in sounds. Moreover, parents also have the option of connecting to an MP3 player for any other sounds/music that their baby may prefer.
4moms® mamaRoo® 4.0 can function as an infant seat to sit and play in, and also be adjusted to a complete recline position for the baby to rest and relax.
Your 4moms® mamaRoo® 4.0 comes complete with mobile toys and a baby rattle. The seat cover can be removed and is machine-washable, so you can change it whenever you need to and always ensure it's kept clean and hygienic for your baby.
4moms® has won the Baby Seat Bounce & Swing category in the recent BabyTalk Readers' Choice Awards.
For more information, visit their website and 
 Instagram page.