More than Just a Toy Store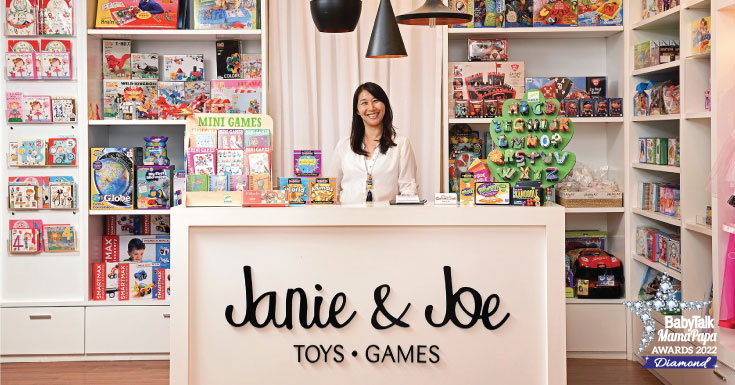 Tucked within a posh shopping mall in Bangsar is Janie & Joe, an enchanting toy store overflowing with toys that will provide hours and hours of educational fun for kids of all ages.
"Toys are children's words and play is their language"
– Garry L. Landreth, author of Play Therapy.
The year was 2013, and Kong Sue Foung, a mother of two, found herself in a quandary. She had gone from one toy store to another with little success in finding what she wanted. "There simply weren't many fun and high-quality educational toys available in Malaysia at the time!" Sue Foung lamented.
Sue Foung noticed that the Malaysian market was small, and as a result, parents can only find mainstream toy brands that entice children through the licensing of popular characters. Realising the importance of having toys that could improve motor skills, literacy and numerical skills, she decided to take the plunge into starting her own business. Her legal and finance background gave her the confidence that this business opportunity could help meet the needs of other parents just like her.
Fuelling a Child's Development with Quality Toys
According to Sue Foung, all the skills that come from playing with educational toys are important in preparing children for the big transition from home to school.
"Just like we purchase healthy food to nourish our children, we should buy quality toys that fuel our children's development. Children grow and develop at a rapid pace. Their minds require stimulation and they have a thirst for learning," she said. "Educational toys assist children in developing abilities that serve as the foundation for schooling."
Guided by her instincts that there is no time like the present to launch a toy store that is unlike any other in the nation, Sue Foung started to visit many toy fairs around the world to source for quality brands which were not represented in Malaysia. She discovered brands such as Melissa & Doug, Learning Resources, Educational Insights, and Djeco, all of which are well-loved brands by parents, teachers and kids worldwide.
"I brought these toys into Malaysia, and established Janie & Joe as a purveyor of a wide range of high-quality toys and accessories for children," Sue Foung reminisced. And so began her journey as a toy retailer with a difference.
A Fulfilling & Rewarding Venture
She found that running Janie & Joe was, and still is, very fulfilling and rewarding. "We have forged good relationships with loyal customers and are proud of the products we offer. Seeing children's faces light up in the store makes it all worthwhile!" she shared.
Her entrepreneurial foray began smoothly, as setting up a business in Malaysia in 2013 was relatively straightforward. But Janie & Joe had its own share of challenges too. "The biggest hurdle was the introduction of GST in 2015. Sales were depressed after the tax was introduced. We had to absorb a significant portion of the tax ourselves," she recalled.
Ongoing challenges in these post-pandemic lockdown days include dealing with logistics, shipping and manufacturing delays, as well as currency volatility. "However, we continue to focus on bringing in high-quality products and providing excellent customer service to attract more shoppers all year-round. We believe that our customers deserve the best and we treat them like friends!"
Since its debut nine years ago, Janie & Joe has grown into one of the leading independent toy stores in Malaysia. Ensconced within Bangsar Village shopping mall, the visually enchanting toy store has garnered positive reviews from happy parents whose children can't get enough of their captivating products. With row after row of toys and activities that can make anyone's childhood genuinely unforgettable, the store has become a destination in its own right.
With Janie & Joe's newly revamped online platform, parents can now shop for the best toys, puzzles, pads, arts and crafts materials, and more from the comfort of their own home.
Since 2018, Janie & Joe has been voted Best Toy Store in Malaysia by the readers of Baby Talk and Mama Papa magazines in the Readers' Choice Awards for five consecutive years. "It is a testament to our commitment to delivering the highest quality fun and educational toys backed by exceptional customer service," said Sue Foung.
One of Janie & Joe's best-selling toys is the Learning Resources Helping Hands Fine Motor Tool Set. It is a versatile toy that can be used with any item you have in your house. This makes it ideal for developing fine motor skills, which are necessary for picking up a pen and writing when your child starts school. "They are fun to use too. The set consists of two types of tweezers, a dropper and a scooper, all of which are the perfect size for little hands!" Sue Foung enthused.
Preparing Children for a Technology-Centred Future
The visionary Sue Foung believes that STEM (Science, Technology, Engineering, and Math) toys are currently quite popular with both boys and girls. She noted that in a world driven by technological innovation, it is important for kids to learn the basics of these disciplines as early as possible.
"Toy manufacturers have invested a lot of resources in research and development to design toys that teach children skills such as early coding, building and construction, logical thinking and spatial awareness. More STEM topics will be included in school in the future, and it is important we prepare our children for a future that is centred on technology," she said. This is in line with Janie & Joe's approach of positioning themselves as the pioneers in bringing the latest STEM toys to Malaysia, which expose children to the fundamental concepts of coding and programming.
To parents who have yet to discover the magic that lies within the doors of Janie & Joe, Sue Foung has this to say, "Children are our future. It is not too early to show them that learning can be fun!"
For more information, visit Janie & Joe at website, Facebook page and Instagram.