Mentholatum's Therapy Lip Balm Now Comes With Limited-Edition Kitty Cat Design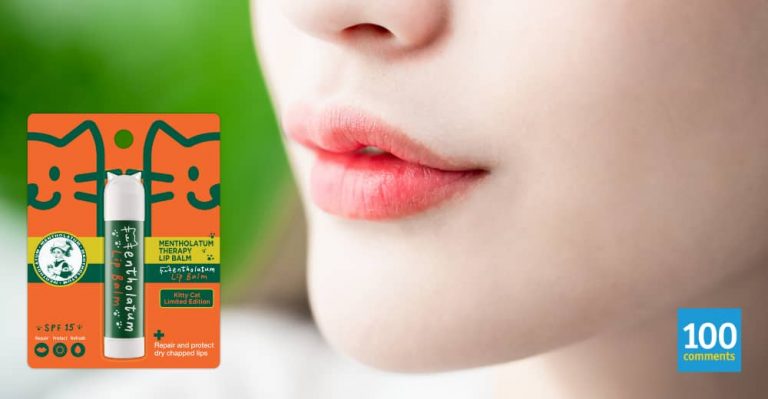 The current plague of Covid-19 makes it mandatory that we all wear masks in public places to help combat the spread of this infectious virus. While we're aware of how important it is to continue putting on a mask in order to prevent infection, prolonged mask use especially under hot weather conditions could cause chapped lips to feel dry and irritated. So it's always useful to carry a lip balm around with you in your handbag or somewhere that's easily accessible so you can always give yourself a quick and simple fix whenever your lips are starting to get dried out and flaky.
Mentholatum's NEW Therapy Lip Balm with multiple cool features now also comes with a Limited Edition Kitty Cat packaging design to offer a more youthful and appealing look!
Unlike any other lip balms in the market, the latest Kitty Cat Lip Balm is specially formulated to help repair and moisturize dry and chapped lips. It contains Eucalyptus Globulus Leaf Oil and Pinus Sylvestris leaf Oil which have effective antiseptic and anti-inflammatory treatment properties. It also contains Camphor for effective healing of dry, chapped and windburned lips.
Apart from its effective treatment properties, it is also formulated with Lanolin a key moisturising ingredient that functions as an emollient to soothe and moisturise the lips.
In addition, this lip balm also offers a fresh cooling sensation as you glide it over your lips. So, never leave home without applying the Kitty Cat Therapy Lip Balm especially in this hot weather as it also offers UV protection with SPF 15. Going to bed with the air-condition on? Apply the Kitty Cat Therapy Lip Balm prior to ensure that your lips stay moisturised throughout!
It's only a twist now to moisturise and heal that lip of yours! Be sure to pick up the limited-edition Kitty Cat Therapy Lip Balm when you visit the pharmacy next, and start applying the lip balm anywhere, anytime and whenever needed to keep your lips moisturised! The Mentholatum Kitty Cat Therapy Lip Balm retails at RM14.90 (3.5g).
You have tried the Mentholatum's NEW Therapy Lip Balm ? Feel free to share you thoughts with us!