Mellow Untuk Waktu Tidur Sempurna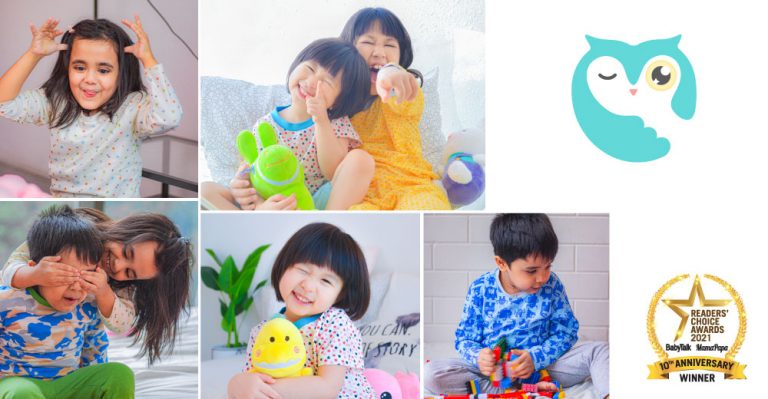 Jenama pakaian malam bayi dan kanak-kanak, Mellow adalah sebuah jenama pengeluaran tempatan sepenuhnya, yang ditubuhkan sekitar tahun 2011 oleh sekumpulan ibu yang minat dan teruja mengenai fesyen si kecil. Dengan slogan, "Menciptakan Kenangan Waktu Tidur", koleksi pakaian tidur kanak-kanak diinspirasi daripada detik-detik manis semasa ibu dan anak bercerita sebelum waktu tidur.
Detik-detik sebelum tidur, di mana adanya celoteh antara ibu and anak menjadikan perhubungan antara mereka lebih akrab. Berkaitan dengan itu, Mellow bukan hanya menitik berat kualiti dan keselesaan tetapi rutin sebelum tidur yang bernilai dan bermakna. Mellow komited membantu ibu bapa menjadikan waktu tidur anak mereka sebagai satu pengalaman positif yang berkualiti dan ia bermula daripada pakaian tidur yang dipilih. Mellow bukan sahaja menjanjkan keselesaan pada anak kecil malah dapat menarik minat mereka dengan corak-corak menarik yang dihasilkan yang sudah pasti akan menambat hati 'si pemakai".
Mellow juga menjanjikan keseselesaan kepada pemakai, di mana ia menggunakan 100% kain jenis fabrik cotton. Corak-coraknya pula mempunyai reka bentuk 3D yang menarik dan pinggang seluar yang anjal sudah semestinya akan membuatkan anak-anak anda lebih selesa dan nyaman semasa memakainya pada waktu malam. Hasilnya, tidur menjadi lebih lena dan berkualiti.
Koleksi pakaian Mellow sesuai untuk bayi berusia (0-24 bulan) hingga kanak-kanak yang berumur (1-15 tahun).  Semuanya boleh didapati dalam pelbagai corak bermotifkan haiwan, tumbuh-tumbuhan dan sebagainya, Mellow kini mempunyai lebih daripada 4 koleksi terbaru yang menarik antaranya termasuklah Melow Rainbow Printed Sleepwear","Mellow Polkadot Printed Sleepwear"," Mellow Rainbow Printed Big Tee Dress" dan "Mellow Polkadot Printed Big Tee Dress". Dan, tidak kurang hebat juga adalah satu lagi koleksi hangat daripada Mellow yang mendapat sambutan memberansangkan,  antaranya "Mellow Army Printed Sleepwear,"Mellow Blue Dino Jacket" dan "Mellow 3D Pants". Semua pakaian tidur bayi dan kanak-kanak ini dihasilkan dengan mengambil kira rekaan watak jalan cerita yang menyeronokkan antaranya termasuklah "Thomas the Truck"," Jamie the Alpaca" dan "Ash the Leaf".
Di sebalik setiap watak, ada sahaja kisah yang boleh direka oleh ibu bapa untuk meluangkan masa berharga sewaktu persiapan waktu tidur dengan si kecil yang dapat mengeratkan lagi ikatan kasih sayang bersama keluarga seiring dengan slogan "Mencipta Kenangan Waktu Tidur".  Selain pakaian tidur, Mellow turut menyediakan pakaian rumah dan set hadiah yang istimewa untuk si manja seperti "Mellow Baby Boy Playful Gifset", "Mellow Baby Girl Playful Gifset dan "Mellow Baby Joyful Gifset pada harga yang berpatutan.
Berita baik untuk ibu bapa yang menggemari koleksi daripada Mellow: Disebabkan oleh pandemik Covid-19 yang sedang melanda seluruh dunia, anda dinasihatkan supaya tidak membawa anak kecil untuk keluar bersiar atau membeli-belah diluar malah masyarakat digalakan sentiasa berada kekal di rumah terutama mereka yang mempunyai anak kecil. Sehubungan dengan itu anda boleh membuat pembelian dengan pembayaran ansuran selama 4 bulan tanpa caj tersembunyi atau bayaran tambahan secara atas talian melalui PayLater oleh Grab. Tawaran ini bukan sahaja memberi kemudahan, malah keselamatan anda dan keluarga juga lebih terjamin apabila membuat pembelian secara atas talian bersama Mellow. Ekoran permintaan yang tinggi, Mellow bukan sahaja boleh dibeli secara dalam talian malah ia juga boleh didapatkan di stor-stor terkemuka seperti Isetan dan Parkson.
Mellow telah muncul sebagai pemenang untuk kategori Pakaian Tidur Bayi Dan Kanak-Kanak, dalam BabyTalk Readers' Choice Awards baru-baru ini.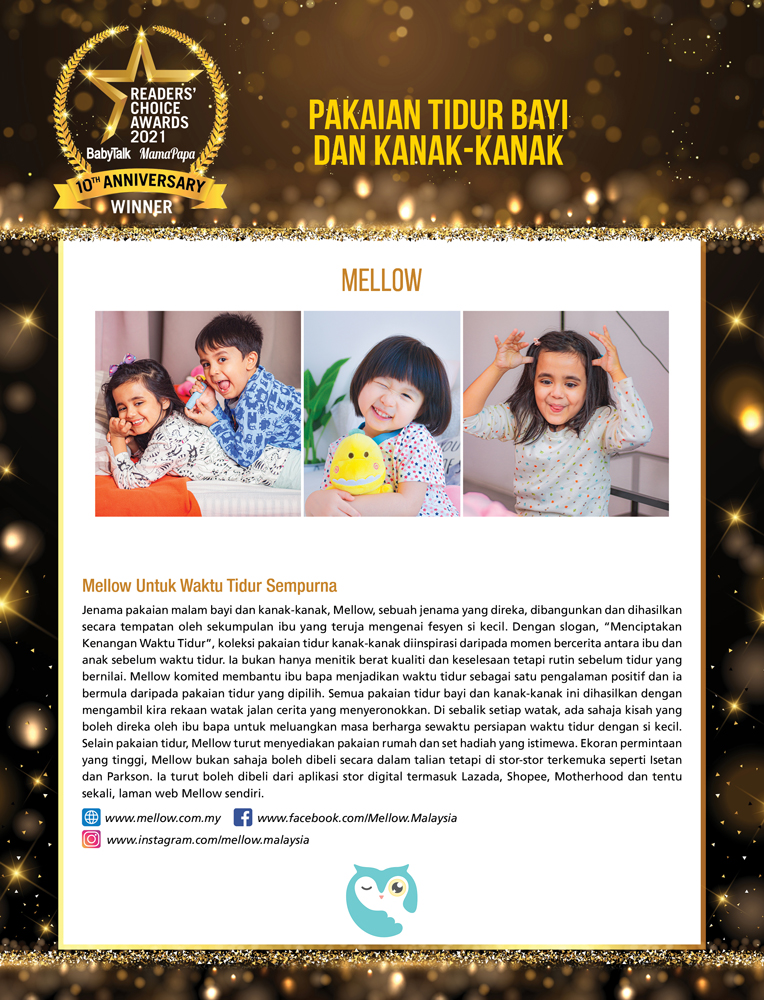 Mellow boleh dibeli dari aplikasi stor digital termasuk Lazada, Shopee, Motherhood dan tentu sekali, laman web Mellow sendiri di https://mellow.com.my/collections/gifting