Melissa & Doug Let's Play House! Dust! Sweep! Mop!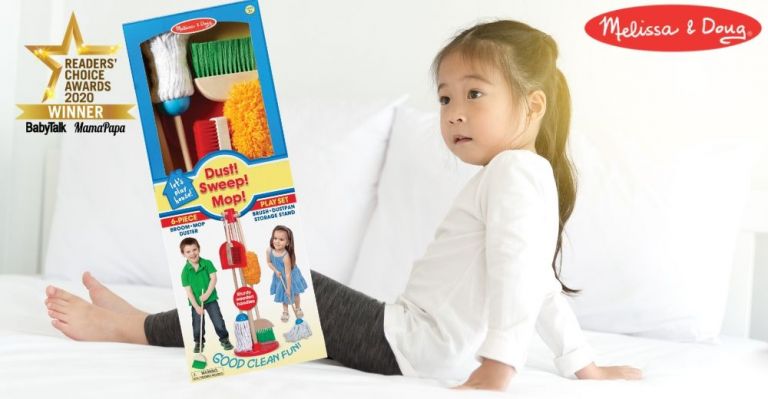 Good housekeeping is not just for adults, it is great for kids, too! Did you know that kids can actually be taught to view housekeeping as both educational and enjoyable? Thanks to Melissa & Doug's Let's Play House! Dust! Sweep! Mop!, kids no longer have to pretend to keep the house clean with imaginary or adult-sized broomsticks, they can literally do it themselves with these functional tools.
Learn Skills, Responsibility and Build Confidence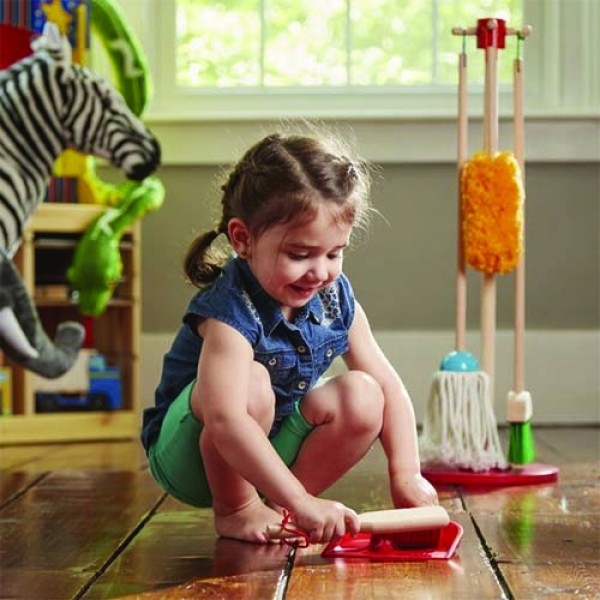 Teaching kids good housekeeping skills is an important (though often neglected) part of childhood education. It helps kids develop responsibility and confidence in an utterly playful way.
This six-piece play set from Melissa & Doug inspires kids to take up housekeeping willingly. A bestseller in its own right, it gives them all the relevant tools they need to keep a clean and tiny house! Made in perfect sizes to fit their tiny hands and limbs, and durable to boot, the broom, mop, duster, dustpan, and hand brush in this attractive playset are comfortable to use.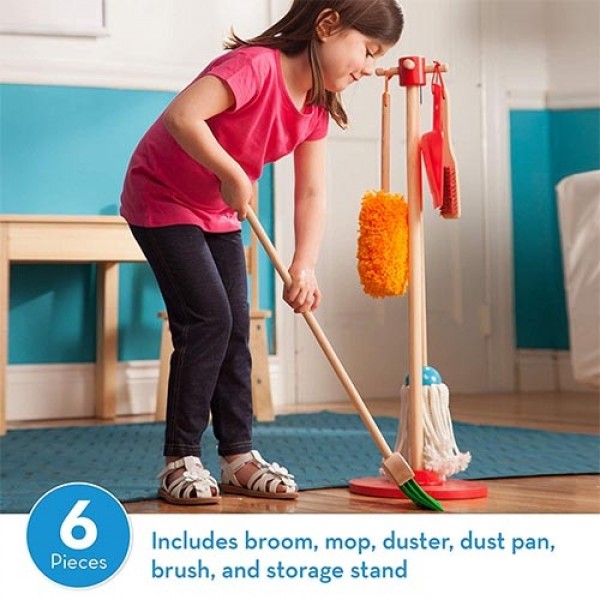 Hands-on play with the Dust! Sweep! Mop! play set reinforces a child's fine motor skills, helps inculcate creativity and imagination while encouraging them to get up and be mobile. Kids find it fun to mimic the grown-ups doing everyday chores and playtime can be used to teach them how to be responsible and clean up after themselves. When praised as being a responsible member of the household, they will experience a boost in their self-esteem. Kids can either play house independently or using this set alongside adults and their siblings.
Once the kids are done housekeeping, these items are a cinch to store — just hang them from the sturdy cords onto the included stand for neat,  compact storage. The dustpan can also snap onto any of the handles.
Natural-wood handles are comfortable to handle, as well as add durability and a classic look, while bright pops of colour make the set adorably appealing for young eyes. What more can parents and kids ask for in an educational toy set?
There Are Countless Ways To Play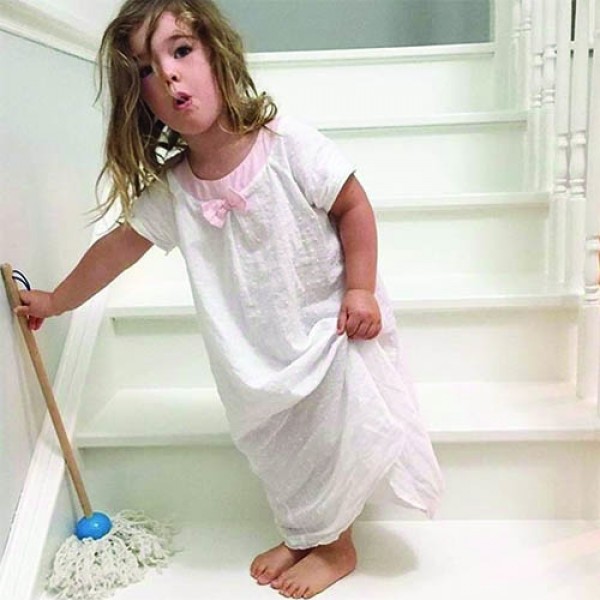 There is more than one way to play with Dust! Sweep! Mop! Here are some of the many ways to start with:
(1) DUSTPAN JUMP: Lay the dustpan upside down on the floor to form a ramp. From a few feet away, roll toy cars up and over the dustpan and see them jump off the ramp!
(2) MOP HOCKEY: Use the mop to push a tennis ball across the floor. Try to score a point by rolling it into a designated goal.
(3) WHICH WITCH?: Find a pointy hat, hop on the broom, and zoom around the room! The child can choose to be a good witch or a scary one with a nasty cackle.
(4) DUSTER MICROPHONE: The kid's got talent and not afraid to show it! Blast his favourite song and get him to sing along while holding the duster like a microphone!
We are confident your child will come up with their own unique ways for hours of fun on this set. They will definitely not be bored at home. Dust! Sweep! Mop! is one of the most popular Melissa & Doug playsets and won the BabyTalk Readers' Choice 2020 Award for Best Kid's Educational Toy.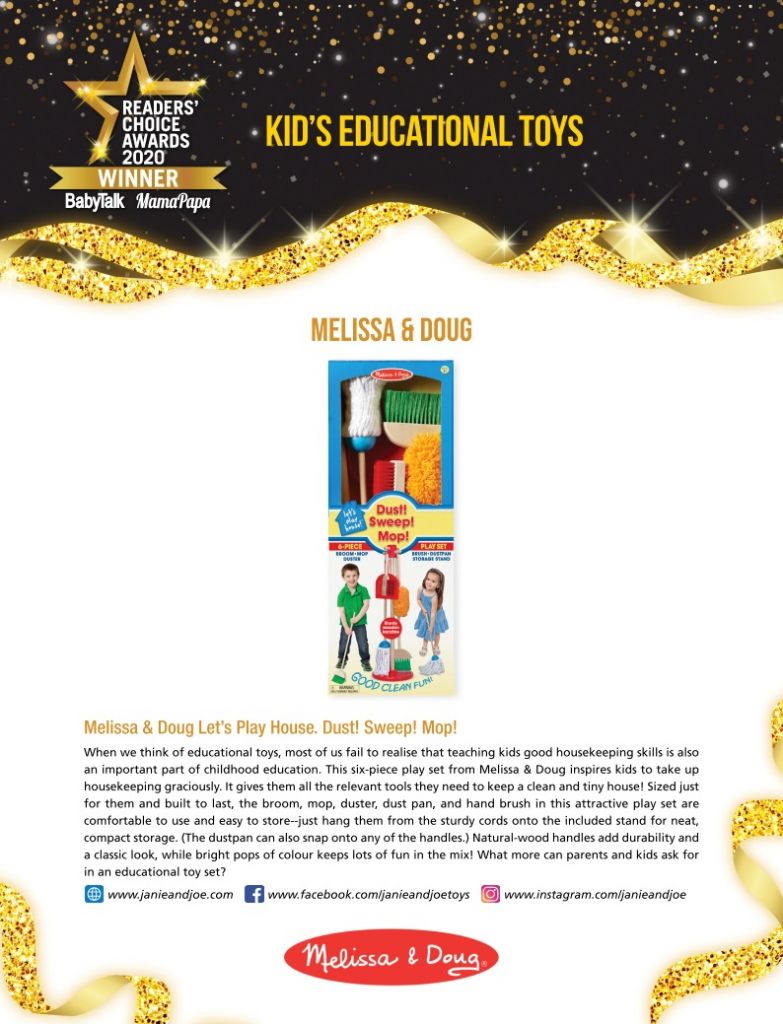 Make sure you purchase the original, authentic Dust! Sweep! Mop! playset in Malaysia from the reputable toy store Janie & Joe!
For more information, please visit Janie & Joe's website, Facebook and Instagram pages.