Meeting the Unique Needs of Children with Developmental Delays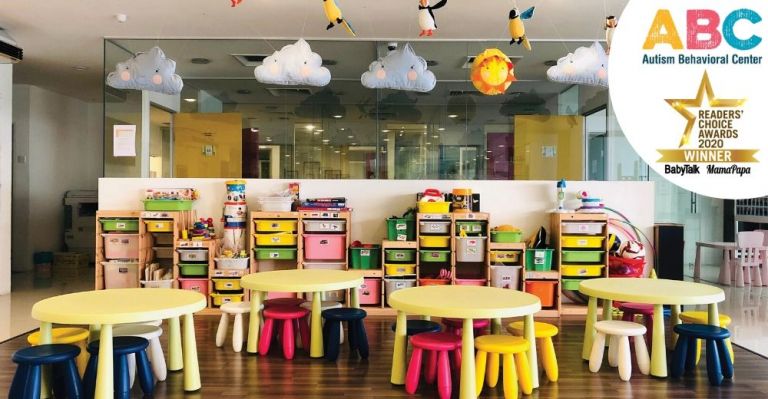 Children with developmental delays (delays in speech, social skills and socially appropriate behaviours) learn better with individualised programmes catered for their specific learning needs and goals. They may require alternative approaches to education that not only accommodate their needs but also creating opportunities for them to improve their own capacity.
For instance, a child with autism may require support in addressing the delay in speech, and perhaps disruptive behaviours in the classroom or in the home. He or she may also need support to generalise skills in real-world settings. Therapists in ABC (Autism Behavioral Center) address these needs by breaking skills down into achievable goals and reinforcing positive behaviours through the application of science Applied Behavior Analysis (ABA). This knowledge and training to support children with additional needs are usually not made available in the public education setting.
At ABC, each child is unique and their education is individualized according to the child's IEP (Individualised Education Plan) and ability. A child's skills are assessed based on the Verbal Behavior Milestones Assessment and Placement Program (VB-MAPP). Trained behavior technicians use the science and principles of ABA to teach children through reinforcement. ABC is our country's largest 1:1 intervention centre applying principles of ABA which is the 'gold standard' in autism treatment and intervention, supported by research and evidence. The centre is known to be able to provide exceptional support in managing children with developmental delays and their families, primarily teaching speech and communication and managing disruptive behaviours.
ABC provides intensive 1:1 therapy; up to 30 hours a week, to prepare children to be successful and independent for school and life. ABC also conducts training for parents and preschool teachers, as well as Intensive Holiday Programmes for children between 2-6 years old.
Backed by a Stellar Team of Professionals
Strategically located in Jalan Maarof, Bangsar, ABC has 40 individual therapy rooms and a highly conducive environment for teaching as well as learning, implementing the teaching protocols and procedures of PaTTAN (Pennsylvania Training and Technical Assistance Network) technology.
ABC abides strictly to international standards of intervention and is supervised by Ms. Dita Chapman, a Board Certified Behavior Analyst (BCBA) as well as the Board Certified Assistant Behavior Analysts (BCaBA). The centre provides centre-based as well as home-based ABA intervention that children with speech delays, Autism, ADHD (Attention Deficit Hyperactivity Disorder), GDD (Global Development Delay) and general delays in milestones.
As a testament to the highly experienced practitioners in ABC, Ms. Chapman has over 15 years of experience in the field and ABC's Case Supervisors have an average of 5 years of experience working with individuals in the spectrum, while all therapists receive over 500 hours a month of training and supervision. ABC is indeed at the top of its class and has won the BabyTalk Readers' Choice Awards 2020 for the Best Special Needs Children's Learning Centre.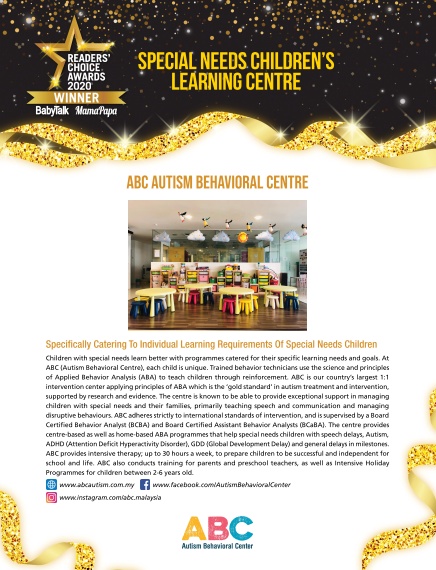 ABC supports families from all over the world. In fact, half of their current clients are expatriates while the other half are local. Parents can be assured that their child is in good hands at ABC.
For more information, visit their website at www.abcautism.com.my, www.facebook.com/AutismBehavioralCenter (Facebook) and www.instagram.com/abc.malaysia (Instagram).