Making a Splash: The Benefits of Enrolling Your Child in D Swim Academy (DSA)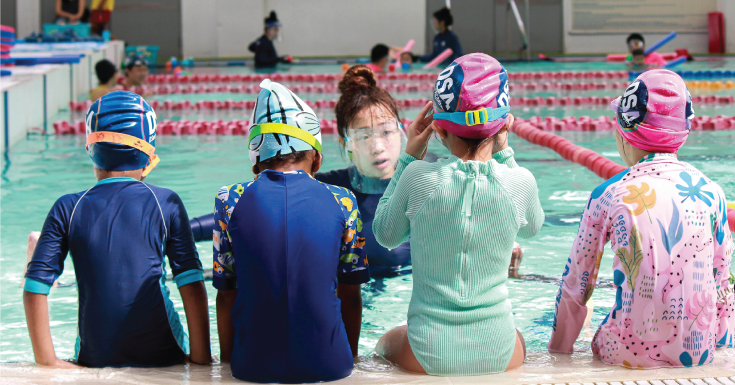 If your child has expressed an interest in swimming, then the best thing you can do is enrol them in a reputable swimming school for developing their interest. D Swim Academy (DSA) is an international award-winning swim school and also the largest Gold level AUSTSWIM Swim Center in Malaysia.
Enrolling children in a swimming school is a decision that goes beyond just the acquisition of a new skill. It is about equipping them with essential life skills, fostering physical and cognitive development, and instilling confidence that extends far beyond the water's edge.
Let's dive into the numerous benefits that come with enrolling your child for swimming lessons in reputed swim schools.
1. Improved Water Safety
Water safety is paramount, and introducing children to swimming early on can be a lifesaving choice. Tragic statistics surrounding child drowning incidents highlight the urgency of prevention. DSA recognises the need for water safety education. Their structured swimming lessons not only teach varied swim strokes but also impart critical safety skills, ensuring that children feel confident and competent in aquatic environments.
2. Enhanced Motor Skills and Physical Fitness
Swimming is a comprehensive workout that engages various muscle groups and promotes overall physical development. Beyond its cardiovascular benefits, swimming is a low-impact exercise suitable for growing bodies. DSA's classes are designed to enhance coordination, balance, and motor skills. The deliberate and precise movements involved in swimming contribute to refining motor skills and developing a strong foundation for physical fitness.
3. Boosting Confidence and Self-Esteem
Learning to swim is not just about mastering strokes; it's also about conquering challenges and boosting self-confidence. Acquiring a new skill like swimming instils a sense of accomplishment that transcends the pool. The confidence gained in their swimming classes carries over into other areas of life, laying the foundation for a positive self-image. DSA's experienced instructors create a supportive and encouraging atmosphere that empowers children to overcome their fears and limitations.
4. Cognitive and Developmental Advantages
Swimming offers cognitive benefits that extend beyond the water's surface. It enhances cognitive function, spatial awareness, and problem-solving skills. The sensory stimulation provided by aquatic environments contributes to brain development, and the rhythmic nature of swimming can have a calming effect on children. DSA understands the holistic advantages of swimming and incorporates activities that engage both the body and mind in their swimming programmes.
5. Starting Early: The Lifelong Impact
The importance of introducing children to swimming early cannot be overstated. Studies reveal that early exposure to swimming lessons leads to confident and competent swimmers in the long run. DSA recognises the significance of laying a strong foundation during the formative years. Their classes, which are offered to all ages from babies to adults, not only prepare children for aquatic activities but also reduce fear and anxiety around water, setting them on a trajectory of lifelong water enjoyment.
Choosing the Right Swimming School
Selecting the right swimming school for your child is vital. DSA offers a comprehensive learning experience led by qualified instructors who prioritise safety and skill development. DSA's instructors are certified by AUSTSWIM, the Australian standard for the Teaching of Swimming and Water Safety. They are also trained in CPR courses from the Life Saving Society Malaysia (LSSM) to handle emergencies. The small teacher-to-student ratios, coupled with their child-friendly facilities and supportive learning environment ensure that every child feels comfortable and motivated to learn this important life-saving skill.
The Best Investment for Your Child
With a strong presence in the local swimming community, DSA has earned a distinguished reputation as a leader of the Malaysian aquatics industry. With over 50,000 students over the years across different age groups and skill levels, DSA's exceptional achievements and unwavering commitment to excellence has been recognised by international awards from reputed swimming organisations.
Enrolling your child in D Swim Academy is an investment in their physical, mental, and emotional development. Beyond acquiring the ability to swim, children gain essential life skills, increased confidence, and a love for water that extends well into adulthood.
If you are ready to embark on a journey of water discovery with your child, please visit their website at www.dswimacademy.com or call 1300 222 372 to learn more about D Swim Academy's many programmes and philosophy. Secure your child's spot and witness firsthand the transformative benefits of swimming by enrolling them in D Swim Academy today!