Makes Baby's First Christmas Extra Special With Skip Hop!
December is all about Christmas! It's time to put on your thinking caps and decide what to buy for your loved one. Whether you're buying for your friends' baby or for your own cute little munchkin, it is hard to decide what to buy. Baby clothes are definitely cute but can we get something special this year? If you are happened to buy a gift for a newborn, be sure to make baby's first Christmas extra special!
Spark the spirit of the season and create beautiful memories that can last a lifetime with this gifts specially picked from Skip Hop. Be sure to capture your little one's interest and imagination and make Baby's first Christmas a little extra and merry with these 3 amazing baby Christmas toys and gear from Skip Hop.
Baby's First Christmas Gift Ideas
Skip Hop Explore & More Jumpscape Foldaway Jumper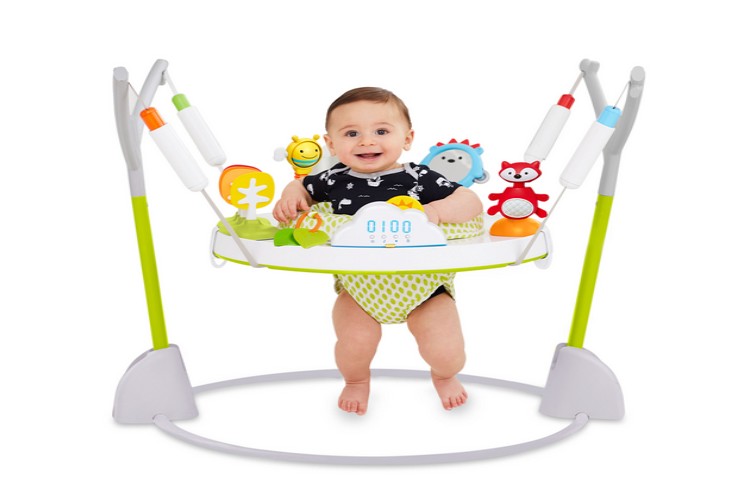 Skip Hop Explore & More Jumpscape Foldaway Jumper (RM990.00) is to encourage baby's activity and development with more than 20 developmental activities for baby to enjoy and provide endless entertainment. Featuring a unique light-up Cloud Bounce Counter to keep track of baby's progress and rewards baby with colourful lights and four songs. When the baby reaches 100-jump milestone, they will receive a round of applause.
Furthermore, it gives parents a reminder at 10 and 20 minutes of play. There are four additional toys for babies which are Fox Jumping Jack, Hedgehog Mirror, Swaying Trees and Spinning Bee to encourage the development of gross and fine motor skills of a baby. The 360-degree rotating seat allows babies to sit, swivel and bounce and it is also soft, cosy and machine washable.
Skip Hop Explore & More Follow-Bee Crawl Toy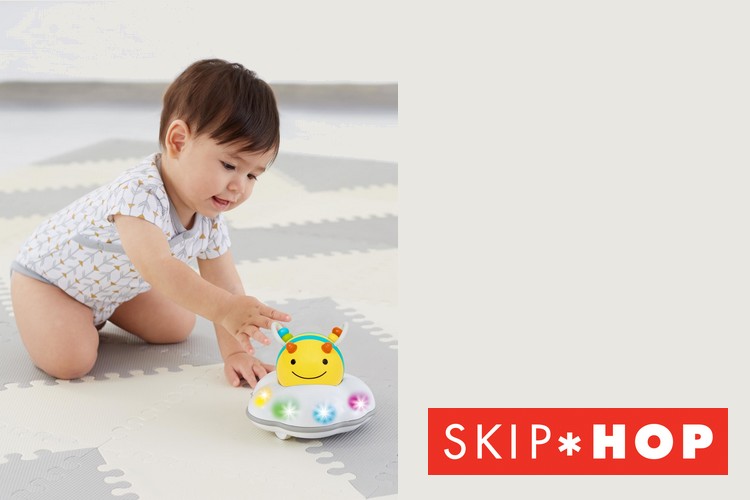 Skip Hop Explore & More Follow-Bee Crawl Toy (RM169.00) is a two-in-one developmental toy to encourage babies to discover and explore in order to develop motor skills by crawling with lights, music and movement. The removable bee rattle and cloud base are an interactive duo that uses colorful lights, energetic tunes, and motorised movements to take babies from pre-crawling to advanced crawling.
There are three stages of interactive play to challenge and encourage babies to crawl: Pre-crawling (easy-to-hold bee rattle wobbles but won't fall over), Beginner Crawlers (cloud moves in a circular pattern and stay so new crawlers don't have to go far) and Advanced Crawlers (cloud moves in a random pattern to encourage chasing).
Skip Hop Vibrant Village Smart Lights Activity Gym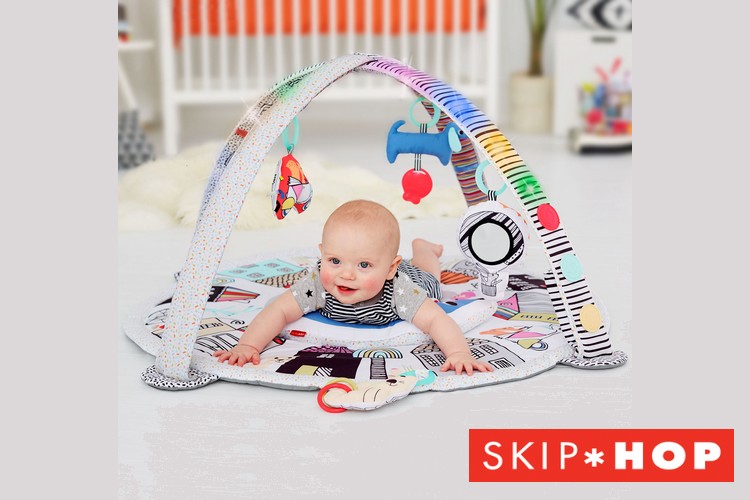 Skip Hop Vibrant Village Smart Lights Activity Gym (RM549.00) features whimsical and modern artwork in black and white graphics with pops of color to stimulate baby's sight as they grow to view a rainbow of colours. The interactive arches light up and play music to engage baby's focus while the bright colourful lights illuminate each window to make learning and development fun.
Four hanging toys feature a reversible design with black and white on one side and full color on the other: hot air balloon with a baby-safe mirror, kitty with rattle rings, dog rattle with textured ladybug teether and a soft car with squeaker and tactile ribbons. It will make fun sounds when baby bats at them and a tummy time pillow allows baby to face downwards. The arches can also be removed and used as a playmat for baby.