Mainan Kayu Mumu (Mumu Wooden Toys): Merangsang Imaginasi Mereka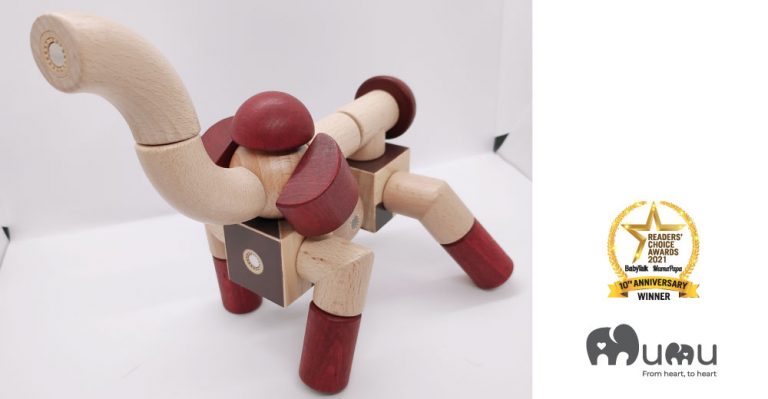 Mainan kayu adalah barangan klasik yang masih dan sentiasa relevan semasa zaman kanak-kanak. Koleksi mainan kayu Mumu sangat luar biasa dari segi kualiti dan penggunaannya serta direka untuk mendorong kreativiti dan mengeratkan lagi ikatan hubungan ibu bapa dengan anak-anak. Setiap mainan kayu Mumu dihasilkan dengan begitu teliti dan mempunyai keunikan yang tersendiri dalam menawarkan kelpelbagaian aktiviti, cabaran, dan merangsangkan lagi imaginasi.
Antaranya ialah Mumu Alnico (blok kayu magnet) yang mempunyai Alnico 24 dan Alnico 42. Nama Alnico berasal daripada magnet yang kuat dan istimewa yang mengandungi bahan seperti aluminium (Al), nickel (Ni) and kobalt (Co). Mainan ini diperbuat daripada kayu beech yang berkualiti, dan reka bentuk permukaan dan hujungnya yang halus serta selamat digunakan oleh kanak-kanak. Alnico daripada Mumu yang memenangi anugerah ini membantu untuk meningkatkan lagi keupayaan koordinasi mata dan tangan kanak-kanak dan pengiktirafan ruang visual. Reka bentuk dan warna Alnico yang dihasilkan ini sesuai untuk digunakan oleh kanak-kanak lelaki dan perempuan.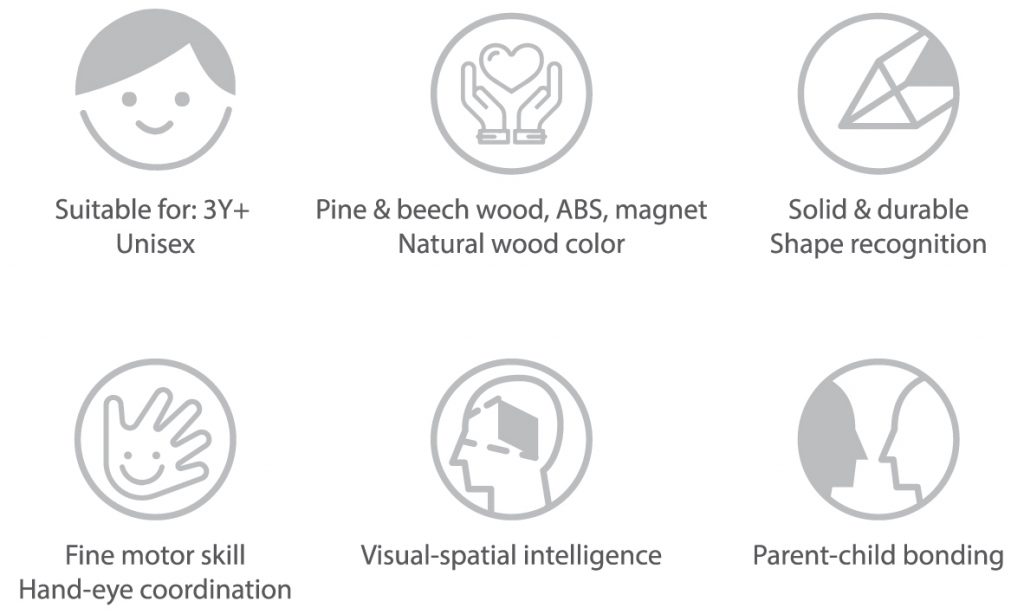 Rangkaian mainan lain yang terdapat dalam mainan kayu termasuklah Mumu Dorada (set pancing magnet kayu); Mumu Unite (mainan 'puzzle' kayu); Mumu Canary (alat muzik kayu); and Mumu Baobao (mainan kayu beroda). Sesungguhnya, bukan mudah bagi ibu bapa susah untuk berhenti hanya di Alnico – kesemua koleksi amat menyeronokkan!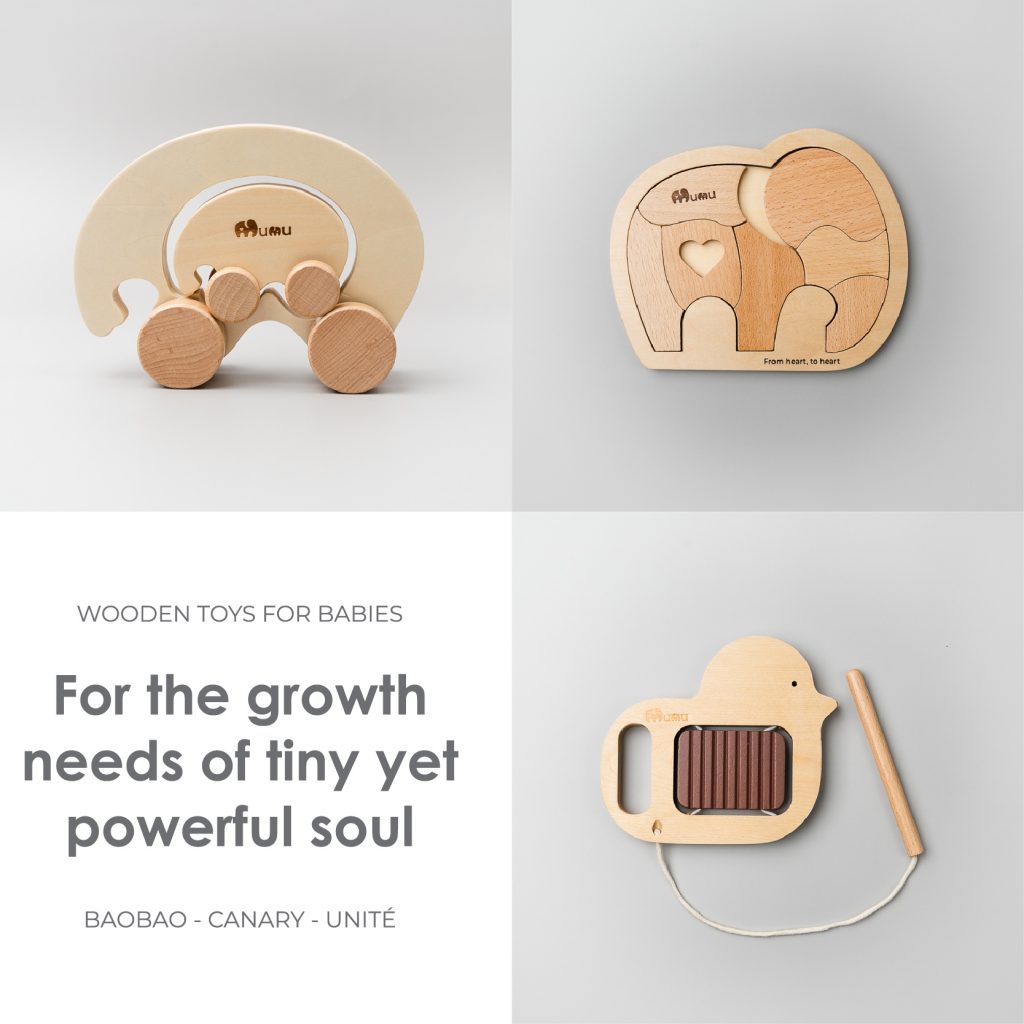 Mumu Baobao
Merangsang & membangkitkan rasa ingin tahu terhadap dunia baru. Terbaik untuk masa selepas makan, dan apabila bayi kecil mencuba sebaik mungkin untuk merangkak atau berjalan ke arah pelukan anda.
Mumu Canary
Tak akan terlalu awal untuk memperkenalkan irama dan lagu kepada si kecil anda. Nyanyian lemah lembut anda adalah suara yang paling menyenangkan untuk mereka. Masa makan, menyanyi dan mendengar muzik bersama-sama keluarga adalah berkesan untuk menjalinkan ikatan hubungan kekeluargaan.
Mumu Unite
Semasa bayi kecil anda sedang membesar, anda pasti akan perhatikan bagaimana dia cuba mencengkam atau mencapai barangan-barangan kecil di persekitaran rumah. "Puzzle" adalah pembantu yang terbaik dalam menempa ruang visual yang bijak, dan pencapaian, percayalah, ia amat comel sekali!
Mumu Dorado
Suatu hari nanti, anda akan merasa bangga mengajar anak kecil tentang pengecaman bentuk dan ruang visual. Suatu hari nanti, anak kecil anda pun mungkin membawa pulang ikan segar yang baru ditangkapnya dari sungai. Tetapi untuk sekarang, ayuh mula dengan memperkenalkan mereka dengan asasnya.
Bagaimana cara untuk menjaga dan membersihkan mainan kayu?
Jangan biarkan ia basah!
Mainan kayu yang diletakan pada persekitaran lembap mudah terdedah kepada kulat hitam, Jadi kami mengesyorkan supaya ibu bapa menyimpannya di tempat yang kering dengan pengudaraan yang baik.
Jangan membasuh
Jangan rendam atau tenggelamkan mainan kayu di dalam air. Kayu adalah berliang, jadi mainan kayu ini akan mudah membengkok dan rosak apabila terdedah kepada air.
Elakan haba dan perubahan suhu
Keberkesanan pengeringan di bawah cahaya matahari tidak perlu diragui lagi, kerana ia boleh mempercepatkan proses pengeringgan dan matahari membantu untuk membunuh lebih banyak kuman secara semula jadi. Walaubagaimanapun, pencahayaan matahari yang terlalu kuat atau pendedahan yang lama, boleh menyebabkan warna memudar, kayu membengkok dan retak hingga boleh menyebabkan kayu pecah.
Lap dengan berhati-hati
Menggunakan kain bersih atau sapu tangan, lap permukaan mainan kayu dengan lembut. Menggilap mainan kayu sekali sekala juga boleh memberi manfaat dan menjadikannya kelihatan lebih hebat. Oleh itu, penggunaan minyak zaitun atau bahan tidak beracun seperti penggilap lilin lebah adalah sangat berkesan. Jangan lupa untuk meletakan mainan kayu pada tempat yang pengudaraannya terbuka sehingga kering.
Dengan penjagaan dan penyelenggaraan yang rapi, anda akan dapati bahawa mainan kayu mampu untuk memberi keseronokan yang berpanjangan.
HELLO10
Eksklusif untuk ahli berdaftar
berpeluang untuk memenangi mainan kayu yang pernah menerima anugerah
diskaun 10% di semua cawangan tanpa perbelanjaan minimum
Pelan ansuran selama 3 bulan TANPA faedah
15% Mata Ganjaran ditebus untuk pembelian anda yang seterusnya
Baru-baru ini, Mumu telah muncul sebagai pemenang dalam tiga kategori dalam BabyTalk Readers 'Choice Awards 2021, iaitu Peralatan Mainan Kayu Bayi, Bekas Latih Tandas Kanak-Kanak dan Bekas Makanan Berpetak Untuk Kanak-Kanak.
Untuk maklumat lebih lanjut, lawati laman web,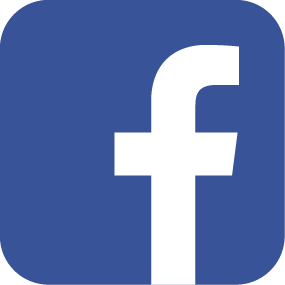 Facebook and 
 Instagram hari ini!