Lose the Stress; Take the First Step!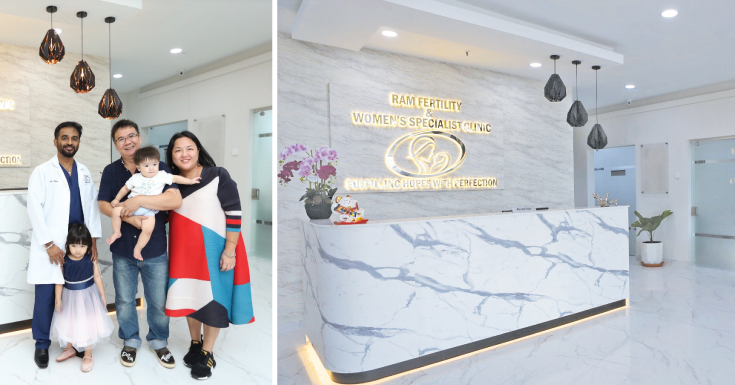 Wanting to start a family is undeniably a cherished yearning of countless couples, and so is the desire to expand one's family. It is all too easy, and not to mention predictable, for tension to start brewing when months or years of trying to conceive fails. Couples may even find themselves resorting to the blame game of who is responsible for the outcome, or lack therewith. After all, we are only humans.
It doesn't have to be this way, really!
We are living in an era when fertility issues are on the rise, but fortunately, viable solutions are available for those who take the initiative to make a necessary change. If months, or worse, years of trying has reaped no results for couples who are trying to conceive, it is time to turn to the professionals for help. Ram Fertility & Women's Specialist Clinic is an award winning centre committed to aiding couples seeking help in realising their dreams of becoming parents. Having recently picked up the BabyTalk Readers' Choice Award for the category of Fertility Centre Penang, the northern-based fertility centre provides cutting-edge reproductive care and management to couples who are challenged in the area of starting or expanding their families. Patients receiving treatment here can expect to be treated with compassion and dignity, which are among its key superior features which makes the centre a well-recommended one in the industry.
Ram Fertility & Women's Specialist Clinic is a one stop centre where each couple is accessed on their unique health concerns and needs before being offered specific solutions for overcoming their fertility challenges. In fact, one of the reasons behind its high success rate is the centre's acknowledgment that no two infertility cases can be exactly the same – whereby their treatments need to be individualised too. Dedicated to providing patient-centered care, every question is answered and every concern addressed at Ram Fertility & Women's Specialist Clinic, as its team of experts work together to ensure that each patient receives much-needed emotional support throughout their fertility treatment.
Our northern state's top fertility centre, Ram Fertility & Women's Specialist Clinic, bagged the title which was clearly meant for them, which is Best Fertility Centre Penang, in this year's BabyTalk Readers' Choice Awards. The one stop centre is where dreams of parenthood unravel into a joyous reality.
In conclusion, Ram Fertility and Women's Specialist Clinic empowers their clients to reach their goals of realising their biggest dream, which is, to conceive and have an offspring of their own. Fully comprehending the possible challenges awaiting their patients during their journey into parenthood, the acclaimed centre provides diligent guidance, support, and advanced medical solutions needed to overcome their respective fertility issues. The comfort and well-being of each patient are their top priorities.