Listen Clearly with the Top 5 Best Headphones
Nowadays, headphones are everywhere – at your office, around the gym, at home or in the bus… in fact, if you're reading this on a computer, odds are that you're either already wearing headphones or have a pair within arms reach.
A good pair of headphones does more then just blare noise into your ears – it gives you complete control over your auditory environment, wrapping you up in a cocoon of sound of your choosing. Whether it's soothing classical music or head-banging rock bands, headphones allow you to enjoy it all without having to worry about what anyone else may think. With so many different options out there to choose from, we've set up a guide to the top 5 best headphones around.
Sony EXTRA BASS Sports In-ear Headphones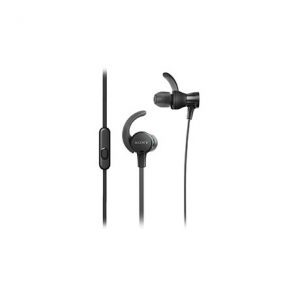 Get into your workout mood instantly with the Sony EXTRA BASS Sports In-ear Headphones. The powerful EXTRA BASS™ sound drives you forward whatever you're doing, while the splash-proof design means that neither rain nor shine can slow you down.
The Sony Extra Bass Sports In-ear Headphones gives you more motivation whether you're at the gym or on the street. Enhanced low frequencies make music sound more powerful, with a deep, punchy low end that makes you feel energized and driven. Designed for durability, these headphones are perfect for demanding exercises and workout routines.
With a built in Bluetooth connection that lets you run, jump, kick and more, you can listen to your favorite beats without needing to worry about wires getting in the way. Ergonomic arc supporters keep the headphones securely in position while you exercise. Listen for longer with a new and improved battery that provides you with up to 8.5 hours worth of sound. Available in red, black, and blue, the Sony Extra Bass Sports In-ear Headphones is the perfect companion for your workout routines.
Sony XB950B1 EXTRA BASS Bluetooth Headphones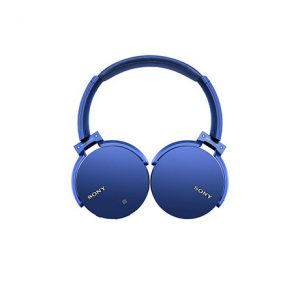 Explore your favorite tracks in new depth with the Sony XB950B1 EXTRA BASS Bluetooth Headphones.
This stylish set of headphones is perfect for those on the go, allowing you to listen to your favorite beats over Bluetooth's wireless technology for up to 18 hours. Simply touch the Bass Effect button to get started and you can enjoy all your low-end frequencies for deep power on every track.
Apart from that, you can set up the perfect sound for every song with the Sony's Headphones Connect app. Once you download it from the Apple Store or Google Play, you can use the app on your smartphone to adjust your bass levels and set presets for outdoor-stage, club, hall, or arena style sound – all on the go. The headphones are also designed to be USB rechargeable, cable included. With a choice of black, red, or blue coloration, the Sony Extra Bass Bluetooth Headphones are designed to be at your side all day every day.
Sony h.ear in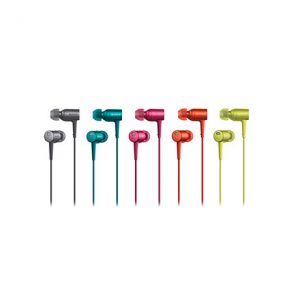 Experience the freedom of wireless listening, coupled with exceptional sound and eye-catching style. Go wherever the music takes you with the Sony h.ear in.
The h.ear range from Sony combines High-Resolution Audio capability with bold, distinctive design. Coming in Lime Yellow, Viridian Blue, Charcoal Black, Bordeaux Pink, and Cinnabar Red, vibrant sound has never looked so good. Whatever your look, whatever your taste, h.ear in headphones are a perfect fit. The single-color, single-shape design combines long-listen comfort with a style all of its own.
Sony h.ear provides you with rich, dynamic sound, premium materials and finishes, without a cable in sight. Enjoy wireless listening courtesy of Bluetooth® and NFC One-touch connectivity. The LDAC transmits approximately three times more data (at the maximum transfer rate: 990 kbps) than conventional Bluetooth Audio, which allows you to enjoy High-Resolution Audio content in exceptional sound quality near to High Resolution Audio.
This headset is made for comfort, with a unique behind-the-neck design that provides a natural fit and feel. Apart from that, the ear bud's ergonomic shape and size is designed to ensure a snug, perfect fit. Track after track, the h.ear in Wireless headphones are so comfortable that you'll forget you're even wearing them.
Beats Mixr On-Ear Headphones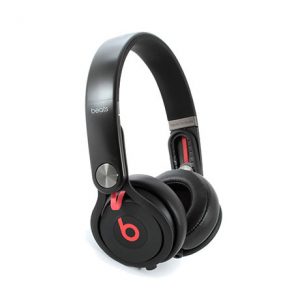 Designed with a tough and flexible housing, Beats Mixr On-Ear Headphones are built to withstand the rigors of life. The lightweight headband was crafted for long-wearing comfort and is easily foldable so you can jet off to your next destination.
Made for DJs, these headphones have rotating ear cups which can swivel back behind the ears, then rotate back for total isolation. With dual input and daisy chain connectors, it's easy to share what you're listening to. Capable of releasing industrial strength sound, the Beats Mixr is designed to be heard over parties. Beats Mixr headphones delivers an extremely deep bass at extraordinarily high volume. The headphones themselves are housed in a frame that's made to be flexible and tough enough to take a beating. No worries about them breaking or fraying anytime soon.
RAZER KRAKEN 7.1 V2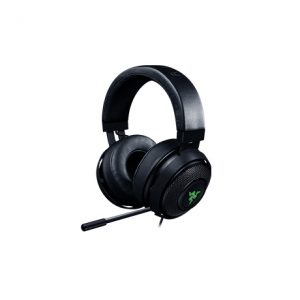 The Razer Kraken 7.1 V2 delivers an immersive surround sound gaming experience to enhance your aural situational awareness. You'll always hear where the enemy is coming from, and where your team is located, to strike with precision. What's more, the engine is entirely customizable via Razer Synapse, so you can determine the best placement for the audio channels to best fit your own listening preferences.
The Razer Kraken 7.1 V2 is outfitted with larger drivers than its predecessor to offer a louder and richer soundstage than ever before. You'll feel like you're right at the center of all the gaming action, while ensuring your team's shotcalls are heard with absolute clarity.
A fully retractable microphone with active noise-cancellation ensures crystal clear communication. Cut through the noise at the loudest LAN parties and eSports tournaments to ensure your team is always hearing your coordinations loud and clear. The Razer Kraken 7.1 V2 is also officially Discord certified to guarantee crystal-clear communication.
Made of Bauxite aluminum, the entire frame of the Razer Kraken 7.1 V2 is lightweight, flexible and incredibly durable. Tested extensively to withstand the rigors of pro-gaming, it's the perfect headphone set for those who want to kick their games into gear.
Need More?
You can view these and many other types of headphones at 100comments.com.