Life Is Better When You're Aligned: Introducing Chiropractic First, A Pioneering Group of Specialist Clinics Who Got Your Back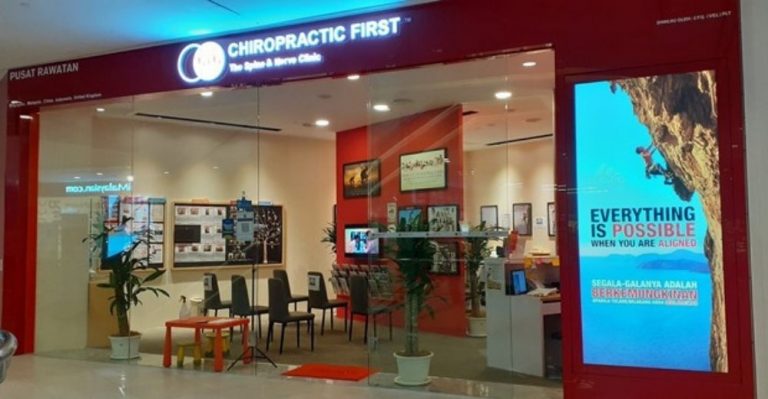 Ever since the enforcement of the first movement control order (MCO), Malaysians have been conducting their day to day lives in the comfort of their own homes. A recent study has found that approximately 65% of Malaysians are practising working from home (WFH) – higher than the global average of only 53%1. Everyday activities such as working, shopping, and even going to the gym have been relegated to the space of one's house through digital means or makeshift spaces and routines. However, this forced arrangement also means that more and more people are reduced to a sedentary lifestyle and prolonged bad posture, which could lead to severe issues down the road.
With a collective team professional experience of over 52 years, Chiropractic First Group (CFG) has seen over 27,000 patients with musculoskeletal problems in Malaysia to date. Providing comprehensive, safe, and effective chiropractic care for patients of all ages from infants to elderlies for over 20 years to date, the well-established chiropractic practice places a heavy emphasis on nerve and spinal care. As our bodies depend on the nervous system and spine functioning well to achieve one's peak potential, chiropractic care focuses on keeping and maintaining the spine, spinal cord, and nervous system in good condition. This is in line with CFG's core mission to solve issues such as subluxation through proper care, treatment, and consultations so that their patients may enjoy increased immunity, better posture, and most importantly, a better quality of life.
According to Chiropractic First Group (CFG), the pioneer of chiropractic practice in Malaysia, adults aged 26 to 45 represent the highest age group looking for chiropractic care in Malaysia. It is no secret that working long hours throughout the day is detrimental to one's body, further escalated by the WFH new norm.
"Having been in the industry for over 2 decades, we have experienced a steady increase in patients coming in with back pain complaints, typically in the active working population. Men and women from all walks of life have approached us to voice their concerns and seek help. Some of them even bore the pain for years – but what many don't realise is that a lot of these issues can actually be rectified through adjustments and by consistent visits to certified chiropractors," added Dr Matt Kan, founder, senior consultant, and CEO of CFG.
Quality Care & Empowering Patients
CFG's doctors employ a highly effective and established method of treating patients by first having an extensive discussion with the patient to identify their underlying problems and history. Once they have a clear picture and understanding of the patient's physiology state and medical background, the chiropractic doctor will then refer the patient to other professionals such as a radiologist to double confirm the patient's woes and medical predicament. Only then can the treatment or adjustment be conducted accordingly by an experienced CFG doctor, followed by a recommendation of care for the patient. This comprehensive procedure and strict professional process not only allows the doctors to better diagnose a problem, but it also omits the risks of wrong diagnosis and treatment ensuring ease of mind and smooth recovery for patients.
CFG employs multiple methods to deal with their patients' issues. Aside from correcting their existing problems, they also provide their patients with the necessary education and information to ensure good spinal health. Routines are also set to make sure that their condition does not deteriorate.
"We believe that education is of the utmost importance when it comes to one's well-being. Aside from treating bodily issues, we want our patients to be equipped with the knowledge to prevent these issues from happening again. Our vision is to educate the public on the importance and benefits of practising healthy body posture as well as on the principles of natural healing and chiropractic care. After all, taking care of oneself should be preventive rather than reactive," stated Dr Kan, founder and CEO of CFG
"The advice that we often give our patients is to move around their working space once every hour, that allows for blood flow and works your muscles. We also teach people proper work ergonomics which, if not practised properly, could lead to neck and back pain as well as affect overall work productivity. WFH is wonderful because it allows people to spend more time with their loved ones and reduces travelling time drastically, that said, we should never neglect our personal well-being which should be placed above all else, " added Dr Kan.
CFG has 9 clinics now in the Klang Valley with the 10th set to open around the end of March and 30 clinics all across the globe including China, Singapore, Indonesia, Spain, and the United Kingdom. To schedule an appointment at a clinic near you today, please visit https://www.chiropractic-first.org/schedule-appointment/. To learn more about CFG's services, please head on to CFG's website at https://www.chiropractic-first.org.
[1]https://www.thestar.com.my/news/nation/2021/01/21/more-malaysians-working-from-home-than-global-average-survey-finds