Le Méridien Unveils 5-Star Le Méridien Petaling Jaya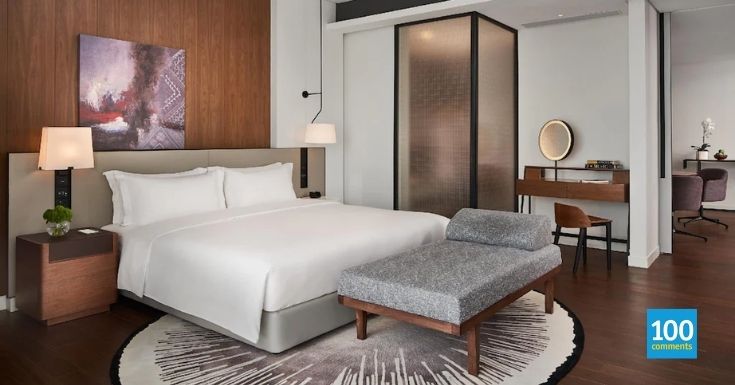 Le Méridien Petaling Jaya was officially launched on 1 June 2022 by Le Méridien Hotels & Resorts, which is a part of Marriott Bonvoy's portfolio of 30 extraordinary brands.
Freshly rebranded from the former New World Petaling Jaya Hotel, the 300-room property will continue to serve both business and leisure customers, offering worldwide customer service standards in line with Marriott International standards.
The hotel is owned by Jelas Puri Sdn Bhd, a subsidiary of WCT Holdings Berhad ("WCT"), which entered into a franchise agreement with Marriott International to rebrand the 5-Star luxury hotel.
Le Méridien Petaling Jaya offers 300 timeless chic and elegant guestrooms, distinctive dining options, and one-of-a-kind brand programmes for guests to relax and enjoy their stay there. True to its mid-century modern design aesthetic influences, the hotel will bring Le Méridien's distinct European heritage to Petaling Jaya.
"We are thrilled to announce the opening of Le Méridien Petaling Jaya in Malaysia. The opening marks the fourth hotel by the Le Méridien brand in the country. We are committed to bringing the best hospitality experiences and continue expanding our portfolio further to offer distinctive and personalized experiences for travellers in the region," said Rivero Delgado, Area Vice President, Singapore, Malaysia, Maldives, Marriott International.
Le Méridien Petaling Jaya is strategically situated in the heart of the town, just a 30-minute drive to Kuala Lumpur, and with proximity to some of the city's places of interest such as Batu Caves, PJ Performing Arts Centre, and more. On a good day, guests can even see the KLCC skyline from afar.
For regional and international visitors arriving into Petaling Jaya, the hotel is 45-minute drive from Kuala Lumpur International Airport or a within 10-minute drive from the Sultan Abdul Aziz Shah Airport.
Le Méridien Petaling Jaya's distinct timeless elegance design is inspired by the brand's beginnings in the glamorous golden days of travel. The bamboo flooring throughout the 300 tastefully designed bedrooms and suites conveys both tactile warmth and a sense of spaciousness. Every room is decked out with unique local-themed artwork and design creating a sense of place that is authentically Malaysian, with elegant furnishings and marble-clad bathrooms to provide an aspect of richness. Premium bathroom items created specifically for the Le Méridien brand by MALIN+GOETZ will also be available to guests. The sage body wash is one of these wonderful bath products, and its distinct smell will make one's stay at the Le Méridien absolutely unforgettable.
The Residence Club, which is the hotel's executive lounge, is designed to look like a residential living room and is the ideal place to rest, socialise, or conduct business meetings.   The Residence Club offers complimentary breakfast, all-day drinks, and evening cocktails to Platinum, Titanium, and Ambassador Elite Marriott Bonvoy members and guests who stay on suite floors.
Guests can indulge in the finer things in life at the hotel's two destination dining establishments. Pasar Baru, the hotel's all-day dining restaurant, serves a multi-cultural fusion of Malay, Indian, and Chinese flavours in a vibrant market-style environment. Ice cream lovers must try the excellent cempedak, vanilla, and soya bean ice creams, particularly the latter, which is available nowhere else. The restaurant's walls are adorned with traditional mosaic tiles that are synonymous with the local Peranakan heritage, producing a colourful and vivid environment that elevates the local market experience. Set against expansive cityscape views on the 30th floor, PJ's Bar & Grill is Petaling Jaya's largest rooftop bar and doubles as a sophisticated restaurant serving grilled dishes, tantalising appetisers, and creative cocktails, as well as a private cigar lounge next to the outdoor infinity-edge rooftop pool.
The rooftop also features a 300-square-metre rooftop infinity-edge pool with a wide-open deck for sunbathing and refreshing swims. The hotel's pool is a great place to sip and savour freshly made cocktails and more. The exercise centre is on the 29th floor and features the latest state-of-the-art equipment as well as breathtaking views of the city.
The Le Méridien Family programme welcomes young make-believers, aspiring inventors, junior chefs, and small cultural seekers into an immersive universe where toying, tinkering, and free-play are encouraged. Children up to the age of 12 will receive a free item to inspire their creativity as well as a Discovery Guide – a personalised list of family-friendly excursions to help them discover the region.
The hotel also has a large number of event facilities available for holding meetings, business conferences, social events, and weddings. A 1,700-square-metre pillar-less grand ballroom that can accommodate up to 1,000 guests is among the many meeting and function venues available. The eight meeting rooms, all of which have natural light, can be configured into adaptable spaces suitable for smaller corporate and social meetings. Each location is lit with practical reflective dimmers to provide a sense of spaciousness, with classic Malaysian wau imprints to represent the influence of local charm.
"We are delighted with the opening of Le Méridien Petaling Jaya in one of most recognizable commercial and residential hubs in Malaysia. We look forward to welcoming guests to unlock the sights, sounds, and aromas of the destination, showcasing European-inspired hospitality and enriching experiences to savour the moment," said Christopher Moore, General Manager of Le Méridien Petaling Jaya.
To commemorate its launch, Le Méridien Petaling Jaya is offering a special room package starting at MYR330+ for a one-night stay in a Deluxe Room, which includes breakfast for two, Internet access, a 20% discount at all F&B venues (excluding alcohol and tobacco), a complimentary cup of Illy coffee, and 1000 Marriott Bonvoy points. The package is valid until 30 June 2022. For more information, please call the hotel at +60 3-7682 0000 or book at www.lemeridienpetalingjaya.com.