KPJ HEALTHCARE'S OUR PINK STORIES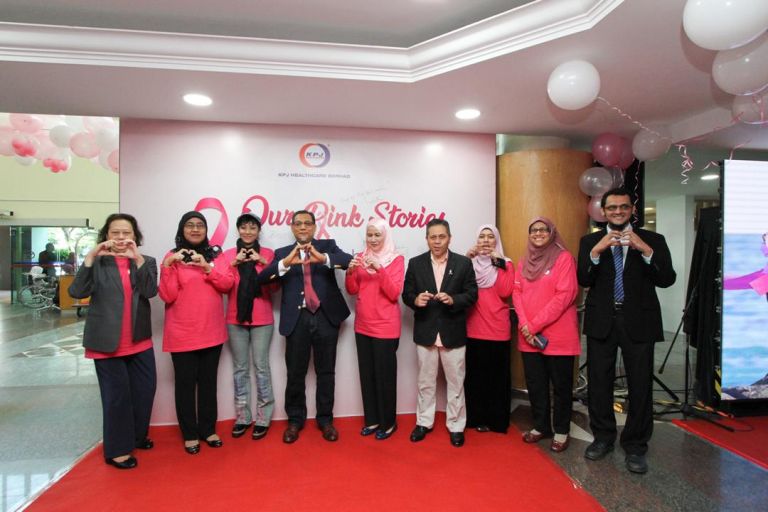 Kuala Lumpur, 27 October 2018 – Early-stage cancer detection could reduce breast cancer death rates significantly in the long term.
This is the fundamental message of KPJ Healthcare Berhad's (KPJ) initiative, themed Our Pink Stories, which was launched today by Puan Jasimah Hassan, Executive Director of KPJ, in KPJ Damansara Specialist Hospital.
Among those present in the audience were KPJ Management, guests, patients, and representatives from the Islamic Medical Association Malaysia's Response and Relief Team (IMARET), the National Cancer Society of Malaysia (NCSM) and the Breast Cancer Foundation of Malaysia. Also present were well-known celebrities, singer Fauziah Latif, and model, actress and tv host Amber Chia.
In speaking to the audience, Puan Jasimah highlighted "The objective of Our Pink Stories is to create an annual platform for us to share stories – of survival, of partnership and of strength – as we face breast cancer head on, together.
"The good news is that early detection and treatment of breast cancer can significantly improve outcomes. When cancer is diagnosed early, more treatment options are available and there is a better chance of survival.  As mammography has long been the mainstay of breast cancer detection and is recognised as a screening test proven to reduce mortality, KPJ wants to open doors for more women, regardless of nationality, to undergo screening."
KPJ aims to become an oncology hub in Malaysia and the region, our clinicians seek to continually deliver excellent care to the 3 million patients we serve each year.
KPJ is the nation's leading home grown healthcare group in Malaysia, with 25 hospitals located nationwide, two hospitals in Indonesia, one hospital in Thailand, and another in Bangladesh.  In addition, KPJ also has four senior living care centers, one each in Kuala Lumpur, in Sarawak, Pahang, and Australia.
In addition the Group's own KPJ Healthcare University College (KPJUC) offers healthcare-related programmes, from Foundation to PhD.
As a responsible corporate citizen, KPJ also reaches out to the community through public health screening sessions, health talks and other events.   We continue to touch the lives of the improverished and underprivileged in communities through the Klinik Waqaf An-Nur (KWAN) initiative which has served more than 1 million patients since the inception of the first KWAN clinic in 1998, in Johor.  Today, KPJ Hospitals manage a KWAN network of 1 hospital in Johor, 20 clinics throughout Malaysia and 5 mobile clinics.