Kiper – The Means to a Healthy Spine and Body Posture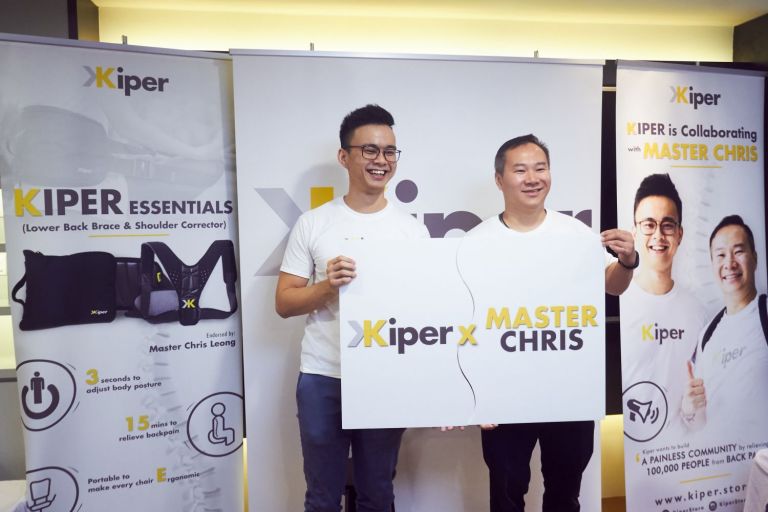 KUALA LUMPUR, 30 November 2018 – About 80 per cent of adults experience lower back pain at some point in their lifetime[1] and one of the primary causes of work-related back pain is improper sitting positions. With that in mind, Jon Lai decided to found Kiper and embark on a mission to combat backaches, stiff shoulders and to a degree, scoliosis.
To that end, Kiper Sdn. Bhd. has officially launched two products – the Kiper Essentials Lower Back Brace and Kiper Essentials Shoulder Corrector, both of which assist in strengthening the upper back, lower back, neck and shoulders.
The Kiper Essentials Lower Back Brace is designed to make any chair ergonomic, encourage a healthier sitting position for a healthier spine, and help to relieve backpain after using it. As for the Kiper Essentials Shoulder Corrector, it is the first-ever orthopaedist-designed shoulder corrector in Malaysia and helps to align a person's shoulder to its natural position and discourage hunching. While both products are designed to be used in tandem, they are also designed to be used individually, depending on the needs of the user.
Master Dato' Dr. Chris Leong, one of the most prominent figures in Malaysia when it comes to bone-setting procedures, endorses both products and recommends that both products be used for at least 15 minutes a day for maximum effectiveness. Master Dato' Dr. Chris Leong is the founder of Chris Leong Method (CLM), a company dedicated to healing spinal discomfort using traditional bone-setting methods. To date, he operates two CLM outlets in Klang Valley and has been prominently featured on social media in Malaysia and around the world.
Master Dato' Dr. Chris Leong, Malaysia's leading renowned bone-setting specialist said: "Good body posture is essential for the overall health and wellbeing of the individual. However, many people are not aware that they have bad body posture or suffering from backaches, which most often induced by poor sitting positions or hunching over laptops. Hence, we believe the Kiper Essentials Lower Back Brace and Kiper Essentials Shoulder Corrector will be able to reach out and help more people to retrain their musculature so that their back will maintain an upright position without a lot of effort and can begin building those muscles in a way that helps strengthen the upper back, lower back, neck and shoulders."
Jon Lai, the Founder of Kiper Sdn. Bhd commented: "Issues related to lower back pain and spinal discomfort have always been around. Many of us suffer from backaches due to various reasons, including poor sitting positions, mishaps at the gym, and maybe even scoliosis.
"I personally suffered from severe back injury some time ago when I was working out at the gym and my niece suffers from scoliosis and has to wear braces. I can see that it is uncomfortable for her and I truly hope that the solutions from Kiper can be the answer to a better quality of life for people also suffering from back aches and spinal discomfort."
During the launch, 30 lucky customers were given the chance to experience the two products first hand, whilst being given five quick tips by Master Dato' Dr. Chris Leong on how to maximise the effectiveness of the products. The tips came in the form of utilising five different positions when using the products, including the 'Diver Pose', the 'Rearward Arm Stretch', the 'Arch Style', the 'Paddle Style', and the 'Waist Twist'.
The first goal for Kiper Sdn. Bhd. is to relieve 100,000 individuals from backpain before the end of 2019, and the company is off to a good start. Even before being officially launched, the company managed to sell 3,000 units of the Kiper Essentials Lower Back Brace and Kiper Essentials Shoulder Corrector and within the span on seven days of its introduction.
For more information about Kiper and its products, please visit https://kiper.store/ and https://www.facebook.com/KiperStore.
[1] Source: National Institute of Neurological Disorders and Stroke