Joybean Soy Milk – The Tasty and Nutritious Plant-based Milk Alternative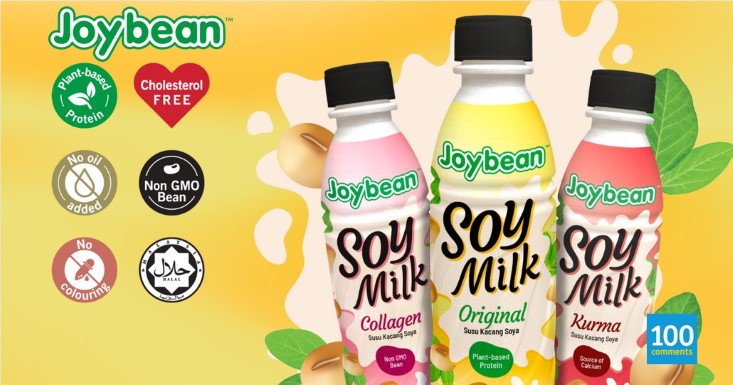 Soy milk has been a firm favourite as a dairy-free alternative to cow's milk. Not only is it suitable for those with lactose intolerance or cow's milk allergies, but it also offers a range of nutritional benefits that make it a healthy choice for everyone. If you're a soy milk enthusiast looking for a delightful and nutritious twist, Joybean Soy Milk is an excellent choice.
The plant-based milk is not only delicious, but it is also packed with essential nutrients that provide numerous health benefits. Whether you are lactose intolerant, vegan, or simply looking for a tasty drink that's also good for your health, Joybean Soy Milk has you covered!
A Healthy & Delicious Dairy-Free Milk Alternative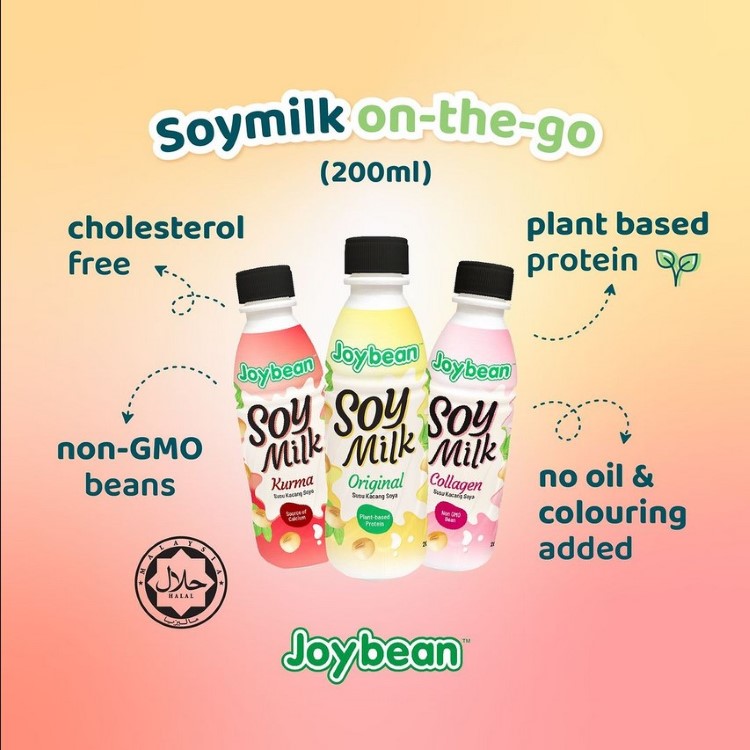 Made from high-quality, non-GMO, and single-variety IP Canadian soybeans, this creamy and smooth beverage is a great source of protein, vitamins, and minerals. Formulated with no oil or artificial colouring, Joybean Soy Milk is naturally cholesterol-free, making it a heart-healthy choice. It is also a natural source of calcium, which is great for bone health.
Unlike other packaging formats, Joybean Soy Milk is packaged in PET bottles that preserve its freshness and aroma even after undergoing the retort process. Best of all, it comes in yummy flavours such as original, kurma and collagen that are pleasing to different taste buds. Original tastes like the normal soy milk we all love, while Kurma has a rich, caramel-like flavour. Kurma (dates) is also an additional natural source of calcium. Those who want to experience the benefits of collagen can opt for the collagen variant. In all the variants mentioned above, Joybean Soy Milk is flavourful without being sickeningly sweet.
Vegan-friendly and free from any animal or animal by-products, Joybean Soy Milk drinks are a healthy choice for everyone, regardless of dietary restrictions. The different flavours are formulated with varying healthy ingredients, offering a refreshing change for the palate.
It has a mild and slightly nutty flavour that is not overpowering and slightly sweet, making it a great choice for those who want great tasting milk. It is also Halal-certified and therefore, suitable for Muslims everywhere. So why not give Joybean Soy Milk a try and sip your way to a healthier and happier you?
Experience the Goodness of Soy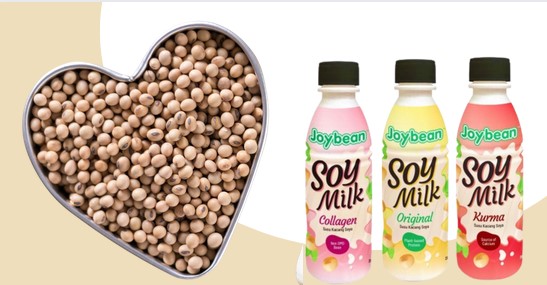 Studies have shown that soy is a good source of both soluble and insoluble fibre, and contains no cholesterol while being low in saturated fat. It is also a great source of important minerals such as iron, zinc, and B vitamins.
Soy protein is also a complete protein that contains all of the eight essential amino acids that our body needs. In addition, soy protein is rich in a phytonutrient called isoflavones, which possess potential antioxidant and anti-inflammatory properties.
Incorporating Joybean Soy Milk Into Your Diet
Joybean Soy Milk is very versatile and can be used in a variety of recipes. It can be used in smoothies, baked goods, and even your morning coffee. It is a great way to add a creamy and smooth texture to your favourite recipes without using dairy milk.
One great way to incorporate Joybean Soy Milk into your diet is by using it in your morning smoothie. Simply blend Joybean Soy Milk with your favourite fruits and vegetables for a delicious and healthy breakfast. Yummy!
Discover the New Joy in Soy Today
Joybean Soy Milk is widely available at your nearest Joybean outlets, grocery stores, and online retailers and comes in packed 200ml and 320ml bottles for your convenience so that you can enjoy delicious and nutritious soy milk on the go.
Whether you're enjoying it on its own, using it in your favourite recipes, or adding it to your morning coffee, Joybean Soy Milk is sure to become your new go-to beverage. So why wait? Sip on Joybean Soy Milk and start enjoying the benefits of a nutritious and delicious plant-based milk alternative today! It is available in major convenience stores, supermarkets, hypermarket, online retailers.
For more information, visit their Instagram and Facebook pages.