JOLLY RAINBOW CHRISTMAS FUN FACTORY AT SUNWAY PYRAMID
Welcome to the Jolly Rainbow Christmas Fun Factory, a place where fun and experiences are produced in a Christmas factory, in the spirit of delivering hope and happiness for the year end celebration! At Sunway Pyramid, experience heaps of jolly fun manifested through the Jolly Rainbow Christmas Fun Factory from 23 November 2018 till 1 January 2019 at the LG2 Blue Concourse.
Themed Jolly Rainbow which signifies fresh beginnings and hope, get ready to embark on a fun, colourful and interactive Christmas journey as you enter the concourse. Simply grab a Christmas passport from the Rainbow Booth to begin! First, experience Unicorns Alive! in the centre of the concourse, where a majestic Christmas dome takes the focal point. Simply colour in the Christmas unicorn and characters, enter the dome and watch your character come alive on the walls!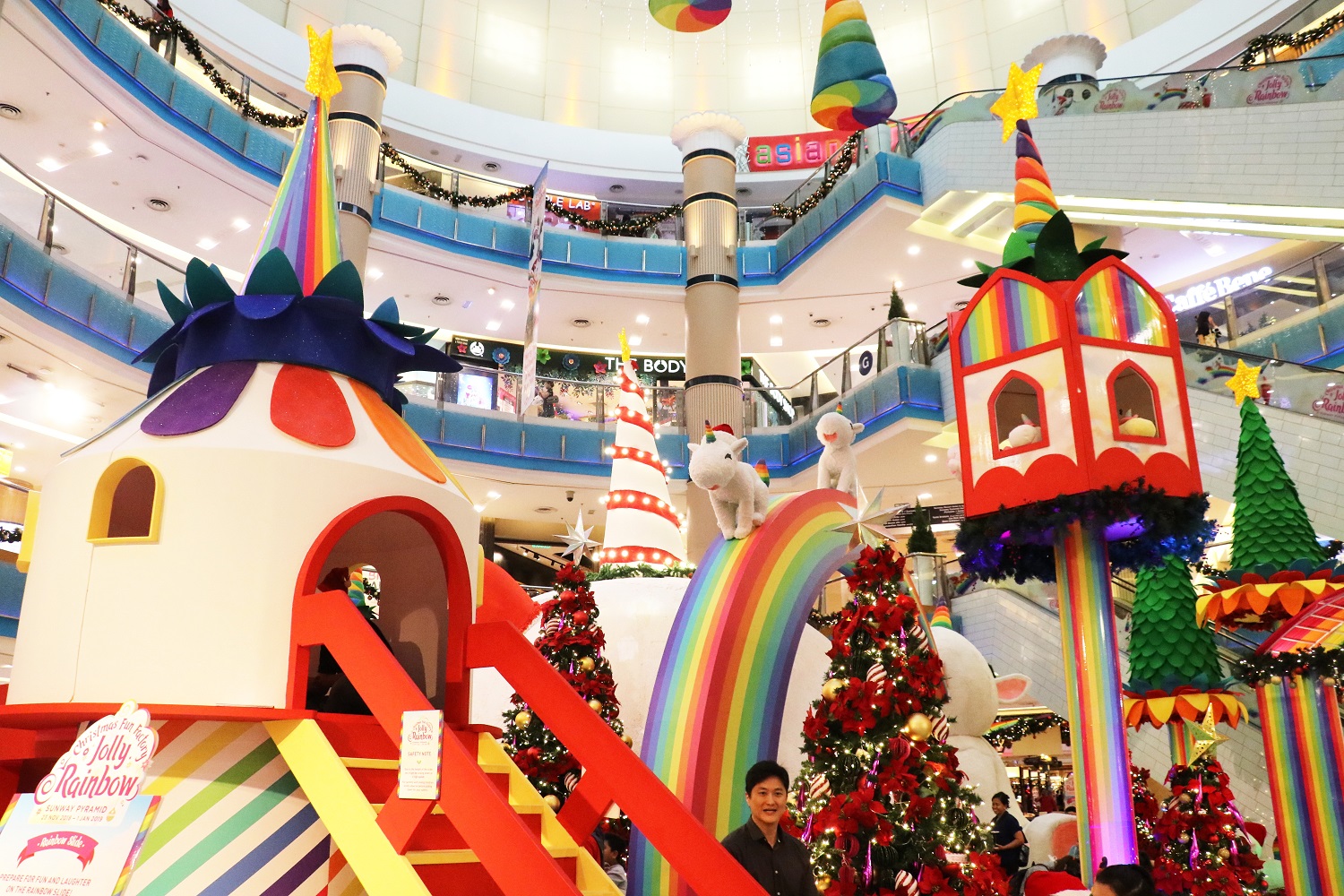 Next, make your way to the Rainbow Slide (first ever interactive slide in Malaysia!) next to the Christmas unicorn dome. Prepare for loads of fun and laughter as you slide down to create a colourful rainbow on the interactive rainbow slide, suitable for all ages.
Show off your best insta-pose at the Rainbow Memory Lane photobooth, where you can dress up and accessorise with Christmas and unicorn props for your very own Christmas snap to print and share! Also, not forgetting the endless insta-worthy spots such as colourful rainbow arches and romantic nooks surrounded by unicorns and Christmas trees. To sweeten up your rainbow journey, grab a Godiva Soft Serve Ice Cream at the Godiva Booth!
Shoppers can redeem Rainbow Rewards when they have fun in the concourse and complete activities. By completing two concourse activities, shoppers will be rewarded with a colourful Christmas badge, all redeemable at the Rainbow Booth. Those who complete all the activities will be in the running to win attractive weekly prizes worth up to RM12,000 in total, including a Sony PlayStation 4 worth RM1,349!
Shoppers will also be rewarded when they spend, dine and shop with their families in the mall this festive season. Upon spending RM800 (RM700 for HSBC Credit Cardholders), shoppers can redeem a Jolly Rainbow Light to light up their homes or offices.
Come one, come all to sort out your Christmas gifts with a variety holiday deals and seasonal offerings. With over 1,000 specialty shops throughout the mall including international fashion, beauty, sports and lifestyle, gadgets, toys and much more, shoppers will be spoilt for choice! Visit our newly opened fashion and beauty picks such as Yves Saint Laurent, Shiseido, Pull & Bear, Bata Kids and Football Republic.
If you're in the mood for a Christmas feast, dine and chill at over 180 cafes and restaurants are available in the mall, ranging from local favourites and Chinese food, including newly opened varieties such as Hotpot Kitchen, Zok Noodle, Mizudo Hotpot and more to come such as Haidilao, Din Tai Fung, Ippudo, The Barn, Genki Sushi, Family Mart and much more.
To unwind and relax, celebrate the year end by treating your friends and family to a memorable Christmas experience via an exciting virtual reality adventure at the newly opened Future Land, fun kid-friendly swimming classes at Happy Fish Swim School, an exhilarating play time at The Parenthood Playland or stress-free ice skating at Sunway Pyramid Ice.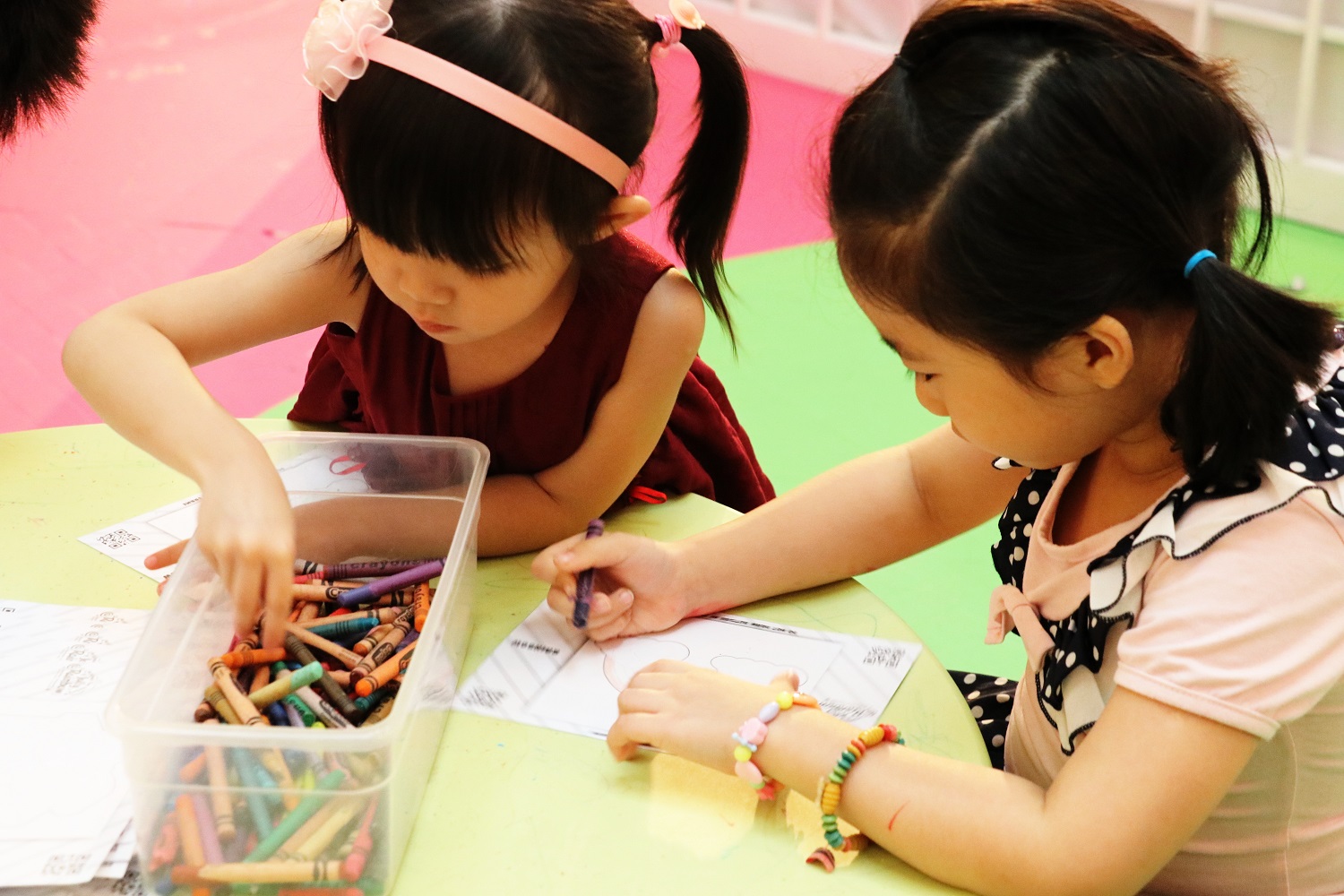 Looking for more family-friendly fun during the school holidays? At the Orange Concourse, party with your favourite characters such as PinkFong's Baby Shark, Didi and Friends, Spongebob Squarepants, We Bare Bears and more at the Astro Fun Escapades from 7th to 9th December 2018 or get ready for an incredible time exploring the latest year-end movies at the FOX Movies Night Out from 21st to 23rd December 2018.
To ensure the safety, well-being and comfort of all generations of shoppers in the mall, shoppers can loan a nursing scarf, milk bottle warmer or emergency diapers at our Concierge counter located on G Floor and LG2 (near Marrakesh). Child safe emergency contact tattoos, double strollers and senior-friendly amenities like complimentary adult diapers, mobile walkers and power wheelchairs are also available for rent. For the full list of services and amenities, head over to our website!
Built with you and your child's needs in mind, Sunway Pyramid has unveiled new and upgraded baby rooms, equipped with educational wall toys, a child-friendly toilet, toddler-friendly bench, diaper changing stations, private nursing rooms, air purifiers, Kimberly-Clark foam soap and hand sanitizers, Pigeon baby lotions, baby wash, and liquid cleansers and Cuckoo hot/cold water dispensers for your convenience.
This year, Sunway Malls has adopted Christmas Fun Factory as its Christmas theme to showcase different factory settings with distinctive outputs, all in the spirit of delivering a fun and memorable Christmas and year-end holiday experience.
"As this remarkable year draws to a close, we decided to end the year on a high note through fun and joyful experiences for families and loved ones to come together in celebration, said Mr. H.C Chan, Chief Executive Officer, Sunway Malls & Theme Parks.
"At Sunway City and Sunway Malls, we constantly strive to captivate the community through our ever-increasing leisure and retail choices. With that, all are welcome to join us at Sunway City to usher in the New Year with a bang, featuring a countdown celebration party, mini shows and of course – fireworks!", he said.
All of us at Sunway Pyramid would like to wish you a very Merry Christmas and Happy New Year!
For photos of the décor, colourful Christmas food, fashion, experiences, specials, and activity information, check out the Jolly Rainbow album and details at www.facebook.com/sunwaypyramid or www.sunwaypyramid.com/rainbowchristmas!
Follow Sunway Malls on these social media platforms:
Sunway Pyramid Facebook – www.facebook.com/sunwaypyramid
Instagram – @Sunway_Pyramid
Twitter – @Sunway_Pyramid