JOCOM – The Sole Appointed Online Grocery Platform Partner for the Jualan Murah Keluarga Malaysia @DE DAGANG Campaign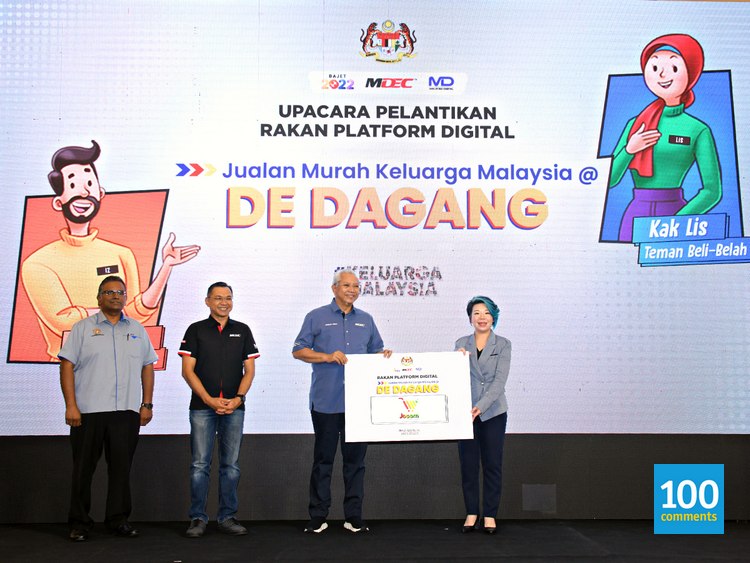 Photo caption: Yang Berhormat Tan Sri Datuk Seri Panglima Tpr Annuar bin Haji Musa, Minister of Communications and Multimedia Malaysia (second from right) awarding the Jualan Murah Keluarga Malaysia @DE DAGANG Digital Platform Partner status to Sharon Goh, JOCOM's Chief Operating Officer (first from right). The award ceremony was witnessed by Yang Berusaha Encik Ma Sivanesan A/L Marimuthu, Deputy Secretary General (TKSU (T)), Ministry of Communications and Multimedia Malaysia (first from left) and Yang Berusaha Ts. Mahadhir Aziz, Chief Executive Officer of MDEC (second from left).
Malaysia-based online grocery shopping and shopping delivery service offers enticing DE Dagang incentives for on-boarding vendors and shoppers.
JOCOM, Malaysia's leading M-Commerce grocery platform, is offering enticing rewards for onboarding vendors and shoppers to spur online grocery shopping activity while combating the rising inflation in Malaysia. This comes after its appointment as the only online grocery platform for the Jualan Murah Keluarga Malaysia @ DE DAGANG campaign which started in early September and runs until 31 December 2022.
Jualan Murah Keluarga Malaysia @ DE Dagang is an initiative by the Ministry of Finance, implemented by the Malaysia Digital Economy Corporation (MDEC) and digital platform partners aimed at helping Malaysian businesses in targeted sectors, particularly local SMEs, in thriving on the platform by increasing their customer reach and boost sales.
"The Jualan Murah Keluarga Malaysia @ DE DAGANG campaign benefits everyone by allowing consumers to stretch their ringgit as far as they could in times of rising cost of goods, while also supporting our local businesses in accelerating their sales," JOCOM's founder and Chief Executive Officer Joshua Sew explained.
JOCOM will harness its experience as a leading online grocery platform to help businesses that are operating offline to come on-board and offer their groceries and household products online to consumers in Malaysia, thus accelerating digitalisation in the online grocery sector.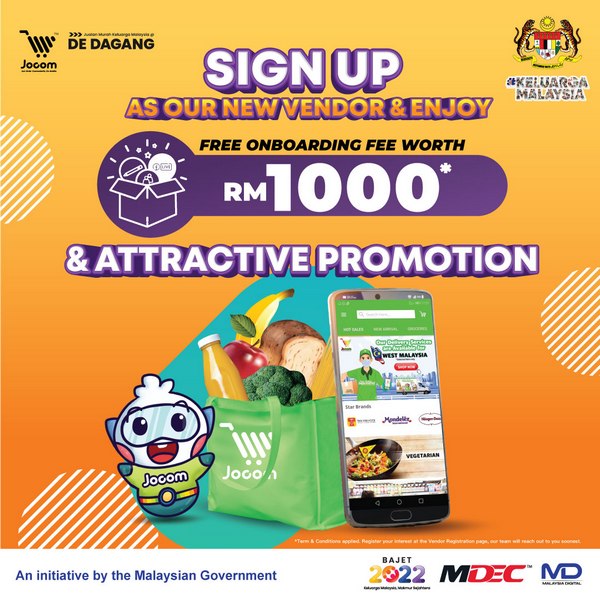 New vendors will receive an on-boarding package subsidy worth RM1,000 upon signup co-funded by JOCOM and MDEC, which includes account opening, yearly vendor maintenance, products content management, in-app brand banner design, warehousing, pick and pack services, and customer service.
In conjunction with the Jualan Murah Keluarga Malaysia @DE DAGANG promotion, JOCOM is also offering Malaysians discounts up to 50% on its products from now until 31 December 2022. Shoppers can go to the JOCOM app and www.jocom.my to view the latest promotions.
Sew stated, "It is an honour to be a part of the Jualan Murah Keluarga Malaysia @ DE DAGANG. Indeed, MDEC's digital agenda aligns with JOCOM's mission to empower Malaysian SMEs and sellers by digitalising their business and market and selling their products to the right audience. At the same time, JOCOM conveniently delivers groceries right to the customer's doorstep."
"Technology and customer service are at the core of JOCOM right from product listing, marketing and advertising of the vendor's products on our platform as well as warehousing, packing, and delivery across Malaysia. In short, JOCOM offers a one-stop solution for Malaysian SMEs. We are delighted to collaborate with MDEC to offer SMEs the ability to scale for a better competitive advantage in the online groceries space," he said.
"Based on our track record, it's evident that our platform has helped many businesses successfully connect to customers who were previously out of their reach, and we're also able to help them grow tremendously, especially during these difficult times brought on by the ongoing pandemic and rising costs of materials. We hope that our collaboration with MDEC will see a continued growth in the demand for the platform and service we offer as more businesses see the importance of technology in enabling them to be more efficient – especially in today's ever-changing business environment," Sew concluded.
Established in 2014, JOCOM was awarded two Malaysia Book of Records for being the First Grocery Mobile Commerce Apps in 2017 and the First TV Series with eCommerce QR Code via OTT Platform in 2022. The MSC Status Company has previously partnered with MDEC on the Go-eCommerce Onboarding, under Belanjawan 2021.
For more information, visit https://jocom.my and follow JOCOM on their social media channels:
Facebook: https://www.facebook.com/JocomApp
Instagram: https://instagram.com/jocomapp
Youtube: https://www.youtube.com/channel/UCl0l-ISdzc1ILvt4Af1L4DQ