Janie & Joe: A Toy For Every Child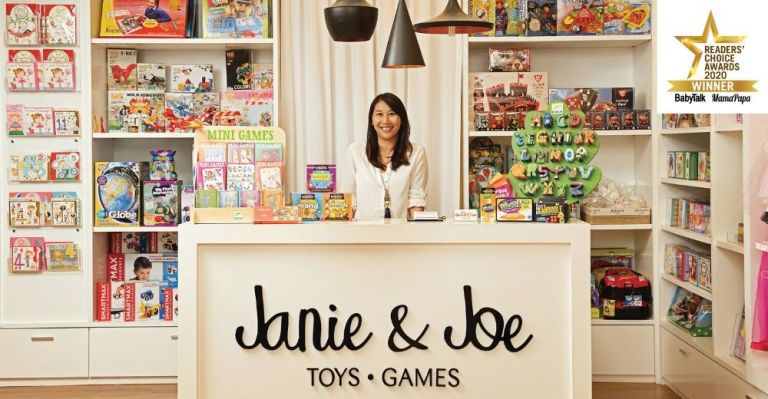 Toys and games are an important and enjoyable part of growing up, regardless of a child's age, background and capability. Any child would be thrilled when presented with a new toy or game that they might spend some time playing with.
While there may be literally thousands of toys available everywhere, quality and reputation will always be a priority for parents when it comes to toys. This is why Janie & Joe has again emerged as winners this year in the BabyTalk Readers' Choice 2020 Award for Best Toy Store category. The brand is synonymous with great quality and renowned reputation that discerning parents would appreciate.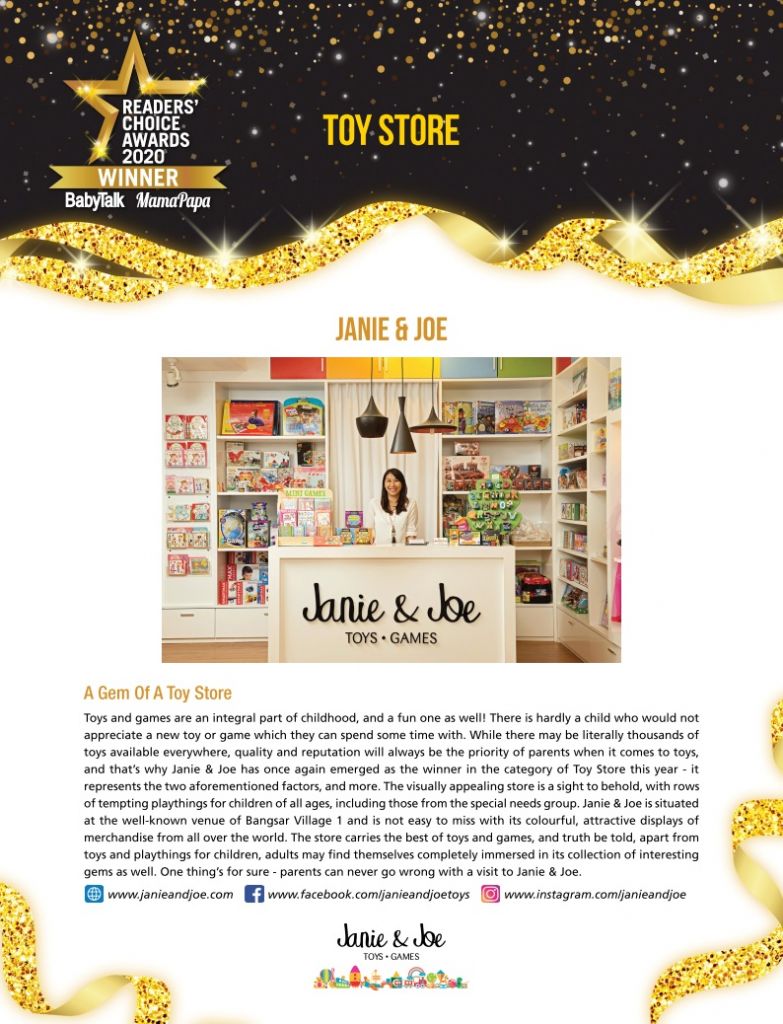 The visually pleasing shop is a sight to see, with rows of enticing playthings for children of all ages and abilities. Located in Bangsar Village 1, Janie & Joe can't be missed with its bright, enticing displays of products from all over the world.
The store carries the best of toys and games for the kids, and to be honest, adults can find themselves completely absorbed in the delightful range offered by the shop, too. Families should expect innovative products from leading international brands such as Djeco, Melissa & Doug, BrainBox Games, Educational Insights, and Learning Resources at Janie & Joe. Kids can go gaga with the collection of wooden toys, puzzle sets, building blocks, art kits, tents, role-playing costumes, dollhouses and kitchen sets, games and magic kits, ride-ons, pull-toys, and more!
With a passion to provide toys for children from all walks of life, Janie & Joe also offers toys which are ideal for SEN (Special Educational Needs) children. Research has shown that toys which stimulate key areas of development and which are catered to children's differing learning styles are especially important. In fact, they are the pioneers in bringing to Malaysia the latest STEM (Science Technology Engineering Maths) toys and games, and toys that introduce children to the foundational concepts of coding and programming.
Here are just some of the fascinating toys and games that you can find at Janie & Joe: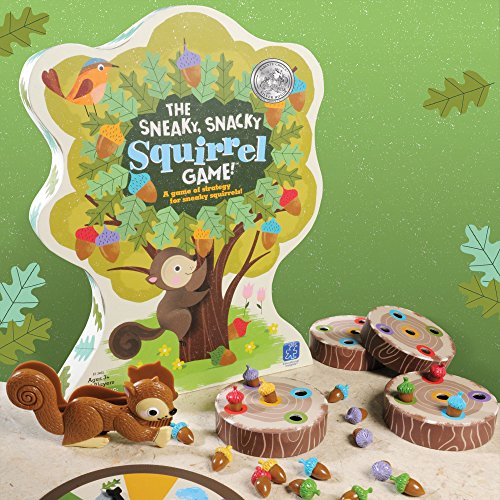 Objective: Helps develop cognitive and fine motor skills.
Kids are given the mission to feed their hungry forest friends! They would need to spin the spinner, squeeze the matching coloured acorn with the special Squirrel Squeezer, and be the first to fill their log with delicious acorns!
A great first board game for children, it encourages colour learning, matching, sorting, counting and early math skills. It also helps improve strategic thinking, fine motor skills, hand-eye coordination, and pre-handwriting skills.
Shy kids can develop their social interaction skills in the group, too, as the game encourages turn-taking.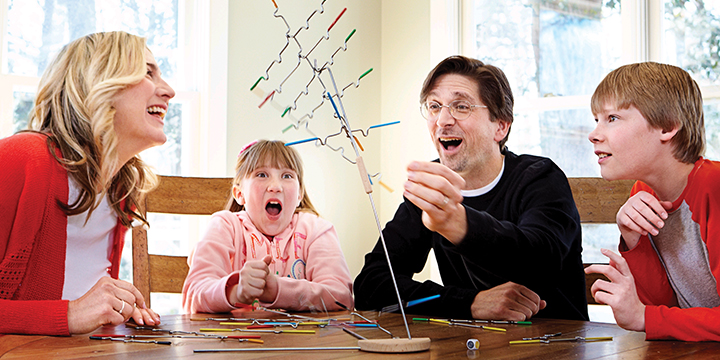 Objective: Helps develop cognitive and fine motor skills
This award-winning game from Melissa & Doug will thrill the entire family! Players will need to use their skills to determine where game pieces that come in different lengths will best balance.
Suspend contains 24 coloured game rods, connectors and rods to construct the base, a coloured die and instructions on how to play.
Players who are young and the not-so-young will have fun putting their hand-eye coordination and their cognitive skills to the test!
Objective: Helps develop cognitive skills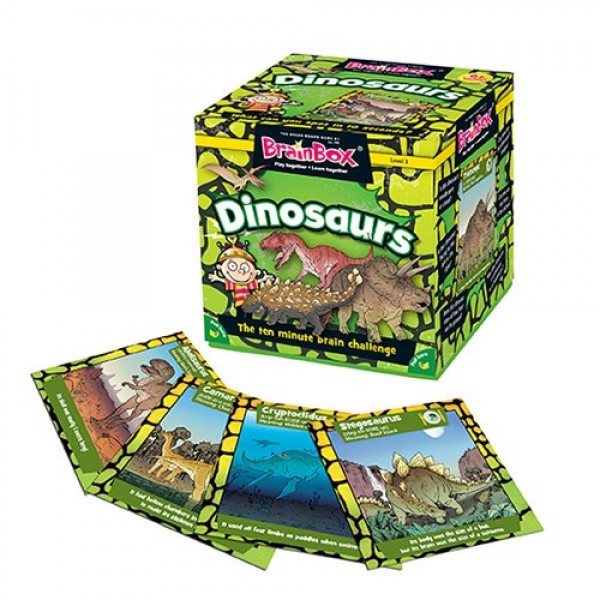 Dinosaurs are a firm children's favourite and they will love this nifty memory-based game! It's fast and fun, and doesn't require any pens, pencils, paper, playing board or even a table!
Rather than depending on learned facts, this game develops observation skills and memory. As such, parents of children with Asperger's, or who have kids who are dyslexic or autistic, have found BrainBox games to be especially helpful in developing their children's short-term memory.
Janie & Joe offers a wide range of BrainBox games, covering a vast variety of themes and topics so kids will definitely find something they like. To get more of the above, you really need to pay a visit to Janie & Joe!
For more information, do visit their website, Facebook and Instagram pages.