J.A.N.E: Providing the Warm, Welcoming Postnatal Care that Mothers Yearn for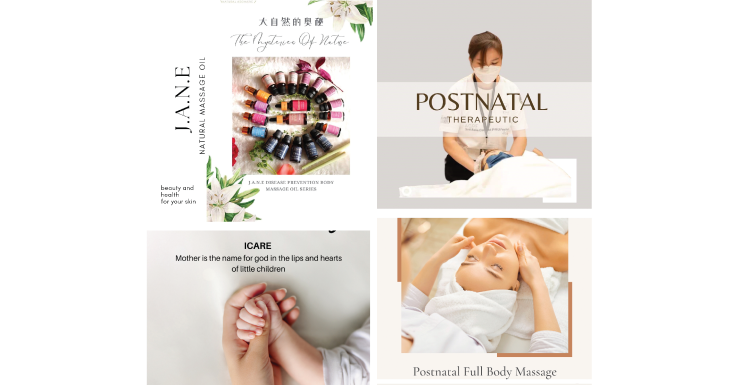 The postpartum period following ten months of pregnancy is expected to result in much discomfort as well as physical changes for women. However, there's no need for new moms to endure this silently. There are accessible solutions that can help them feel better both physically and mentally. J.A.N.E, an award-winning brand, offers high-quality postpartum massages to help new moms relax and recover faster.
At J.A.N.E's renowned aromatherapy massage center, experienced nurses and masseuses provide exceptional care for new moms. They offer tailor-made postpartum massages, including lactation and uterine massages, known for their effectiveness in the industry. Highly recognized by the industry, J.A.N.E has always enjoyed a high return customer rate for its superior postpartum massages.
J.A.N.E's massages use 100% pure natural oils in a relaxing and comfortable environment. Professional female massage therapists, known for their warmth and friendliness, use Swedish massage techniques to provide physical and mental relief. These massages help new moms relax, improve abdominal muscle tone, and reduce anxiety.
All J.A.N.E nurses and massage therapists are professionally trained at ICARE education center and qualified with Diploma certification to address various discomforts faced by postpartum mothers, such as fatigue, sore muscles, stiff necks, and more. They tailor the massages to individual needs, and they are highly qualified to perform safe, comfortable and effective massages for postpartum mothers.
During the golden recovery period of postpartum confinement, a 90-minute postpartum full-body massage is highly recommended for new moms. This targeted massage helps restore belly muscle elasticity, reduce fat as well as stretch marks, and definitely boost confidence! Specific chest massages aid to stimulate milk flow, firming breast, and prevent issues like congestion and breast hyperplasia.
By massaging the whole body, stiffness and soreness in the shoulders and neck are alleviated. J.A.N.E's expertise extends to postpartum moms who've had cesarean sections or want to regain their figure and promote breast milk by pampering themselves with the the comforts of postpartum massages during confinement. They even offer door-to-door postpartum massage services for added convenience.
With J.A.N.E's expert care, the new or postpartum moms could certainly enjoy a smoother postpartum journey, both physically and mentally.