It's Never Too Early to Start Swimming at DSA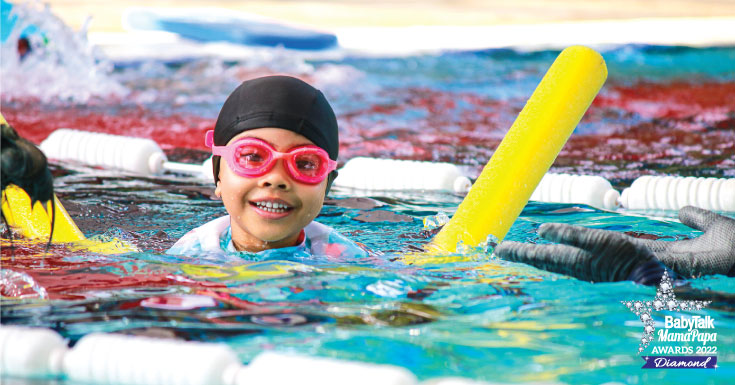 At D Swim Academy (DSA), they know that every baby is a born swimmer. Let DSA teach your infant to be a strong, confident and safer in water.
Early swimming lessons for babies and toddlers are beneficial not only for water safety but also for a child's overall development, particularly perceptual, motor, and special awareness.
There are many advantages to teaching infants how to swim. Not only does it reduce the risk of drowning, but it also helps with muscle development and coordination. Moreover, it can increase appetite and deepen sleep. Finally, it improves bonding, self-confidence, and social skills.
The Ideal Swimming Programme for Your Little Ones
D Swim Academy (DSA) is an award-winning swimming school that offers a special programme for babies and young children. DSA's Baby and Me Swimming programme is designed to introduce babies and parents to the water in a fun, safe environment. The programme uses toys, songs and skill-based activities to help build confidence and create a love and respect for the water. The parent-accompanied programme will also strengthen the bond between parent and child.
"A child who is water-confident from a young age has a significant advantage over one who is either afraid of, or has had no experience with water other than a bathtub," DSA explains. "A baby or toddler who has taken part in an infant aquatic programme has a much greater chance of survival after falling into the water. They will more likely rise to the surface and turn automatically onto their backs, floating happily. If taught so, they will turn to the edge until they can be rescued."
Did you know that babies are actually the best swimmers? While older children may be overwhelmed with too much information about how to swim (such as counting strokes and overcoming the fear of water), babies have no fear of water and are able to pick up swimming intuitively. They will learn faster in a safe and nurturing environment that offers positive feedback.
Excellent Swim Instructors amid a Safe and Nurturing Environment
However, it is important to remember that all babies are different. Some will be more confident than others, and some might need more time to adjust. Parents can rest assured that DSA's swim instructors are well-trained to handle babies of varying degrees of water confidence.
In fact, the small teacher-to-student ratio (1:8) makes it the perfect programme for parents who want more personalised attention and guidance from DSA's swim instructors. The experienced and highly qualified instructors work with parents and babies to train them to swim in a nurturing environment that is safe, friendly, fun and educational. The facilities are well-maintained and the children's safety is ensured at all times.
DSA offers a wide range of swimming programmes for all ages and skill levels. These programmes include swimming and water safety classes that comply with international industry standards. In addition to Baby & Me, DSA also offers the Kiddie Swimmers Programme for toddlers aged three to four years. For older children, the Learn to Swim Programme is aimed at children aged five and above and is split into three age groups. DSA also provides Specialty Programs for children with special needs or disabilities, such as the Special Care Swimmer Program. Artistic Swimming and Water Polo are two other speciality programmes that require advanced swimming ability.
The classes are continuously updated and enhanced to reflect industry developments and student demands. Additionally, the academy provides extensive training to their swim instructors and coaches, as well as conducting frequent reviews of their programmes and teaching approach. You can be confident that DSA's instructors are certified swimming teachers and can perform CPR with qualifications from AUSTSWIM and the Life Saving Society Malaysia (LSSM).
The Trusted Choice for Parents
Well-established and renowned in the local swimming community, DSA is a member of the Malaysian Aquatics Industry and is trusted by more than (100,000 customers for all ages nationwide.) DSA is also the multiple Diamond award winner of BabyTalk Magazine.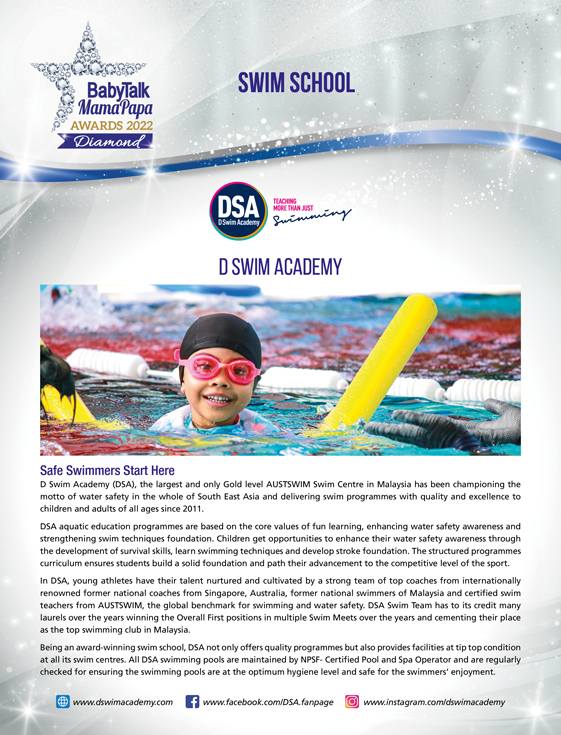 A great believer that swimming is a basic skill that everyone should have, DSA's mission is to make swimming fun and accessible to everyone. "The younger you start, the better," DSA concludes.
For more information about DSA and their swimming programmes, visit their website or call 1300 222 372.