Islamic PreSchool Forges Strong Foundations Among Youth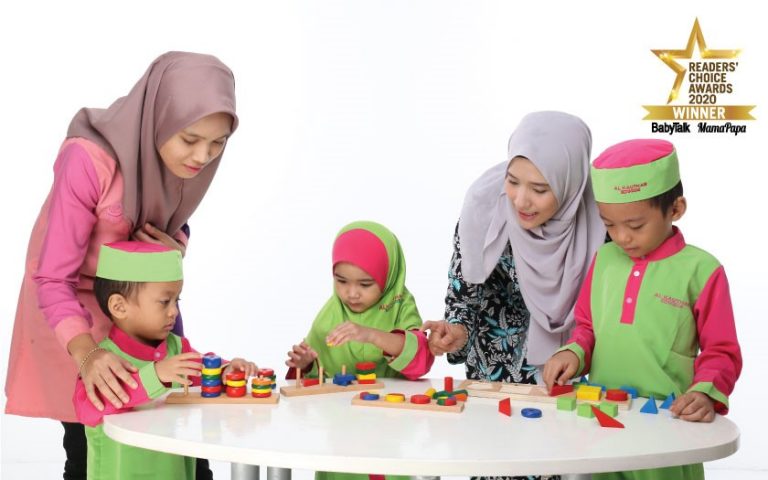 Al Kauthar Eduqids is a private kindergarten company set up in 2013 offering programs including preschool for 4 to 6 year-old students Pre Tahfiz (Quranic memorization), Montessori service, Toddlers' (1 to 3 year-olds) Playschool, Mandarin classes plus Islamic Advancement (KAFA).
The 'Al Kauthar' name is derived from Surah Al Kauthar (The Abundance) from the Quran. Al Kauthar Eduqids seeks to build a world where all youth are safe, strong and valued. Further, this kindergarten intends to forge a strong foundation among the young based on Islamic spiritual and ethical values, towards creating positive actions and decisions. In doing so, they created a fun and nurturing environment which equips their students to attain academic excellence to become responsible citizens under the guidance of Islamic values. At Al Kauthar, they believe that learning is a life-long process of ongoing growth – and their staff intends to do just that for your kids!
The Islamic foundation learning offered would encompass physical, mental, social and emotional activities geared to mould their minds, characters and attitudes according to Islam, where parents also play active roles. Thus Al Kauthar Eduqids educates, cares and offers consultation utilising proactive learning methods integrating teachers, students and parents. Primarily, they facilitate safe learning spaces. Further, they also offer the programme to disabled kids such as Autism and minor Down Syndrome children, in efforts to cater to those with special needs.
Among the Directors at Al Kauthar is Puan Nor Fadilah bt Alias, who has a wealth of experience in the education sector exceeding a decade. Her career began as a teacher at a kindergarten in Setapak. She then proceeded to gain valuable training at child care centres and a pre-tahfiz kindergarten, including a Smart Reader centre. Puan Fadilah holds a Certificate in Early Childhood Teaching and a Diploma in Education – majoring in Pre-School Training.
Al Kauthar Eduqids currently has 57 branches throughout the Klang Valley. Its excellence in offering Islamic Educational Programmes was recently recognised with the Superbrands 2020 (Malaysia's Choice) award.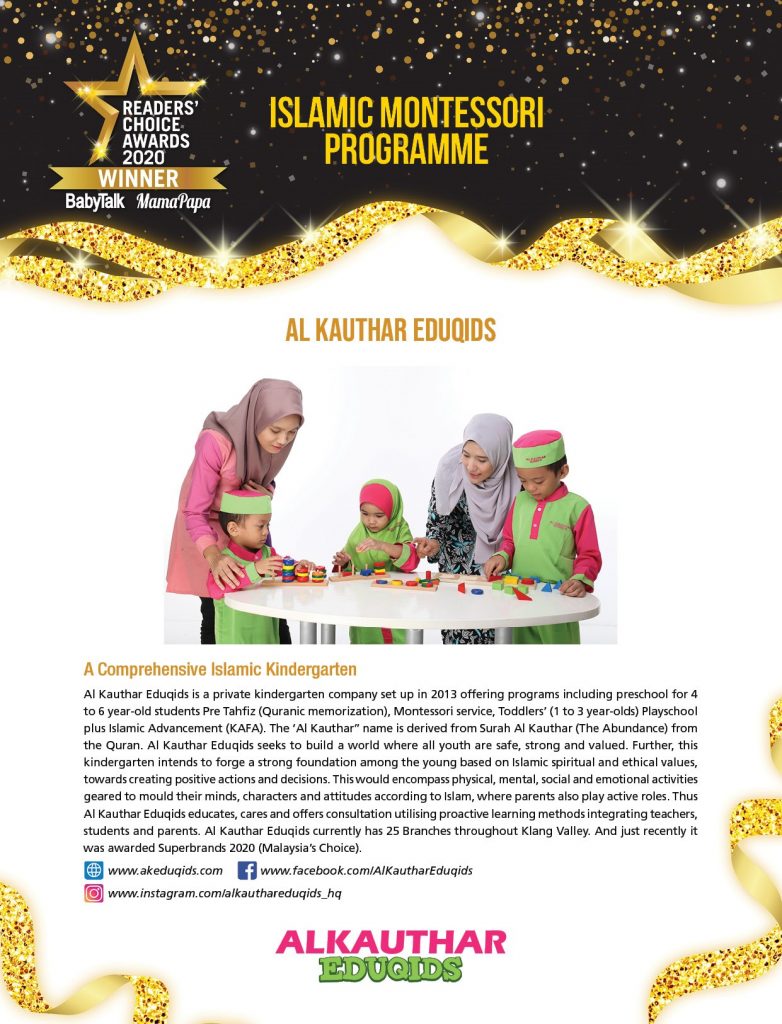 Al Kauthar Eduqids has also recently won the BabyTalk Readers' Choice Awards for the category of Islamic Montessori Programme.
For more details, visit their website, Facebook and Instagram today!