Instant & Natural Disinfectant for the Family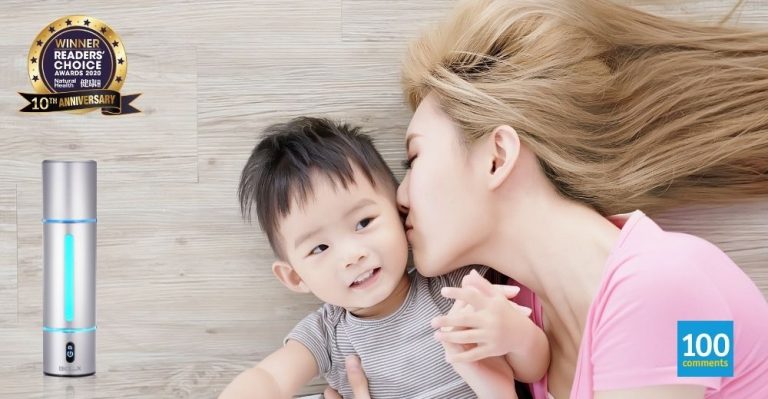 Imagine cleaning and sanitising your home and hands against 99.99% pathogens with just the power of water. With BiOLUX Multipurpose Ozone Bottle, you can! As Malaysia's first Multipurpose Ozone Bottle, it can convert plain tap water into ozone in just 90 seconds in one simple press of the button.
Ozone (O3) is a natural and effective disinfectant to kill bacteria or viruses without leaving any chemical residue and nitrogen oxide (NOx), a harmful and highly reactive gas. Its pathogen-killing efficiency is comparable to chlorine. But unlike chlorine, ozone is environmentally-friendly and non-polluting. It is widely used in water treatment plants, municipal wastewater treatment, ice rinks, swimming pools, aquariums, fish farms and more. In fact, BiOLUX Multipurpose Ozone Bottle has a sanitisation speed that is 3000 times faster and a stronger oxidation that is 50 times than chlorine!
Ozone provides immediate non-toxic sanitisation, and can eliminate up to 99.99% of epidemic bacteria and viruses. Japan's Nara Medical University tested it and found that it rapidly kills 99.974% of SARS-CoV-2 (the Covid-19 virus).
A brainchild of BiOLUX, it can be activated with a single one button operation and is free of alcohol, chemicals and fragrance.
The BiOLUX Multipurpose Ozone Bottle can be used as an instant disinfectant for the home or when travelling out. The BiOLUX Multipurpose Ozone Bottle is a safe alternative to using chlorine based products which are harmful to humans and the environment.
Not your Traditional Cleaning Solution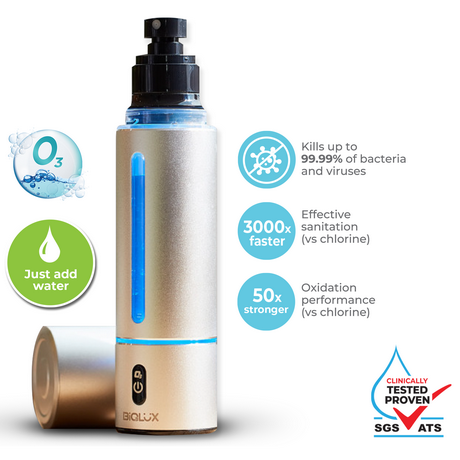 BiOLUX Multipurpose Ozone Bottle can quickly generate a high concentration of ozone water up to 2ppm that kills up to 99.99% of bacteria and viruses in as short as 5 seconds. It is the Malaysia's first instant and natural disinfectant for personal and the family, which uses ozone technology to clean everything from your hands and general household surfaces to baby bottles, toys, pet cages and more. It can be used to cleanse the mouth, hands, face, as well as to deodorise and disinfect every area of the house including high-touch surface areas like door knobs, kitchen countertop and desks, and even fruits and vegetables, too.  Truly, the BiOLUX Multipurpose Ozone Bottle is revolutionizing the way people disinfect their home.
The Ozone Generator and the double-layer bottle body of BiOLUX Multipurpose Ozone Bottle effectively and continuously maintains the concentration of ozone. It employs the ground-breaking Advanced Oxidation Process (AOP) Technology.
Within 90 seconds, tap water or mineral water will be converted into 150ml of high-concentration of fine mist containing ozone, which can quickly sanitise, disinfect, and deodorise. Once the bacteria is killed and the ozone then reverts back to oxygen. Unlike competing technologies, BiOLUX immediately electrolyzes water to produce ozone water, which has the greatest dissolved content in the industry. Ozone water is powerful yet non-irritating, contains no alcohol or chemicals, and is fully safe for both the human body and the environment. It is renowned for its versatility, as it is suitable for sanitisation and disinfection in everyday life.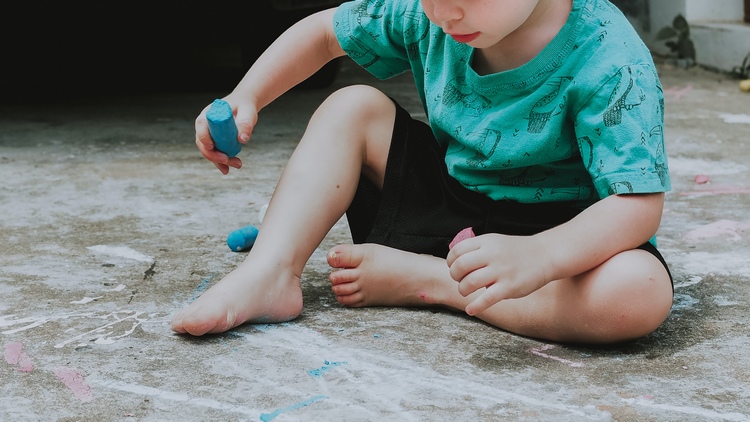 One BiOLUX Multipurpose Ozone Bottle can be used more than 16,000 times. So when used 5 times per day, it can last up to 8.5 years.
BiOLUX Multipurpose Ozone Bottle is versatile, portable and can be used to sanitise your hands and surfaces at any time anywhere. Choose BiOLUX for peace of mind and a natural solution to sanitise your environment for the safety of you and your family!
BiOLUX Multipurpose Ozone Bottle recently won the Natural Health Readers' Choice Awards for the Best Ozone Generator.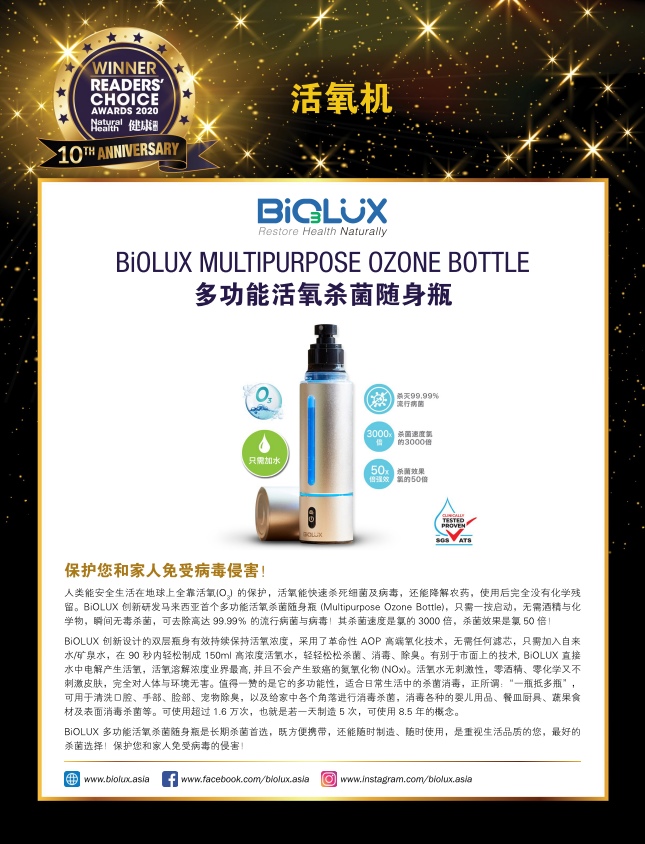 If you love BiOLUX Multipurpose Ozone Bottle, leave a review here! For more information, visit their website, Facebook or Instagram page.