Ideas for Gifting Green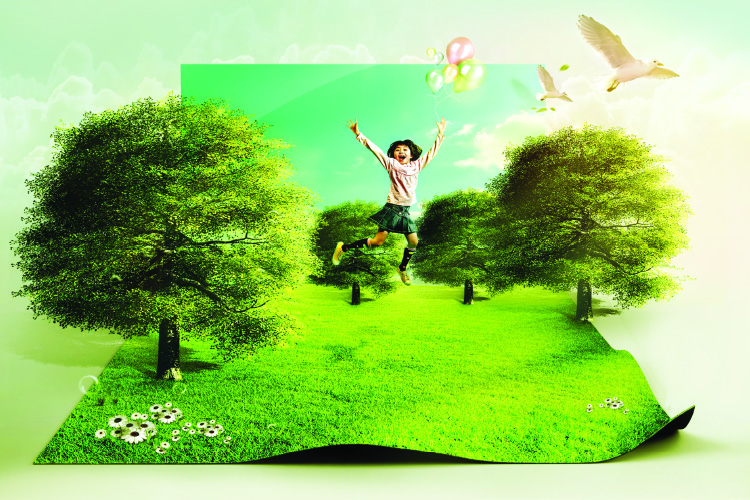 Gifting green is not just about giving gifts that are friendly on the environment. Giving a gift starts from the process of shopping for one, right to the presenting of the much-thought about parcel. As such, if you intend to reduce your carbon footprint, it is best done at every step as there is really no point for you to give mum an organic face care set wrapped in layers of paper and ribbons. So let's see how you can start gifting green this year.
Shop the green way
Buy online
By shopping online, you will not contribute to the air and noise pollution caused by driving to the mall. And shopping for a gift sometimes doesn't end at just one mall. You might not have thought about this but shopping online also conserves resources in many other ways. Less transportation is needed to transfer goods to the mall, which takes up more display space and more energy to run than a warehouse. So why not do your part for the environment while saving yourself the hassle of driving out, only to find yourself jostling with the crowd in search for something that might not even be there?
Support the causes
In the effort to gift green, select gifts that come from responsible sources. Fairtrade products are goods which have been produced with the objective of improving sustainability and trading conditions in developing countries. If you are going for food items or clothing, make Fairtrade products or organic ones your choice.
If it is electronics and gadgets that you are considering, opt for the most energy-efficient ones. If you go for a Nokia or a Sony, you would be supporting a good cause as both companies are ranked the best on Greenpeace's list of environmentally-responsible manufacturers. While you are at that, include some rechargeable batteries with your gift so that less batteries will be bought and discarded, minimising the leak of acid into landfills and water sources.
Did you know that books can be 'unfriendly' to the environment too? The Rainforest Action Network has reported that some publishers, including reputable ones like Harper Collins and Disney Publishing Worldwide, use paper obtained unsustainably from Indonesian rainforests for their books. As such, check your intended purchase for a Forest Stewardship Council (FSC) label which indicates that the paper used was sourced from well-managed forests.
Various brands also pledge to channel a portion of sales towards a charity of choice, so help two causes with one purchase by making a donation to the selected charity body as you shop for presents. Finally, if you are selecting some beauty and skincare products for mum or the missus, check the labels to make sure that they have not been tested on animals.
Buy products made of recycled items
A gift made of recycled items doesn't have to be a table lamp made of Coke bottles or anything of such. There are many cute and quirky things in the market these days made of simple recycled items. If you search well, you'd be able to find some really interesting accessories, home decoration, purses and toys made with such care and creativity that no one will even notice that they were made of unwanted materials. In fact, they even become novelty items.
Or don't shop at all…
Why buy when you can come up with a gift as good, if not better, as a store-purchased one?
Make personalised gifts
No one likes anything better than a homemade gift, one made straight from the heart with effort and a personal touch. You don't have to whip up elaborate gifts nor be a talented craftsman. Remember how touching it is to receive a handmade card? Think along that line and do something similar. You could print out a photograph of good memories with the recipient and frame it up. If you're good in the kitchen, some cookies or cakes will do the trick. If you've attended a soap-making or sewing class, that's even better.
Regive
Regifting, or recycling gifts in simpler words, was traditionally shunned upon. However, green gifting advocates are now calling out for people to regift but the rule of the thumb is only if you genuinely think the recipient has a need for the item. If you have received a cookbook but have never set foot into the kitchen nor plan to, why not present your friend who simply loves trying out new recipes with the cookbook instead of buying another?
Wrap the green way
Magazines make good wrapping paper
Sometimes, there are magazine pages that so beautiful that you could never find a wrapping paper that come as close. Use these to add quirkiness and creativity to your present. Magazine pages are usually glossy too, adding a shiny finish to your packages. On top of magazines, there are various other papers that you could use. Ever thought that the road map or atlas would make an interesting wrapper? Now you have a wrapper that makes your unwrapped gift stand out from the rest.
Cloth and bottles make good wrappers too
Cloth is great for wrapping up odd-shaped items. Use a pretty cloth to make a bundle and place the gift within; the recipient can then either reuse the cloth for gifting or for any other purpose around the house. On the other hand, bottles are good for presenting little trinkets. Accessories and jewellery can be presented in a little bottle decorated with self-written messages.
Reuse gift bags
At some time or other, we find ourselves saving the paper bags given to carry our purchases, either because they are so pretty or that we think they could come in handy some day. Why don't you use one of these to place your gift inside? The recipient will find it handy to carry the gift and is also likely to reuse the bag.
Make your own wrapping paper
Or rather, get the kids to make wrapping papers. It will be an activity that they will simply love.
Get several pieces of large plain white paper and ask them to draw or paint according to their hearts' desire. You can do it yourself too.
No talent is needed as simple swashes of paint can turn out amazingly artistic when wrapped around the edges of a box.
Make the gift the wrapping
If you are giving a plant or a set of gardening to someone with green fingers, you could place the plant or tools in a bucket or watering can. If you are giving books, present them in a storage box that the recipient can use or if it's kitchenware that you're giving, place the utensils into the pot and finish with a pretty ribbon tied around it.
Green gift ideas for all
Now that you know how to shop and wrap the green way, here are some green gift ideas to turn the entire gifting experience into a totally green one.
For mum, wives, girlfriends and sisters:
Organic clothes
There are more organic clothing items these days. Retailers such as Zara frequently stock clothing made of organic cotton or those that came from Fairtrade markets.
Organic skincare and beauty products
Girls of all ages love to pamper themselves and look good. Pick up a set of body wash, hand lotion, lip balm and body butter from one of the organic body care outlets that are starting to sprout around town.
Potted plant
Give a plant only to one whom you are sure would appreciate and take good care of the plant!
Organic food basket
Everyone loves a food basket, especially one stocked with chocolates, cookies, biscuits and candy, all organic!
For dad, husbands, boyfriends and brothers:
Kinetic watch
Watches powered by movements have always been popular. Who wouldn't love a watch that doesn't require any change of batteries – saving time, effort, cost and the environment too?
Solar-powered gadgets and charger
There is nothing that can separate a man and his gadgets. As such, the batteries are likely to run out fast, so get the man in your life a solar-powered charger for his iPhone, iPod or just any gadget that he has, even a laptop. Men are also fascinated with anything that doesn't run on batteries or electricity. A solar-powered bug or a toy car is bound to fascinate them.
Reusable utensil set
Out on the run most of the time, your man would do good with a utensil set that he can carry and use for his meals outside. Less disposable cutlery will be used and he will be spared the effects of using those bleached wooden chopsticks too.
Tumbler for coffee
Instead of taking out coffee in paper or plastic cups each time, let your guy have his cuppa in his very own tumbler. He can carry his coffee safer without fear of it tipping over and he might even get a discount each time he brings his own tumbler.
For the young ones:
Organic toys
Parents worldwide panicked when it was revealed that many toys were found to contain high levels of lead. There could still be some around in the toy stores, so protect your children from lead poisoning by selecting organic toys for them.
Eco-friendly colour pencils
Have you come across those pencils made of paper wound tightly around the carbon lead? Trees are spared with the use of recycled paper to make these pencils, which make interesting presents and environmental lessons for the little ones too.
Now that you know the ways of shopping, wrapping and gifting green, it is time to put the knowledge to use.