How To Be A Fashionable Mom… Effortlessly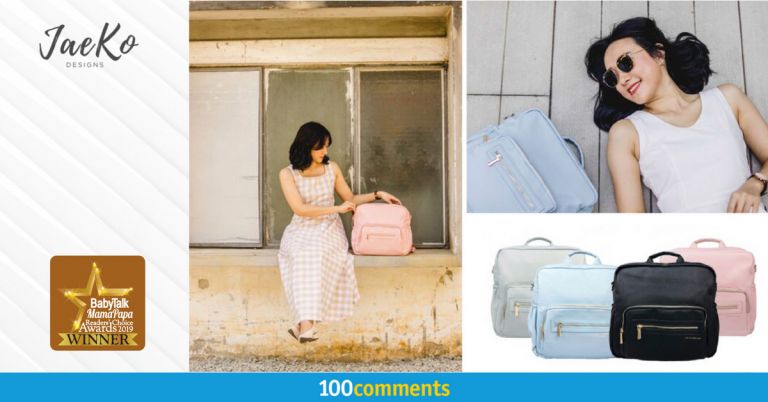 If there's one thing we've learned, it's this: you can look chic and trendy even when you have a baby on one hand and a diaper bag in another. Here are 5 nifty tips and tricks we learned from the fashionista moms around us:
1. Feel Good First
When you feel good, you exude a relaxed air. More importantly, you will go about your day in total confidence. So really, there's no point in wearing something that you feel out-of-sorts with just because a fashion influencer is raving about it.
Of course, there are many factors that lead to us feeling good: being well-rested, well-nourished and well-loved come up tops. But when it comes to fashion, choose something that makes you look like the best version of yourself, without sacrificing comfort. If that means flats instead of heels, bring it on! You can always choose a cute pair of flats and glamourise the look with a chic bag!
Fashionable Hint: Jae Ko Diaper Bags are available in four colours to match the clothes in your wardrobe: Black, Pink, Grey and Blue. You'll definitely find one to suit your OOTD and mood!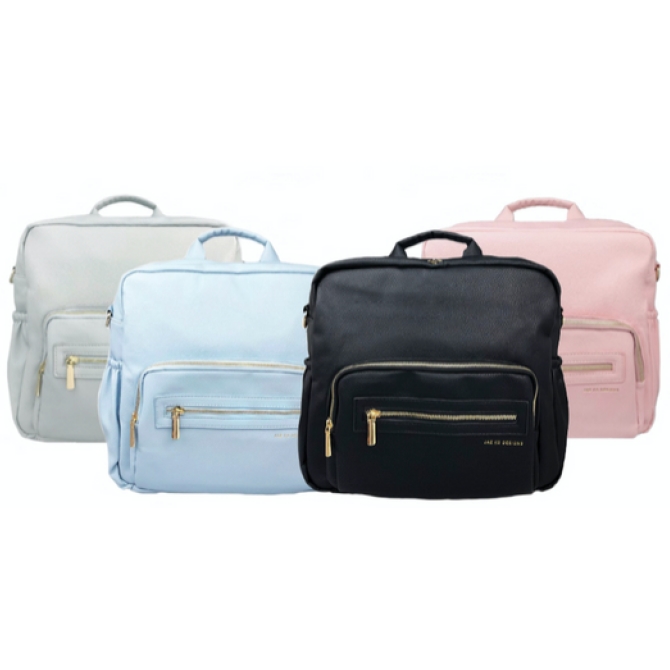 2. Invest In A Few Safe Pieces
When you are a working mom or a mom with her hands full taking care of the kids and home all day, you don't have much time to put on all the outfits in your wardrobe until you find the right one. Additionally, as our bodies change with the season and time of life, it can be very stressful to put on a flattering look in a hurry.
As such, it pays to invest in a few key items that you know you'll look good in. A pair of jeans that hugs your curves just right, an oxford white shirt that goes well with that stylish dark blue blazer and a great looking A-line skirt can be your go-to's. You'll find, as we did, that the items we get the most compliments on are rarely the most expensive ones. Rather, it's the ones that call out to you that will make you shine. Capsule wardrobe, anyone?
Fashionable Hint: Jae Ko Diaper Bags come with classy gold zippers and hardware for a stylish touch. It puts a wow factor into your whole look effortlessly! It is also personalised as you can have your initials monogrammed on it, putting your own stamp on the bag. Definitely a worthwhile investment that deserves a place in your capsule wardrobe.
3. Coordinated Outfits
With the right outfit colour coordination, your child and you will look so put together.
You don't even have to try too hard. Just a tasteful matching colour palette with your child or partner will do wonders. It also makes for great Instagram photos that pop out!
Fashionable Hint: Jae Ko's soft, relaxed vegan leather exterior in attractive sweet colours just exude a chic vibe everywhere you go. Lightweight and durable, it is also a pleasure to tote around alongside your little bundle of joy.
4. Play With Your Child
Spills, finger smudges and even mud and grass stains are all part and parcel of mum life, even fashionable ones. So, roll with the punches and embrace playtime with your child. The smiling eyes and glowing faces on the both of you will make you look like a million bucks. Best of all, she will remember those precious moments spent with her beautiful mom.
Fashionable Hint: When it comes to play, flexibility is vital. The team at Jae Ko Designs understand that, 'cos they are mums themselves! Each diaper bag can be worn as messenger bags and can be easily converted as backpacks with the removable backpack straps. This leaves your hands free for active play and fun! The Jae Ko Stroller Straps also lets you attach the bag to the stroller for added convenience.
5. Have an IT bag
Your IT bag is one that will complement every outfit and make you look effortlessly put together. And no, we are not referring to the high-end-be-on-the-waiting-list-for-two-years type of bags. The Jae Ko Designs Diaper Bag will make any mom look fashionable while allowing her to carry everything her child needs on a day out. It has a total of 13 compartments, including an insulated pocket for bottles, and a multi-compartment mummy pocket at the front. The Jae Ko Binky Pod that comes with the bag allows you to store pacifiers or other miscellaneous items.
Fashionable Hint: Jae Ko diaper bags are where fashion meets function – it is made of spill-proof material that is easily wipe-able. With such a sleek, stylish look, you can go from a romp in the park with your child to a date night in town with the hubby effortlessly.
For more info and to purchase online, head over to www.jaekodesigns.com.
Love your Jae Ko Designs Diaper Bag? Leave a review here!