How Green is Your Bedroom?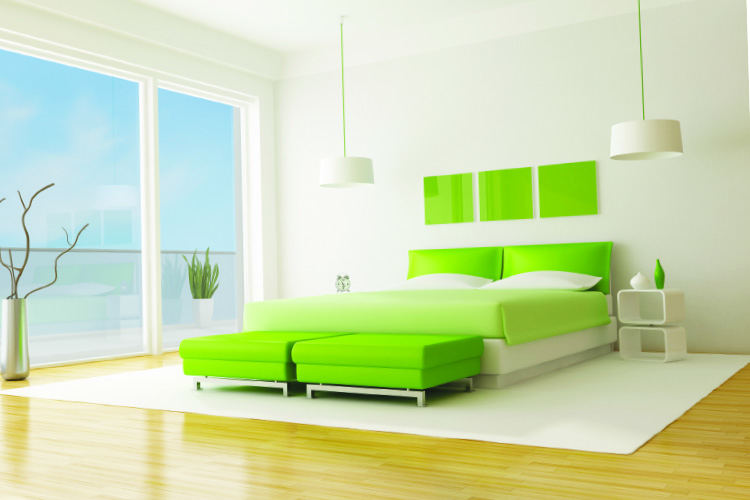 If you plan to go eco-friendly, wouldn't it be great to start with your bedroom – a place where you spend almost one-third of your life? It may seem arduous but with good intention and a combination of common sense and smart shopping, you can do it. Keep in mind that going green in the home is a long-term, gradual process rather than an overnight reinvention. Make simple changes. Remember, the entire exercise will cost money, and will take time. But it is well worth the effort.
MATTRESS
Conventional mattresses and bedding are manufactured with toxic dyes, fire retardant-treated polyurethane foam, formaldehyde (for permanent press), and stain-and water-resistant chemicals. The chemicals commonly used to make mattresses fire retardant-PBDEs, or polybrominated diphenyl ethers-are linked to damaging effects on thyroid function and fetal brain development. They're also suspected carcinogens.
Instead, buy a mattress that's made of natural latex, wool or organic cotton-and free of PBDEs, synthetic dyes, bleaches and wrinkle-and stain-proofing treatments. The best materials are organic cotton and organic wool even though they are more expensive.
As an alternative, you can consider purchasing a mattress topper, which provides a barrier between you and chemicals in the mattress. A topper can be cleaned more often than a mattress; regular washing will deter dust mites too.
PILLOW
Although the price tag may be higher, organic or natural pillows are healthy and environmentally sound. Organic, eco-friendly pillows, including those filled with buckwheat, hypo-allergenic natural latex/wool, millet or cotton, are another good investment. Also look for pillow covers in organic flannel, sateen, and unbleached-cotton.
BLANKET
Before you snuggle up in your bed, consider an organic-cotton quilt or blanket. Sliding between the sheets in organic-cotton pajamas would be great too!
BED FRAMES
When shopping for a wooden bed frame, make sure it's solid wood to avoid the negative effects of toxic glues. Better still, go for locally- sourced, salvaged wood furniture as an even greener option. You can also consider bamboo furniture, or bed boxes and dressers made from sustainable wood.
CARPET
Most carpets trap mold, dust mites and toxins that are tracked in from outdoors. In addition, conventional carpets contain toxic glues and chemical stain protectors. If you have hardwood flooring, create warmth with rugs made from eco-friendly materials. These are healthier and easier to clean, especially if they're machine-washable. Jute and cotton rag rugs hold up well too.
PAINT
Nothing transforms a bedroom more quickly than a fresh coat of paint. To preserve the quality of your indoor air, choose wall finishes that contain low levels of toxic low-VOCs (volatile organic compounds) or zero-VOC paints and finishes that are durable, cost-effective, and less harmful to human and environmental health.
LIGHT
To block bright morning sun and save energy lost through the windows, replace your curtains with insulated curtain panels. And as much as you can, open the windows to let fresh air in for natural cooling.
BULBS
Make your bedroom a sanctuary by trading-out incandescent light bulbs for energy-efficient light bulbs. This will save you energy and money.
ELECTRICAL APPLIANCES
Unplug unused electronics and turn off the lights. When not in your room turn off lights, radio, TV, and PC to avoid using phantom energy.
PLANTS
Bring the outdoors in with house plants; they are generally inexpensive and perform double duty as lush, natural decoration and purify the air of toxins.