Home Away from Home: Embracing Comfort at Joyful Month Confinement Centre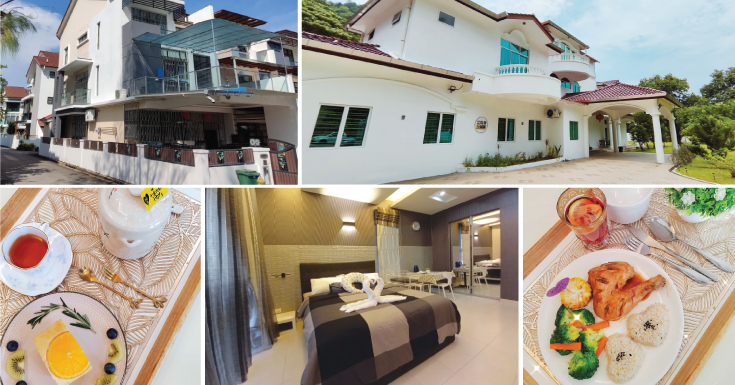 Embracing motherhood is a profound journey, one that demands love, care, and unwavering support. For new moms, they yearn for a sanctuary that nurtures their well-being while providing a home-away-from-home experience during the delicate postpartum phase. In this special time, Joyful Month Confinement Centre stands as a beacon of comfort and care, offering a haven of tranquillity and familiarity.
The award-winning facility is conveniently located in Bayan Lepas, Penang. With two branches located in Setia Pearl Island and Bukit Jambul, their premises offer a peaceful and serene environment surrounded by lush greenery and mountainous forests, far away from the hustle and bustle of the city.
Where Care Meets Comfort
Nestled within its warm embrace, new mothers discover a place where every need is met with tenderness and expertise. With a deep understanding of the joys and challenges of this postnatal period, Joyful Month Confinement Centre emerges as the ideal sanctuary for those seeking a holistic and enriching postnatal experience, guided by tradition, love, and the celebration of motherhood.
Joyful Month provides its customers with the best postpartum recovery and rejuvenation experience. Their professional teams not only offer private guidance but also provide beneficial activities and classes throughout the confinement month. They combine traditional wisdom with modern medical science methods to ensure that both new moms and their precious bundle of joy receive the best care during this time.
At Joyful Month, they understand that new mommies need extra support during their confinement period. As such, they have created an environment where mothers can relax, heal, bond with their babies, and learn essential skills for parenthood.
Their caring and experienced team is committed to creating a nurturing atmosphere where postpartum mothers can focus on their recovery while enjoying various amenities tailored specifically for them.
Wholesome Care for Moms
The highlight of their establishment is undoubtedly their kitchen, where highly experienced and friendly Auntie chefs create mouth-watering dishes that evoke the comforting flavours of home-cooked meals prepared by one's mother. Their team of nutritionists and TCM doctors work together to carefully plan delicious confinement meals. These meals are then expertly prepared by our professional chef using only high-quality herbs and fresh ingredients, ensuring that they are free from sulphites. Not only do they utilise professional postpartum meal recipes, but they also take into consideration the individual appetites and dietary habits of new mothers.
Their specially crafted herbal tonic and confinement teas are designed to cater to the different stages of confinement care. With a focus on detoxification, reconditioning, nourishment, and overall maintenance, these natural tonic and teas aim to support and aid the body's recovery during this crucial period.
So, if you are looking for a confinement centre that has all the creature comforts you may need, look no further than Joyful Month Confinement Centre. You will experience tranquillity like no other as they guide you through this beautiful journey of motherhood.
Joyful Month Confinement Centre is the BabyTalk MamaPapa Awards 2023 Gold winner in the Confinement Centre (Bayan Lepas, Penang) category.
For more information, visit their website, Facebook, and Instagram.