Himawari: Understanding the educational and developmental needs of children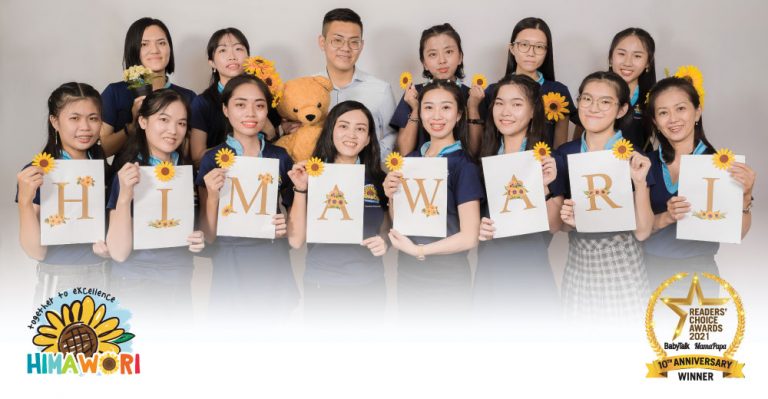 In the first five years of life, children grow and develop fast in all four domains of development, namely Motor (physical), communication and linguistic, cognitive, and social and emotional.  The importance of positive social and emotional development cannot be overstated. Self-confidence, empathy, the ability to form meaningful and lasting friendships and relationships, and a sense of importance and value to those around him/her are all influenced by this development.
All other aspects of a child's growth are influenced by their social and emotional development. Parents and caregivers play the most significant role in social and emotional development because they establish the most secure interactions for their children. Through repeated interactions with family members, teachers, and other adults, children learn about relationships and explore emotions. Children with social and emotional problems have a hard time following directions and participating in educational activities. They are more likely to be rejected by classmates, have low self-esteem, perform poorly in school, etc. It is clear that children's social and emotional health is equally as important as their physical health, and it has an impact on their ability to develop and lead a happy life.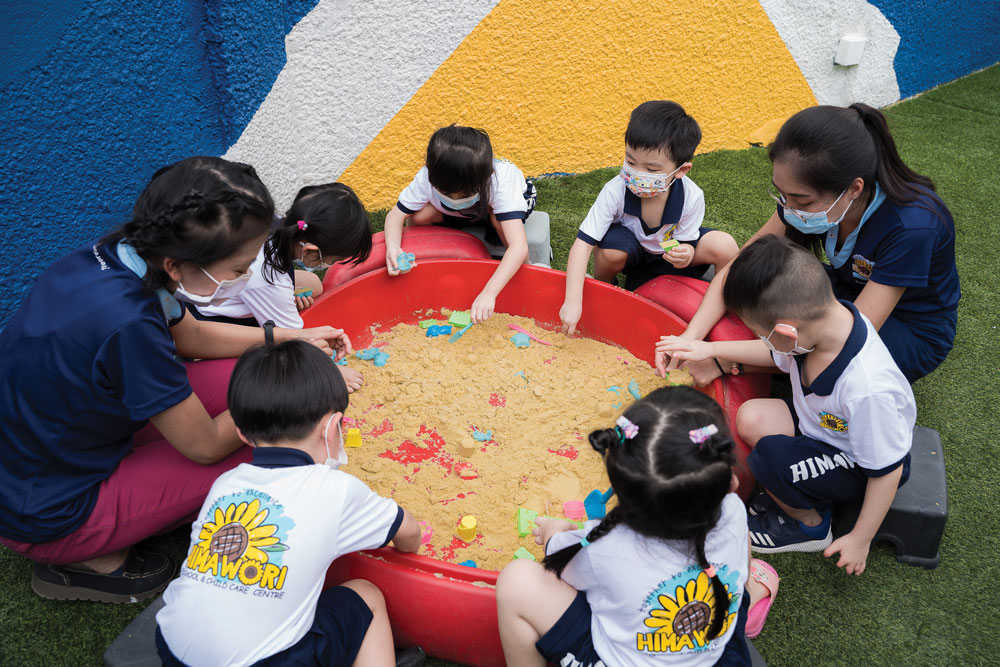 Himawari Preschool offers an interesting and safe environment for children to grow socially, emotionally, and academically. It is highly appreciated by the local community's parents and the students like the fact that school is such a fun place to be. Teachers can help children's social and emotional health in a variety of ways, such as by creating a material-rich setting that encourages social connections.
Himawari Preschool, inspired by the beauty of Japanese early childhood education, places a great focus on the development of positive character traits in children. One of the objectives is to instil in children good manners, ethical-moral thinking, and life skills. They also learn to appreciate and care for others. Assisting young children in developing appropriate, polite, and considerate behaviour helps them develop good manners and become more socially aware as they grow older. Parents of well-behaved children are much less concerned and are hardly ever anxious about sending their children on play dates to their friends' homes.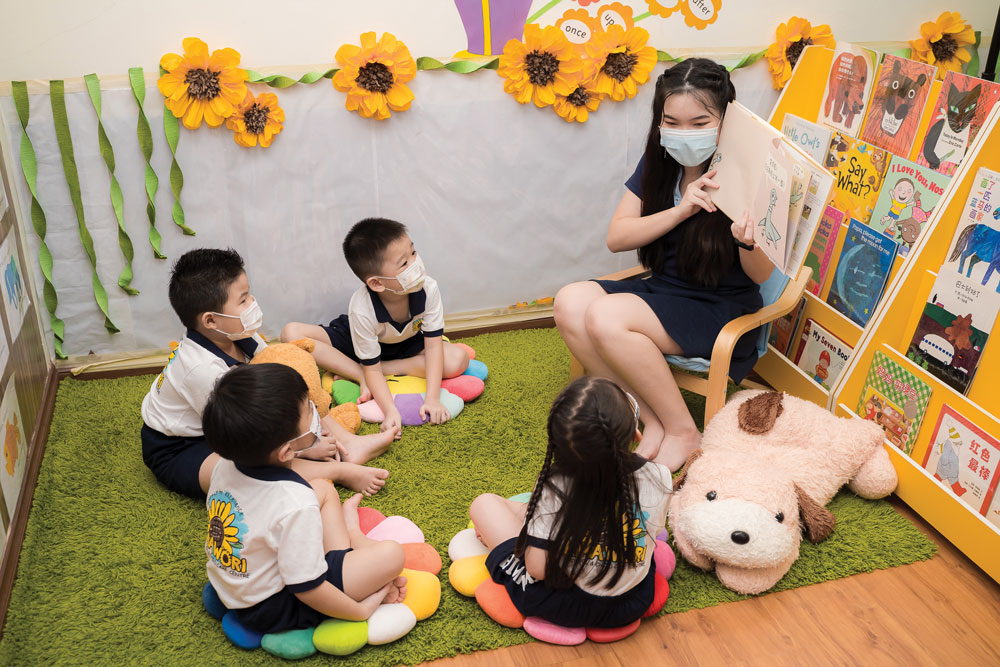 Himawari strives to create a positive learning environment by encouraging healthy teacher-student connections. Teachers encourage and motivate students, and students openly seek help and counsel from them. One of the most effective tools a teacher has is encouragement. Words and deeds, as an educator or parent, have the power to either boost or break students. At Himawari, it's always understood that students internalise encouraging words and deeds, and they can be used to motivate them to succeed. Encouragement can mean the difference between a student finishing school and abandoning their studies. The benefits of this peaceful environment can be seen in the academic achievements and social-emotional development of the children at Himawari.
While making early education pleasant and pleasurable, Himawari Preschool also focuses on laying a strong academic foundation so that children can transfer smoothly to primary school. Children's experiences here are unquestionably cheerful, engaging, active, with teachers and staff who are supportive of their development and learning requirements.
Every day, the time spent is meticulously prepared following their national preschool framework as well as certain Montessori-inspired activities. Children gain information in all essential learning areas, including literacy, numeracy, language, science, art, and music, as they play. More significantly, kids learn through field trips and hands-on activities that provide them with real-world experiences.
Besides that, there are also celebrations, holiday camps, sports days, concerts, presentations, and family events. Despite the fact that most classes have been cancelled due to the limitations brought upon by the pandemic, the Himawari staff is committed to ensuring that learning continues and meticulously conducts one-on-one sessions online.
This commitment may be seen across the school. In order to stay on top of their game, teachers are provided with continual training. They are enthusiastic teachers who care about the children's well-being. An in-house research and development team keeps learning resources and books up to date, all of which are written and published by their own staff. The books have QR codes that direct children to films that they may watch at home, allowing parents to participate in their children's education as well. Of course, when it comes to safety and cleanliness, there are no compromises. Even at night, there are auto-sanitization devices that operate overtime to disinfect the school.
As parents, the founders of Himawari Preschool realise how crucial it is to choose the right preschool for your child. They value the faith that parents have in them. Most families are referred to the preschool by parents who have sent their children there. With the goal to be a preschool that is at the forefront of Early Education and Child Care service, Himawari Preschool, with its best practices, offers quality service, and creative teaching for successful learning.
Himawari Preschool was recently declared the winner in the category of Preschool (Selayang, Selangor) in the 2021 BabyTalk Readers' Choice Awards.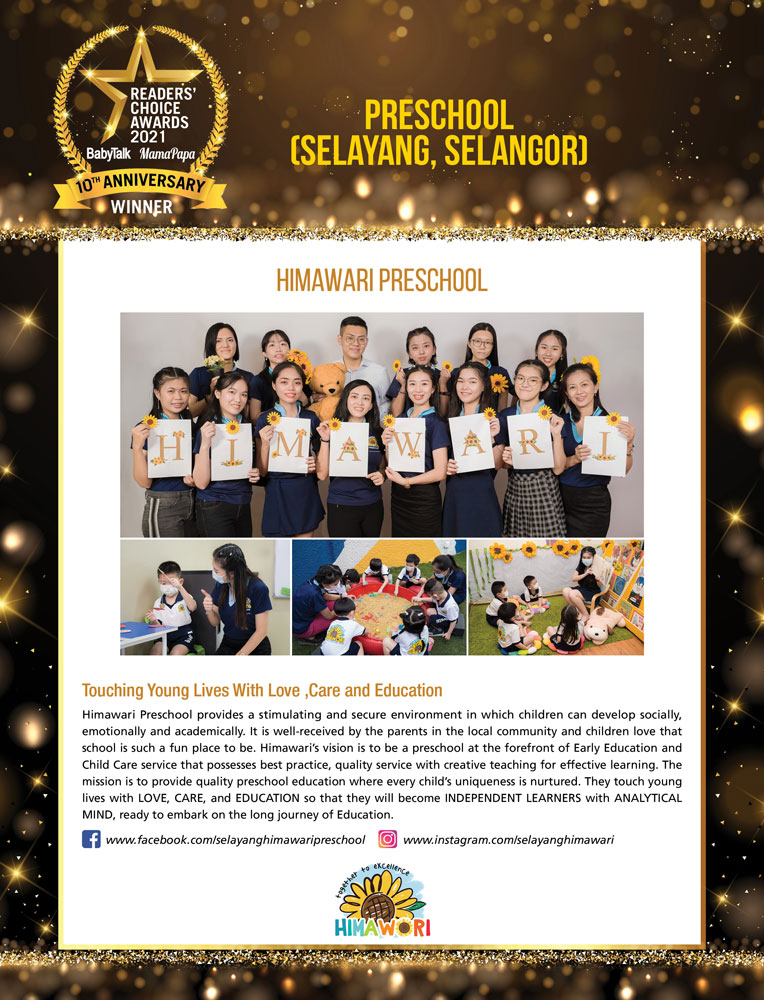 For more information, please visit their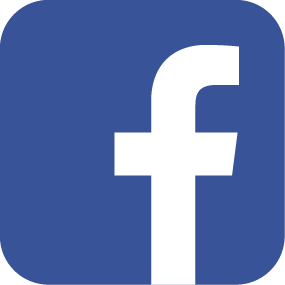 Facebook and 
 Instagram page.