Herlia® Naturals Ginger Vita: For the unique health needs of women!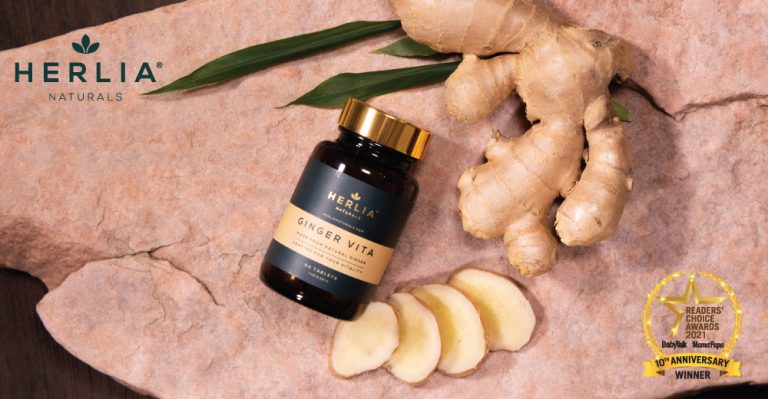 Women have unique health issues, with PMS and all its challenges being right up there for most of us. As women who yearn for better health, could there be something we're missing, somehow? Read on…
We try to eat right, exercise more, and sleep better. We try to navigate through our days and weeks with as little stress as possible, taking everything in stride. But with symptoms of PMS such as menstrual cramps, bloating, and water retention and such working against us, we need a boost; we need to increase our body's wellness to deal with the stress, poor sleep and dietary deficiencies that come from trying to keep the effects of PMS in check.
Fact: Did you know that there are around 150 documented symptoms of PMS that are capable of affecting the quality of life for women? Well, now you know! A staggering 90% of us will suffer at least one PMS symptom before our period, ranging from bloating and migraines to lousy skin and sensitive moods. If that wasn't enough, hormones can aggravate anxiety, despair, and other mental health disorders we may already be dealing with before our period.
If you have been trying your best to deal with any such ailments to no avail, this article is going to make your day! Introducing HERLIA® NATURALS GINGER VITA: effective and fast results from a natural superfood!
Formulated by a team of expert nutritionists, HERLIA® NATURALS GINGER VITA is made from the finest quality fresh ginger extracts, sourced from ginger roots hand-picked and processed right there where the best ginger in Malaysia grows: Bentong! The specially selected roots are then carefully dehydrated below 70c using an advanced form of low-temperature dehydration also known as each precious tablet containing up to 125 mg of ginger extracts or 25% of the active ingredients!
And now, here's what you can look forward to when you supplement your diet with the extraordinary HERLIA® NATURALS GINGER VITA!
Say goodbye to menstrual frustrations! The potent ginger extracts in HERLIA® NATURALS GINGER VITA goes to work to reduce exasperating menstrual discomfort by naturally inhibiting the body's prostaglandins production, suppressing pain receptors and protecting against inflammation. Take it consistently, we say. Why? Because studies have shown that regular consumption of ginger helps regulate periods and facilitates hormonal balance.
Bid farewell to uncomfortable bloating and gas! Remember your mom or grandma putting extra ginger into your soup when you told them your tummy wasn't feeling well? Hey, they knew what they were doing! This is because ginger is known to stimulate stomach acid and digestive enzymes. This helps with better digestion, putting your tummy at ease and eliminating all those uncomfortable symptoms of gas as well as bloating.
Fed up with stiff joints and poor circulation? Help is here! If you have not thought of ginger as a remedy for stiff joints and/or poor circulation, it's time you opened your eyes to the exceptional properties of natural ginger offered by HERLIA®. Try it for yourself if you wish to feel the difference in the way it remediates these uncomfortable health issues.
Are you getting cold hands and feet too often? Regardless of this happens day or night, in the office or in bed, it is very uncomfortable to deal with! Especially good and effective in these areas, HERLIA® NATURALS GINGER VITA can be such a gift for those who wish to eliminate these issues once and for all and enjoy their best lives!
Can't seem to burn off excess fat? Are all your weight loss efforts in vain? These are indeed frustrating situations to deal with, aren't they? Wait, don't lose hope yet without trying HERLIA® NATURALS GINGER VITA, for it has been found to be useful in aiding in weight loss! It does so by hampering intestinal fat absorption while increasing your body's metabolism for burning fat. Remember to take it regularly though, and complement your efforts with a good diet and an active lifestyle for quick, visible results!
Looking for a way to slow down your aging? You're not alone! And here's a secret: The antioxidants in HERLIA® NATURALS GINGER VITA are useful in helping to ward off menacing free radicals, thus protecting cells against toxins that degenerate and age your cells. It also naturally boosts your immune system for a healthier, more youthful body.
Everyone can take it! It's great to know that your whole family, regardless of age or gender, can safely consume HERLIA® NATURALS GINGER VITA and enjoy its immense benefits! Best of all, thanks to the convenient tablet form, even those who are put off by the thought of eating ginger can take it!
To top this all off, HERLIA® NATURALS GINGER VITA is:
Certified HALAL by JAKIM Malaysia
100% natural
Dietitian formulated
Vegan friendly.
Herlia® Naturals Ginger Vita recently bagged an award in the BabyTalk Readers' Choice Award 2021 for the category of Woman's Vitality Product.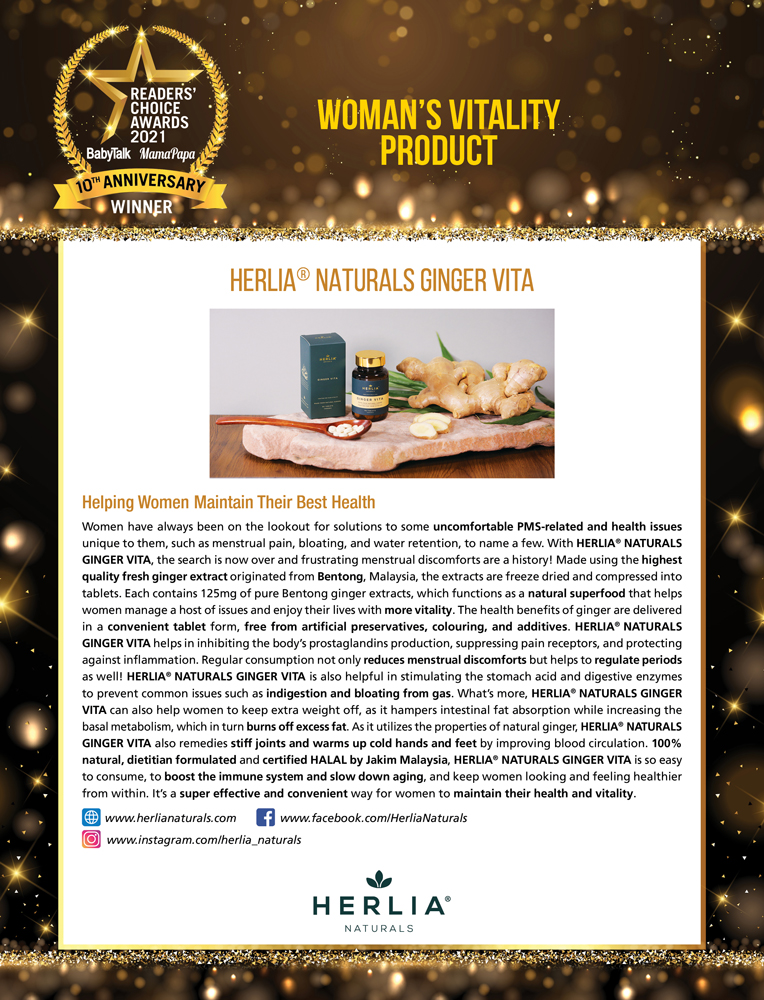 For more information, please visit their website,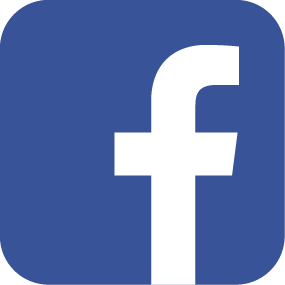 Facebook page and 
 Instagram page.