Helping Women Stay Healthy and Happy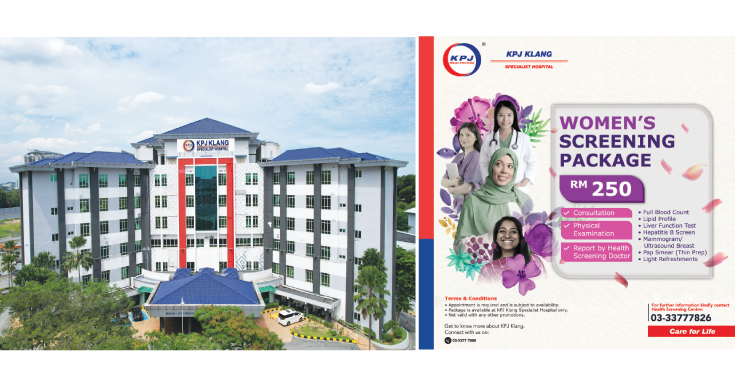 Every woman has a special story to share about her life, regardless of where she works, who she lives with, or what she loves to do in her life. The resilience and strength of women have been the topic of poetries, songs and studies worldwide. However, countless women, on more personal levels, seem to forget their worth, some neglecting to take on the proper healthcare they rightly deserve. Among them are women who may also feel that they simply cannot afford to indulge in good healthcare offered by reputable hospitals due to the high costs normally associated with them. KPJ Klang Specialist Hospital has always understood this dilemma that women face, which is why its Women's Screening package is among the most affordable available in the market.
As an award-winning establishment, KPJ Klang Specialist Hospital has enjoyed a special place in the hearts of Selangor folks, particularly families residing in Klang. It has, since opening its door to the public, been offering quality healthcare and services to families from all walks of life, which include helping countless people detect, treat and manage their illnesses with expertises and high professionalism. Women's healthcare has also been given due focus at the hospital, as reflected by its attractive healthcare package designed specifically for them.
The Women's Screening Package offered at KPJ Klang Specialist Hospital is exceptionally comprehensive in relation to its affordability. For a mere RM250, women get to be screened for a range of tests that will bring them peace of mind. The KPJ Klang Specialist Hospital Women's Health Screening package is inclusive of a Pap smear, Mammogram & Breast ultrasound, Hepatitis B screening, Liver function test, Lipid profile, as well as Full blood count test.
As part of the health screening package, consultation and physical examination are included, and a full report by their health screening doctor will be provided. KPJ Klang Specialist Hospital is a reputable medical institution with honorable recognitions which include Malaysian Society for Quality in Health (MSQH); Integrated Management System (IMS) Certification; as well as Customer Service Management (CSM) Recognition. The award-winning hospital continuously strives to provide the best operational health care service to their patients.
Women are known to sacrifice selflessly for their families while being revered contributors to society.  Regular health screening is crucial for women of all ages to help them detect any early signs of serious diseases which may negatively impact their lives. Good quality, affordable healthcare for women, such as what's offered at KPJ Klang Specialist Hospital, will significantly help to ensure that they remain a healthy and productive member of our community.