Helping Special Needs Children Reach Their Full Potential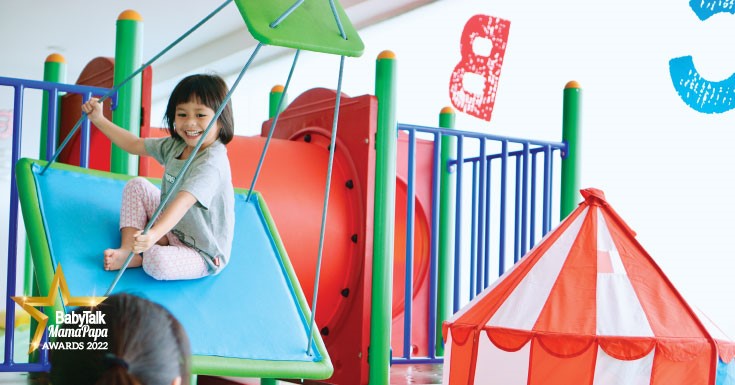 Autism spectrum disorder (ASD) and related developmental conditions such as speech delays, behaviour and social problems affect children differently, depending on severity and functionality.
ABC (Autism Behavioral Center) is a leading ABA (Applied Behaviour Analysis) therapy centre that began offering quality individualised 1:1 intensive therapy to children, teenagers, and adults as young as 18 months old to 35 years old with  learning challenges, including autism, ADHD (Attention Deficit Hyperactivity Disorder), GDD (Global Developmental Delay), speech delays, and social and behavioural challenges.
Touted as Malaysia's largest ABA therapy centre, ABC is strategically located in Bangsar and Sunway Geo, Subang. To provide an effective and conducive environment for learning with as few distractions as possible, ABC offers one-to-one rooms for each child, with a total of 40 private rooms in Bangsar and 20 private rooms in Subang.
The Leading Edge in Special Needs Therapy
Evidence-based early intervention, particularly Applied Behavior Analysis (ABA), is the gold standard in autism treatment and related developmental delays due to longitudinal studies supporting its effectiveness when intervention begins early and intensely, ideally within 30-42 hours of 1:1 therapy per week. Early intervention is critical for the best outcomes, ensuring that children reach age-appropriate milestones and subsequently reintegrate into regular education settings.
ABC uses PaTTAN (Pennsylvania Training and Technical Assistance Network) technology to deliver international standards of intervention. ABC supports both local and international families directly under the supervision of a Board-Certified Behaviour Analyst (BCBA). With PaTTAN in place, an effective intervention system has been developed to meet the rising need for high-quality special needs programmes in Malaysia.
Here for your child's needs
ABC's mission is to help individuals with special needs develop their communication skills, behaviour, social skills, and school/life readiness skills. All programmes are tailored to the needs and level of each child. For instance, a child with speech difficulties will have different programmes and areas to address than a teenager who requires assistance with behaviour management or life skills. ABC's main purpose is always to equip an individual and their family with the skills necessary to reintegrate back into school and the community.
With a team of therapists who are highly qualified and competent in ABA, autism, and SPED in general, ABC is growing to be a household name for ABA therapy and autism support.
The centre recently emerged as the gold winner in the BabyTalk MamaPapa Awards 2022 for the Special Needs Children's Learning Centre category.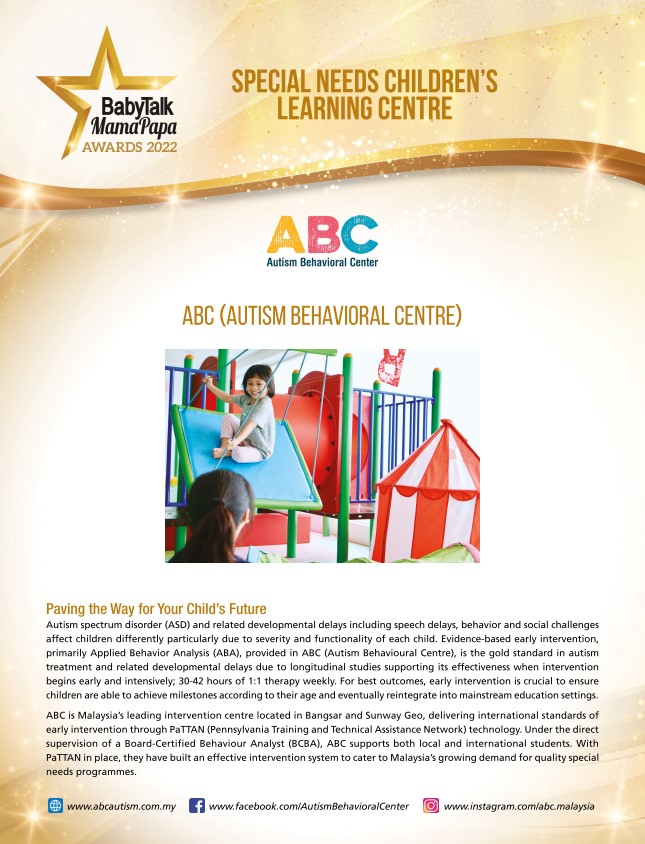 At ABC, every student with special needs receives a well-rounded education that fosters self-reliance, independence, and extended opportunities. For more information, visit their website, Facebook and Instagram pages.