Hearty Meals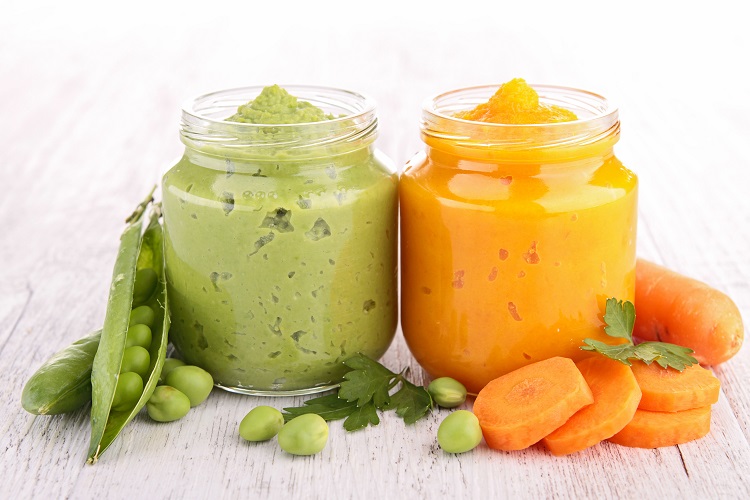 Nothing is more welcoming than a thick stew or hot fruit purée. Such wholesome meals can provide all the goodness your baby needs.
This month, our food guru Yeoh Leng Swee put together some great, quick recipes, suitable for just-weaned babies and toddlers using delicious ingredients.
LAMB COUSCOUS
"Replace couscous with millet if baby is gluten intolerant"
SUITABLE FROM 12-24 months
MAKES 4 portions
INGREDIENTS
½ cup couscous
1 cup homemade vegetable stock (unsalted)
1 teaspoon extra virgin olive oil
1 stalk chopped fresh parsley
Lamb:
100g minced lamb
1 puréed potato
1 small carrot; cut to cubes
½ small courgette; cut to cubes
3 dried figs
1 tablespoon raisins
1 cup filtered, boiled water
INSTRUCTIONS
Bring homemade vegetable stock to boil, remove from heat and add olive oil and couscous.
Cover and let it sit for 3 minutes.
Bring to boil again on low flame. Add parsley and let couscous to simmer for another 1-2 minutes.
Use a fork to fluff the couscous. Once done, set aside.
Lamb:
Boil water with figs, carrot and courgette on medium flame for 3 minutes.
Add lamb and stew for 15 minutes.
Mash figs with a fork.
Add puréed potato, mix well until a stew forms. Once sauce thickens, remove from heat.
Combine lamb with couscous and sprinkle raisins on top.
BANANA, BLUEBERRY & QUINOA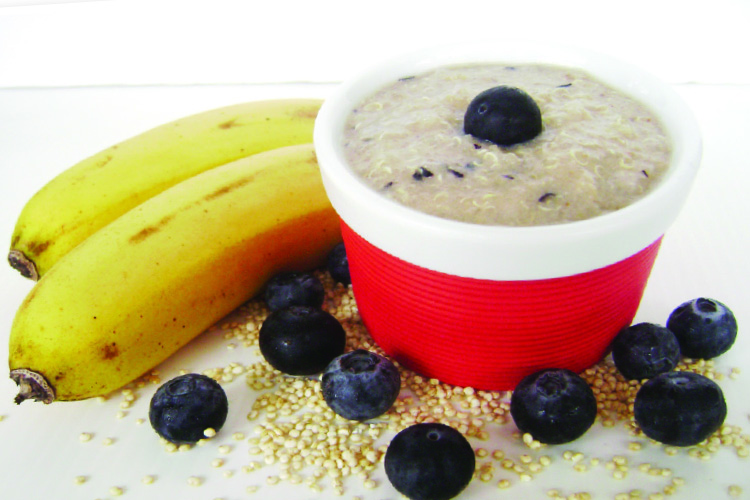 "To prevent banana purée from turning brown, stir in a drop or two of lemon/orange juice. As citrus may cause an allergic reaction in some babies, check with your doctor beforehand although such small quantity should be safe."
SUITABLE FROM 8 months
MAKES 4 portions
INGREDIENTS
½ cup quinoa (soak for 30 minutes, drain)
2 cups filtered, boiled water
1 cup banana
¼ cup blueberries
½ cup baby's milk (chilled)
INSTRUCTIONS
Boil quinoa in water for 15-20 minutes until tender. Set aside to chill in the fridge.
Purée banana, blueberries and baby's milk in a food processor.
Combine banana, blueberries and baby's milk with quinoa.
CARROT, PUMPKIN & CAULIFLOWER PURÉE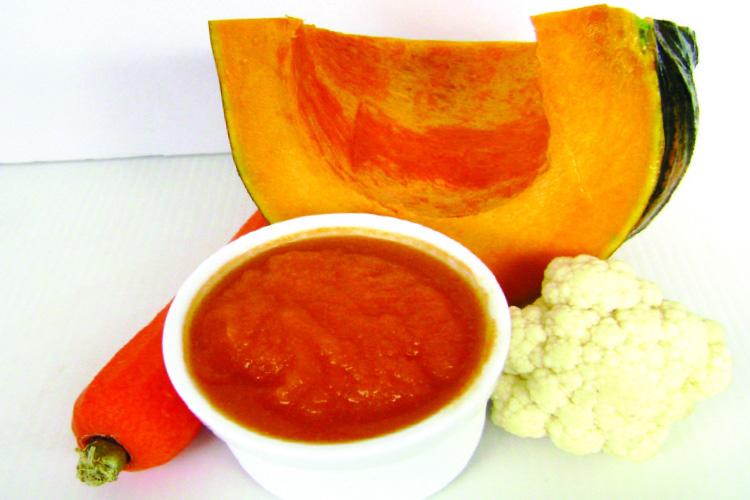 "The extremely shy cauliflower is a superfood. It is rich in vitamin C, K, folate, fibre and antioxidants."
SUITABLE FROM 6 months
MAKES 4 portions
INGREDIENTS
100g carrot
300g pumpkin
2 florets cauliflower
½ cup filtered, boiled water or water from steamer
INSTRUCTIONS
Steam carrots and cauliflower for 10 minutes.
Add pumpkin and steam for another 20 minutes until tender.
Purée all three vegetables until smooth, adding water until purée reaches an ideal consistency.