Hayat Kimya Strengthens its Mark in Malaysia with Molfix Brand Turning One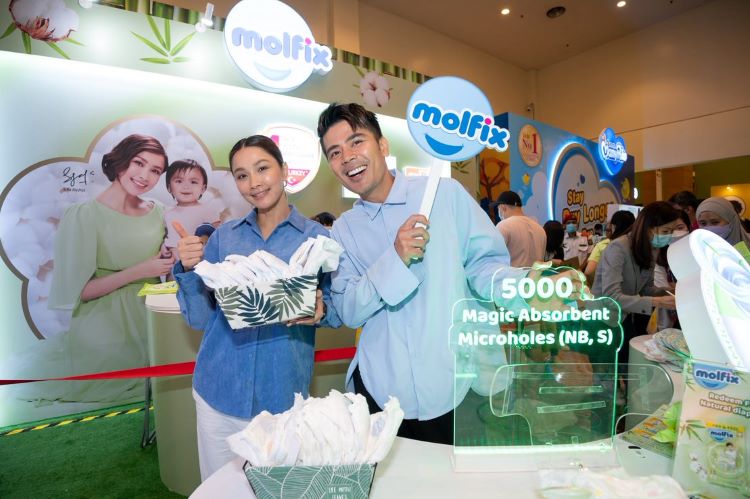 Hayat Kimya, a global player in the fast-moving consumer goods (FMCG) industry, and the world's 5th largest diaper manufacturer, is committed to continue growing its presence in Malaysia through its high-quality diaper brand, Molfix.  The brand is now available in over 4,500 stores both physical and virtual.
Molfix brand was first introduced in Malaysia last year in tandem with Hayat Kimya's strategic business plans to expand its footprint to Southeast Asia, following its entry into Vietnam and Thailand. Since then, the brand has become the preferred choice of millions of Malaysian parents, offering them peace of mind while providing babies comfort and joy at all times.
Commenting about Molfix's 1st Anniversary in Malaysia, Mr. Alp Bilgili, General Manager of Hayat Hygienic Products Malaysia Sdn. Bhd., said, "The tremendous support and trust from Malaysian parents reflect their preference for products made from natural materials in an effort to ensure safety and to protect their babies' skin. At Hayat, we believe in the importance of understanding the needs and trends of our consumers, hence we place great emphasis on research and development (R&D) to develop innovative products that are organic and of premium quality."
The brand's collaboration with the celebrity couple, Scha Al-Yahya and Awal Ashaari as ambassadors have further helped position Molfix among mums who are constantly looking for the best for their little ones while enjoying the journey of motherhood.
Scha Al-Yahya said, "We are thrilled to be part of this journey to build the Molfix brand among Malaysian parents and to share the experience, uniqueness, and quality of this wonderful product that never fails to bring joy, comfort, and protection to babies.  We had the opportunity to experience these and many more when our daughter Lila, who was one year old tried Molfix products.  We trust Molfix, and are happy that we decided to partner with a brand that believes in providing the best for mums and babies."
"In our quest to become one of the leading brands in Malaysia, we will continue to invest in strategic collaborations, embark on innovative marketing strategies, digital marketing, extend our online presence, introduce innovative products, and expand omnichannel, added Mr. Bilgili.
The brand that spreads joy to mums and babies across five continents in over 100 countries around the globe, is produced with utmost care and is designed to be extremely gentle on baby's sensitive skin. Molfix Natural range, with its selective ingredients of natural bamboo fiber and organic cotton, can provide the ultimate softness and skin-friendly touch as proven by dermatologists in Europe. The range is able to carry a large amount of baby's urine. Interestingly, laboratory test data has shown that its dryness can be achieved for up to 14 hours*. Together with Molfix Extra Dry range, both diaper range provides superior absorbency, thanks to the extra dry layer technology which makes absorption much faster and easier. Hence, giving babies full protection and keeping their healthy skin comfortably dry. Mums can experience peace of mind knowing their babies are comfortable all day long.
In its effort to create awareness and grow the brand, Molfix engaged with many organisations, and business partners such as hospitals, retail stores, and online affiliates while participating in various consumer-facing activities such as the MITEC Baby Fair 2022, and many more. In addition, strong branding and marketing initiatives were executed. Within the first year, Molfix bagged the BabyTalk MamaPapa Reader's Choice Award 2022 for the Best Tape and Best Pant Diapers categories.
An event to commemorate Molfix's 1st anniversary was held in the presence of Mr. Alp Bilgili, General Manager of Hayat Hygienic Products Malaysia Sdn. Bhd.; Scha Al-Yahya and Awal Ashaari; Mr. Sheikh Farouk Sheikh Mohamed, Managing Director, AEON Big (M) Sdn. Bhd.; Joanne Wong, Marketing Manager, Hayat Hygienic Products Malaysia Sdn. Bhd.; and parents.
As part of the celebration, 10 Molfix consumers walked away with exclusive Molfix products, specially autographed by both Scha Al-Yahya and Awal Ashaari. The ambassadors shared their experiences with Molfix brand.
Hayat Kimya's commitment to its growth in Southeast Asia is further strengthened with the establishment of the new regional manufacturing plant in Vietnam, which acts as the ASEAN hub for Molfix products. The plant will cater to the demands of the region including the Malaysian market. This would enable consumers to enjoy premium quality products that are competitively priced, which are produced in the region, and in tandem with their needs and current trends.
Molfix products are currently available at selected supermarkets, and hypermarkets such as AEON Retail, AEON Big, Lotus's, Giant, Billion Shopping Centres, Econsave, TF Value Mart, HeroMarket, Manjaku and others as well as leading online platforms.
*Based on lab test results with the average liquid amount a baby may urinate in 14 hours. The result may vary depending on the individual baby. **For hygiene, please change the diaper frequently (every 3-4 hours or when it is soiled).