Hasbro Holiday Toys Gift Guide for Your Little Ones

It's beginning to look a lot like the holidays! 'Tis the season to dedicate some time for connecting, and we may execute so by watching a classic holiday film or playing an online game, but we also acknowledge that some families fancy time spent engaging in tactual and engaged play — that are away from screens.
To balance out the family's media consumption this holiday season, parents (or just about any gift givers) can shop according to our Holiday Toys Gift Guide for timeless presents that will offer hours of engaging, and ultimately screen-free activities to their little ones.
For children aged 3 years and above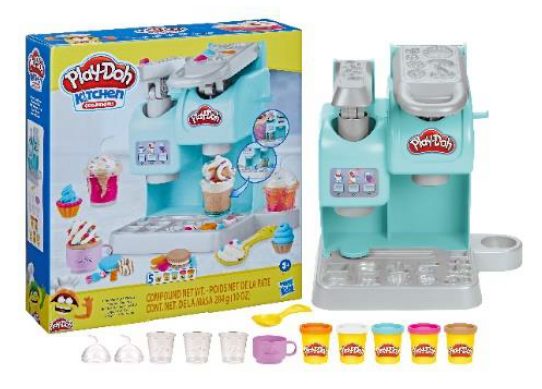 Play-Doh Colourful Cafe Playset (RM109.90)
Get your little ones' imaginations perked up with the Super Colourful Cafe Playset! This pretends play cafe set lets kids imagine creative Play-Doh drinks their way. Make the toy coffee maker fill the cups with colourful Play-Doh modeling compound, then spin and slide them to the topping station and add pretend whipped cream. Whether they're creating Play-Doh coffee, tea, frappes or pretend smoothies, children can have fun playing barista again and again.
This Kitchen Creations Play-Doh Colourful Cafe Playset drinks also comes with 8 Play-Doh pots and 20 accessories to perk up their imaginations. It includes Coffee machine, 5 clay pots, spoon, cup and makes a great gift to nurture your little ones' cooking skills!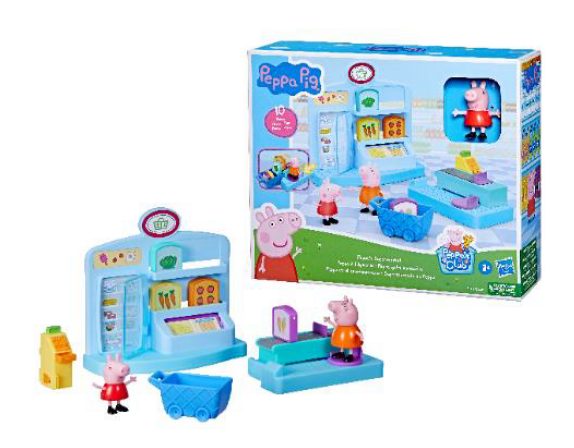 Peppa's Everyday Experiences – Supermarket (RM109.90)
With the Peppa's Supermarket Playset Preschool Toy, your little ones can pretend they're shopping along with Peppa and Mummy Pig. This is the time to fill the trolley! It includes a fun checkout area: place groceries on the counter, and a figure on the hotspot.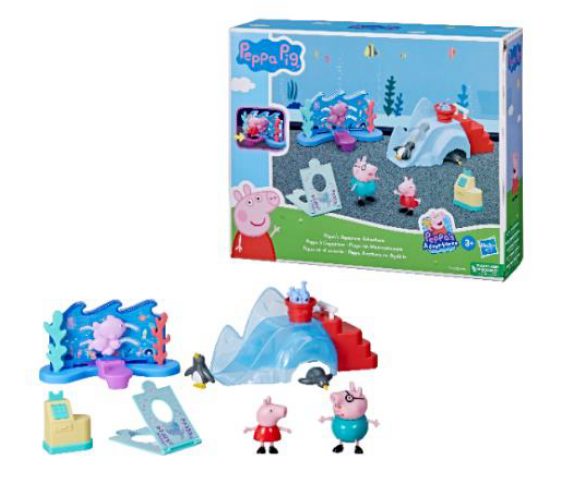 Peppa's Everyday Experiences – Aquarium Adventure (RM109.90)
The Aquarium Adventure Playset Preschool Toy lets your little ones pretend they're visiting the aquarium with Peppa and Daddy Pig. It includes an ice slide surprise: walk a figure up the steps, then press down on the rail.
These two make an oinktastic gift idea for pre-schoolers and Peppa Pig fans.
For children aged 5 years and above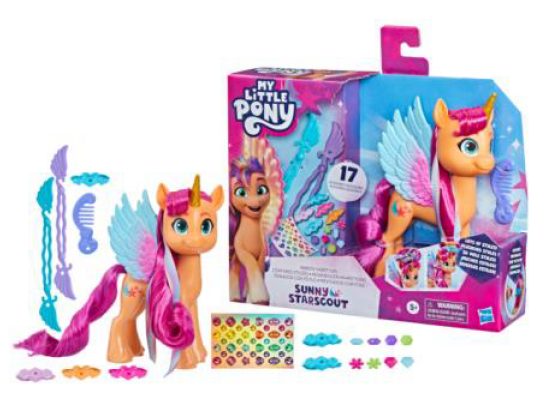 Mini Ribbon Hairstyle Sunny (RM89.90)
Make Your Mark with Sunny Starscout an Alicorn from Maretime Bay! Sunny is curious, adventurous, and determined to make the world a better place In the My Little Pony A New Generation movie and My Little Pony. Make Your Mark show, she becomes an Alicorn with rainbow styles Ribbon Hairstyles Sunny Starscout includes a 6 inch orange pony figure with character inspired shooting star Cutie Mark on one side Figure has soft, long pink hair for lots of hair play fun! Included hair bun making tools and ribbons can be used to create lots of stylish looks and updos Comes with 17 accessories Customize Sunny's hair with the charms, barrettes, and styling tools, then decorate her with gemstone stickers! Fans new and old can imagine adventures with My Little Pony movie and show inspired toys Makes a great holiday or birthday gift for kids ages 5 years old and up! My Little Pony and all related characters are trademarks of Hasbro.
For children aged 8 years and above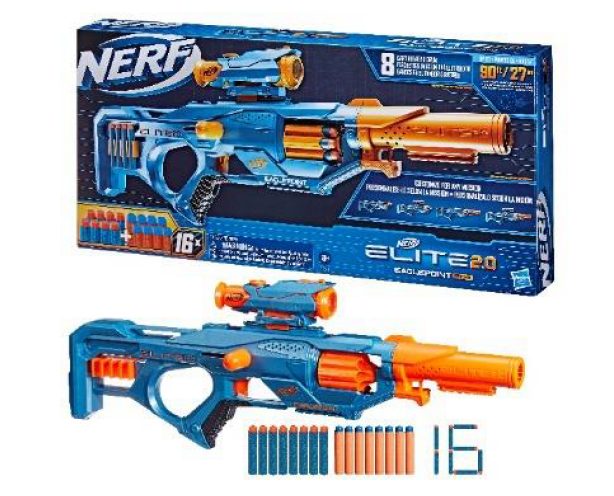 NERF Elite 2.0 Eaglepoint RD-8 Blaster (RM124.90)
Brush up your little ones' combat skills and increased their gross motor movements like crouching, bending, and jumping to building hand-eye coordination with the customizable Nerf Elite 2.0 Eaglepoint RD-8 blaster for any mission! This Nerf dart blaster includes an attachable scope and attachable barrel so you can create different blaster styles as you gear up for Nerf games. Go lean and mean with the core blaster, add the scope to line up your targets, add the barrel for distance targeting — you're ready for whatever the battle brings with the Eaglepoint RD-8 blaster. If you're looking for a toy that encourages movement and activity in your children, this would be the ideal gift.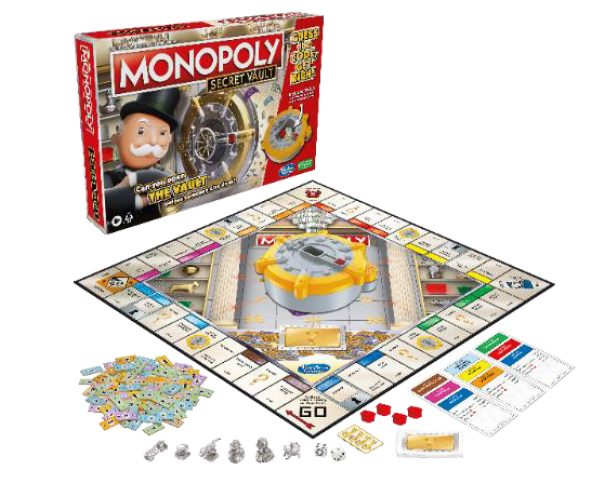 Monopoly Secret Vault (RM204.90)
Executive function skills are essential to a child's development and Monopoly Secret Vault is a great game for helping children develop mental skills that enhance executive function, including memory, self-control, and flexible thinking. Begin by filling the vault with riches. Each time a player unlocks it and gets what's inside, it gets refilled with more valuables. The player with the most money at the end of the game wins!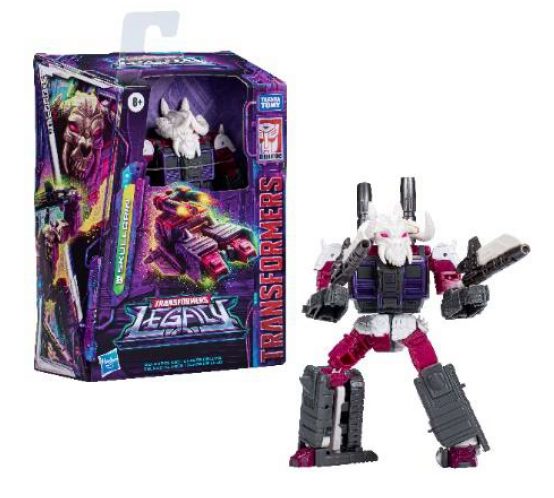 Tra Gen Legacy EV Deluxe Assortment (RM109.90)
Calling all Transformers lovers to roll out with the Transformers: Legacy robot toys that are inspired by the entertainment from across the Transformers multiverse, updated with a Generations-style design. Let your little ones expand and shine their imaginations through these robots! They come in two modes – action figures convert from robot to alt mode and come with weapon accessories. Gear up with the most
powerful substance on Cybertron, Energon! Figures come with Energon accessories that attach in both modes.
All Hasbro toys are available at Toys"R"Us Malaysia and Hasbro Lazada and Shopee Official Stores:
Lazada – https://bit.ly/HasbroOfficialStoreLazada
Shopee – https://bit.ly/HasbroStoreShopee