Guard Your Gut for World Digestive Health Day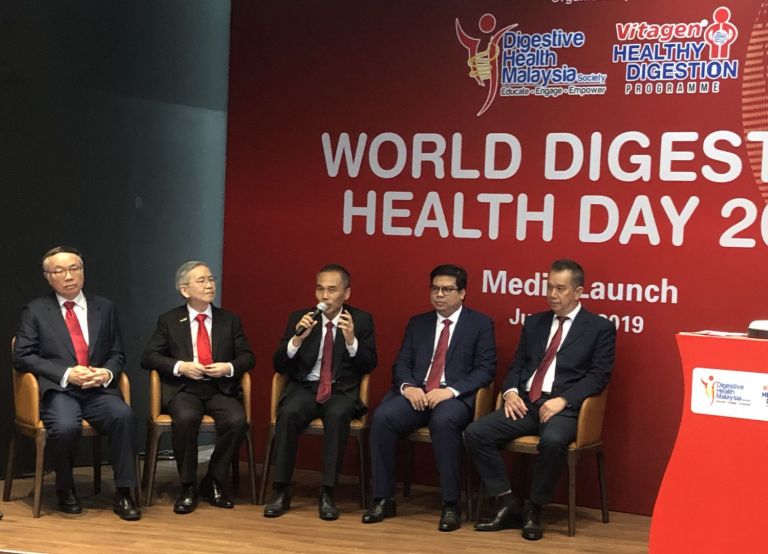 World Digestive Health Day 2019 was marked on June 25 when two bodies which have long championed the gut cause – Digestive Health Malaysia (DHM) and VITAGEN Healthy Digestion Programme (VHDP) – joined forces once again to educate and empower Malaysians to walk the talk when it comes to digestive health.
The media launch held at WORQ KL Gateway, Bangsar South, was attended by Datuk Dr Muhammad Radzi Abu Hassan, Prof Dr Raja Affendi Raja Ali, Dr Lee Hock Bee, Dr Tee E Siong and Poh Eng Lip,  who took part in a media panel session which explored digestive health issues here in Malaysia, and was moderated by emcee Adrian Seet.
The most common threat to our digestive health is the habit of eating excessive unhealthy foods on a regular basis. These include that yummy nasi lemak, pisang goreng, fried chicken, and char koey teow. Let's not forget our penchant for eating more than what we should, especially at buffets, just to get our money's worth!
Add a sedentary lifestyle to the list, and we have a volatile mix that can easily lead to an increased risk of developing various digestive disorders or diseases (e.g. inflammatory bowel disease) and many non-communicable diseases (e.g. heart disease, hypertension).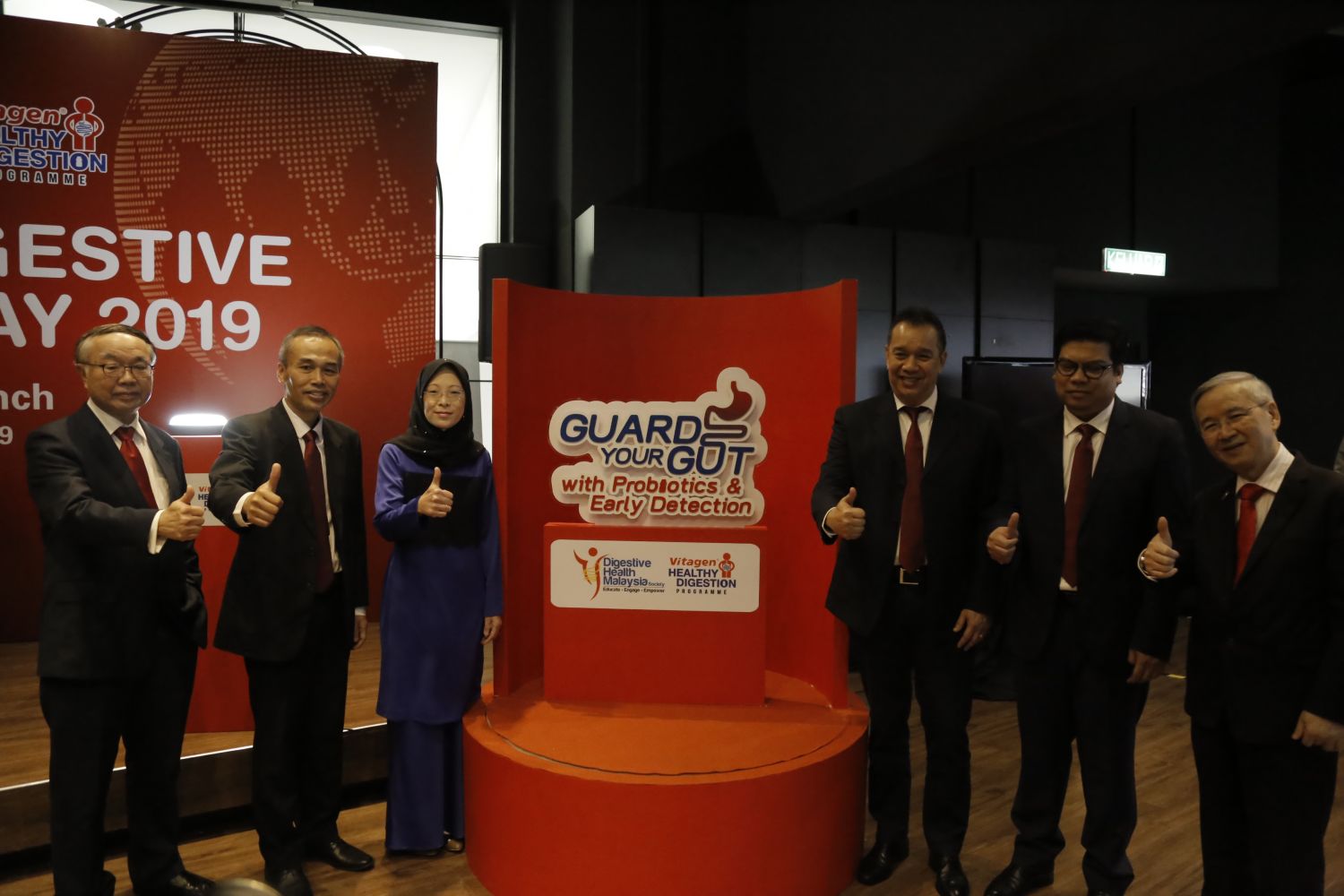 Are we doing enough for our gut?
Kicking things to a start was Chairman of DHM Datuk Dr Muhammad Radzi Abu Hassan who warned that with the high prevalence of digestive problems, disorders and diseases in the country, it is high time we start to take proactive measures to guard our gut.
He said that with so many myths circulating online, it is imperative that one gets accurate information on what food, medicines and supplements are really healthy. Dr Radzi stressed the importance of the media's and its crucial role in disseminating the right information.
"Our digestive health should not be taken for granted. Events such as the World Digestive Health Day serves its purpose of waking the public up to the 'abuse' they put their digestive health," Dr Radzi noted.
Prevention by early detection & healthy lifestyle
In championing the need for more Malaysians to guard their gut, Prof Dr Raja Affendi Raja Ali, Deputy Chairman of DHM and Consultant Gastroenterologist, said: "Malaysians are blissfully unaware of their digestive health status as they do not go for regular health screening. What is even more worrying is the fact that many just chalk up digestive disorders to a bad tummy or 'something I ate' and just leave it at that. They choose to ignore the problem and are unaware of the potential threat it poses to their health."
Datuk Dr Radzi said that gut health should be on the national agenda because colorectal cancer ranks so highly in the country. It is the No. 1 cancer amongst men, and No.2 amongst women.
He said: "Data from the National Cancer Patient Registry shows that the majority of patients only detect that they have colorectal cancer when it is in the advanced stages. By this time, one's options for treatment are slim, and the chances for survival have also shrunk. This is why we are advocating for early detection as it greatly improves your chances for survival when the cancer is detected early.
"The good news is that colorectal cancer can be prevented!"
Dr Lee Hock Bee, a Senior Consultant General Surgeon specialising in surgical gastroenterology, and Council Member of DHM, further reminded everyone that colorectal cancer is curable, and how early detection would increase one's chances of survival tremendously.
Dr Tee E Siong, President of the Nutrition Society of Malaysia (NSM) and Council Member of DHM, spoke about the importance of eating well. Dr Tee said with the increasing rates of obesity, high cholesterol levels and high blood pressure, it is obvious that Malaysians are not eating as healthily as they should be.
And when it comes to colorectal cancer, Dr Tee believes that prevention is better than cure.
He said: "This begins with healthy lifestyle practices. One should never underestimate the importance of leading a healthy lifestyle as this helps promote good digestive health. It will also greatly reduce one's risk for developing non-communicable diseases."
Healthy lifestyle practices include having good dietary habits, being physically active or regularly exercising, practising good sleep routines and abstaining from bad habits (e.g. smoking). Such habits can help reduce stress to your digestive health and also reduce the risk for colorectal cancer.
Corporate support for the community
As part of its efforts to give back to the community, VITAGEN is also spreading the message of guarding your gut, mainly via its VITAGEN Healthy Digestion Programme or VHDP.
Poh Eng Lip, General Manager of VITAGEN, reaffirmed VITAGEN's stance: "As Malaysia's number 1 cultured milk drink, we are delighted to support expert professional bodies such as DHM to empower the public towards better digestive health."
At the event, both DHM and VHDP launched their "Guard Your Gut with Probiotics & Early Detection" campaign in conjunction with WDHD 2019. The campaign will see a concerted effort by both parties to spread the messages of guarding our gut, as well as going for early screening for colorectal cancer, and the merits of probiotics. The campaign strives to be an inclusive one, with advocators who will catalyse others to play an active role in this cause.
The DHM experts' backgrounds, covering various areas in gastrointestinal and digestive health as well as in nutrition, provide the information that is disseminated during the programme. These experts and VITAGEN are the initiators, as the Guardians of the Gut, to empower parents, teachers and ourselves with the right knowledge to be the guardians of our own gut health.
Poh said: "In addition to co-organising the WDHD celebrations and roadshows across the country, we are also sponsoring and distributing stool test kits to the public."
The stool test kit is used to test for blood in the stool, one of the possible symptoms of colorectal cancer.
VHDP has worked closely with DHM for many years, and will also add a new "kindergarten adoption programme" to its activities as well. This programme aims to inculcate good eating habits in children from a young age, with the hope that such habits stay with them for a lifetime.  This will be done via scrapbook activities whereby nutritionists and teachers will guide the children and monitor their progress. Free bottles of VITAGEN will also be supplied in this programme.